To All the Boys: Always and Forever is the final high school romcom in a trilogy about Lara Jean (Lana Condor) and her dreams of living her life as a romance novel. It began as a series of gushy love letters, and will end with letters as the two teen sweethearts enter colleges across the country from each other. The series is on Netflix.
Part one of the series, To All the Boys I've Loved Before, sets the 16 year old Asian-American Lara Jean on her quest for the perfect boy. In part two, To All the Boys: P.S. I Still Love You, Lara Jean settles on Peter (Noah Centineo). The romance grows from a fake to a real romance.
In senior year, at age 17, Lara Jean and Peter finish the series off with plans for college and promises to be together forever. This is act three, or To All the Boys: Always and Forever.
The characters played by Noah Centineo and Lana Condor have grown up so much in the years it's taken to get these three films made. Their plan to go to Stanford together falls apart and seemingly will be the end of their story. They decide to fight for each other.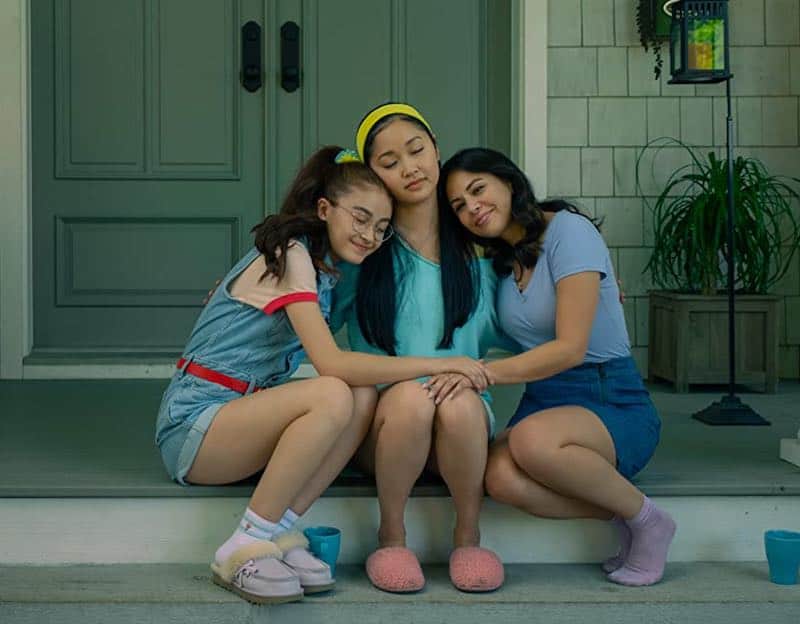 Lara Jean's dad (John Corbett) plans to marry the woman across the street, Trina (Sarayu Blue). This brings the older daughter Margot (Janel Parrish) home for the wedding. Little sister Kitty (Anna Cathcart) has a crush on a boy now – a boy she meets in Korea when the family goes there for spring break. I like the dynamic between the sisters in this family and how they look after each other and their dad.
I also appreciated Peter's character as an honorable guy who won't do anything to hurt Lara Jean. I think that kind of male character is hard to find.
This romantic trilogy is based on a novel by Jenny Han. The screenplay was written by Katie Lovejoy. A few fanciful animated sequences, lots of great music, and a bright and cheerful color palette make this series a happy place in a hard time.
During the final credits, we see images from all three films. It's a cheerful reminder of the story, but also a graphic reminder of how much the characters have grown up.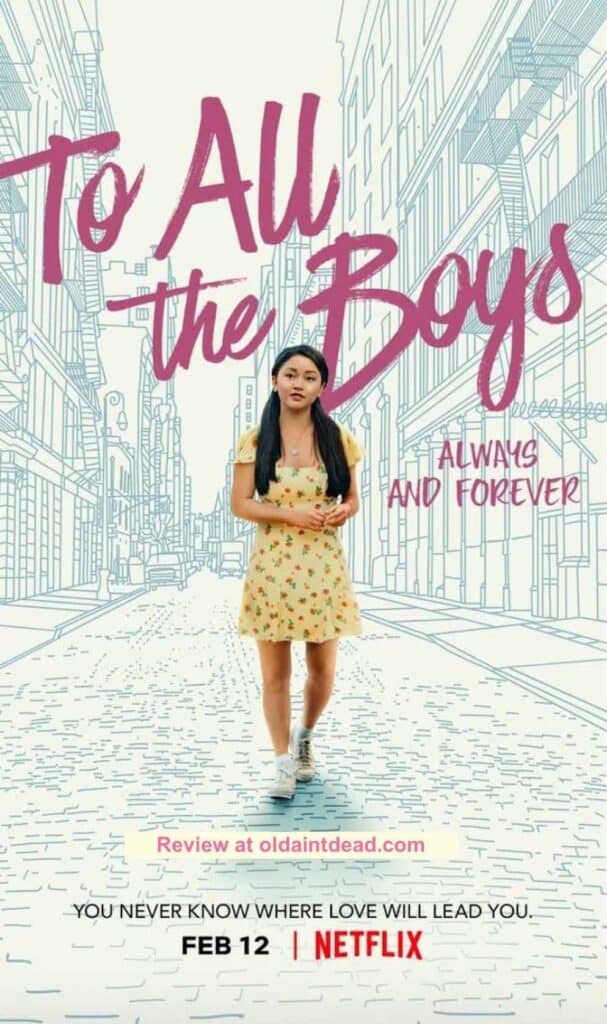 Check out the trailer.
If you've been watching the To All the Boys films, you can't miss this one. And if you haven't seen any of them, start at the beginning.