Quantico and Blindspot are two new dramas for fall. Both feature leading women who are smart and capable. Both are connected to the FBI. Quantico is on ABC. Blindspot is on NBC. Here's a mini review of both based on the early episodes.
Quantico
Quantico is about new FBI recruits. Priyanka Chopra is at the center of the story so far, but Johanna Braddy and Yasmine Al Massri and also in place as new FBI recruits. Aunjanue Ellis as an FBI trainer also has a prominent part. That's a gift box full of women to work story arcs around, and I'm looking forward to seeing them all.
In interviews about her role in Quantico, Priyanka Chopra compared her character to Jason Borne. We learn why early on. As Alex Parrish, the new FBI trainee, she is found in the rubble of a terrorist bombing. For some reason the FBI agents who find her there are convinced that the act was committed by one of the recruits from her class at Quantico. In particular, they think it was her.
Alex gets away from the FBI team holding her after the bombing. My assumption is that she spends the next few episodes trying to prove her innocence from outside the system. That means she will be smart, creative, and resilient – all qualities to admire in a lead character. I'm happy to watch her doing this and am looking forward to seeing where the story goes.
Blindspot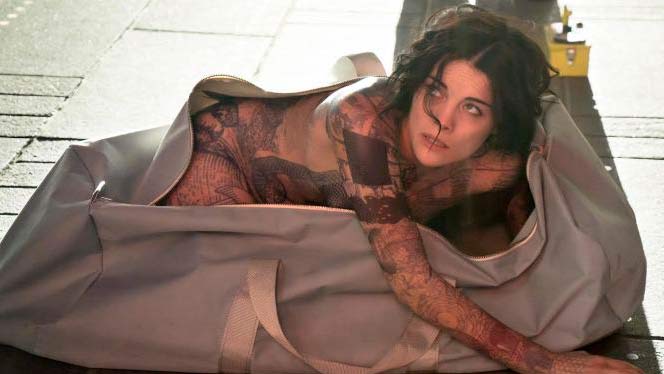 Jaimie Alexander plays "Jane Doe" in Blindspot. She's found in Times Square in a duffle bag, covered with tattoos and with no idea of who she is. Because of a gigantic tattoo of the name Kurt Weller (Sullivan Stapleton) on her back, she is taken to the FBI. There she works with Weller to unravel her own story.
Marianne Jean-Baptiste is the another woman prominent in the show. She plays FBI agent in charge Mayfair. Two other potentially interesting women characters who haven't had as much to do yet are Ashley Johnson as a lab geek named Patterson and Audrey Esparza as Agent Zapata.
There have been two episodes of Blindspot now. Jane Doe has no clue about who she is, but her personality and training quickly assert themselves. She's prone to physical violence and is trained in fighting, she's smart and speaks several languages, she knows her way around weapons and technology. And she's the best resource the FBI has to figure out what all the tattoos mean. In the first two episodes, her tattoos have pointed to crimes about to happen.
Weller thinks she is a person he knew as a child who disappeared and who is part of the reason he went into the FBI. Her disappearance has haunted him. Because of a scar on the back of her neck, her age, and her eye color, he decides he knows who she is. We should know by the next episode if he is right, because they were running DNA tests in episode 2.
Series creator Martin Gero told Variety that the puzzle represented by the tattoos could be figured out in the first episode – it was all there to decode. Let's just say I haven't solved the puzzle yet, but I'm willing to hang on for the ride.
Images via NBC and ABC.