The 33 is not the kind of story I usually talk about. It isn't about a woman or women. It's about men. 33 men. It's based on the 2010 Chilean mine disaster in which 33 men were trapped underground for 69 days.
I read Pulitzer Prize-winning journalist Hector Tobar's book Deep Down Dark on which the film is based and I got to know those men and the people in their lives – their wives, lovers and children. The book was utterly compelling and nerve wracking. If you are a reader, read this book before the film is released.
You don't have to read the book to be interested in the movie. It's an amazing story. Patricia Riggen directs. Patricia Riggen is a native of Mexico, known for directing such films as Under the Same Moon, Lemonade Mouth, and Girl in Progress.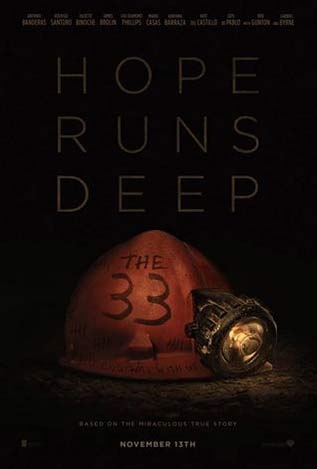 It's a big cast, including Cote de Pablo, Antonio Banderas, Rodrigo Santoro, James Brolin,  Juliette Binoche, Kate del Castillo, Lou Diamond Phillips, Gabriel Byrne, Mario Casas, Adriana Barraza, and Bob Gunton.
The film opens on November 13.