Wildlike puts a young girl in a dangerous situation and watches her escape. It was filmed in Alaska with spectacular views. The girl struggles to find a way to safety. You can see this sensitive and beautiful film on Prime Video.
Wildlike is the story of Mackenzie (Ella Purnell). She is sent to Alaska to stay with her uncle, played by an extra creepy Brian Geraghty. Mackenzie's story is unclear – I got the impression her mother was in rehab or a mental health care place, but if that was spelled out I missed it.
Mackenzie has grown up since her last visit, and Uncle can't keep his hands off her. He takes buys her things, takes her places, and abuses her. When they are out in the wilderness, she runs.
Mackenzie doesn't ask anyone for help. She never explains anything to anyone. Her technique is to attach herself to people like a barnacle in hopes she can find her way back home to Seattle.
Bartlett (Bruce Greenwood) is in Alaska to hike in Denali. Mackenzie attaches herself to him. No matter what he does to get her to leave him alone, she just tags along.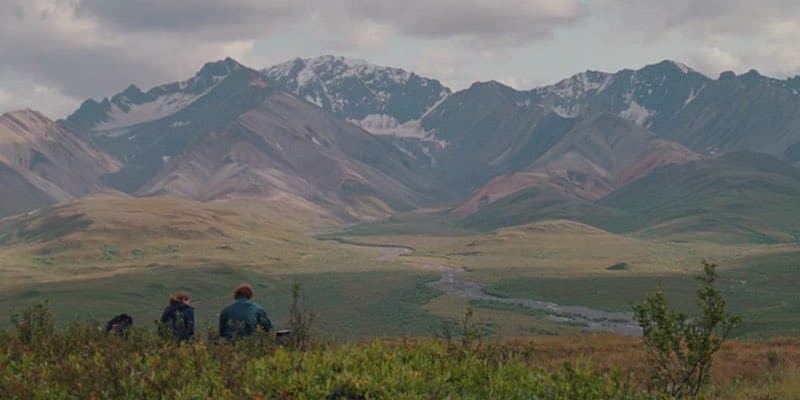 Finally Bartlett gives up. He starts feeding her, letting her sleep in his tent. He heads back to civilization in hopes of shaking loose of her. He almost does.

After a few days, Bartlett begins to feel protective toward this frightened and strange girl. He buys her bus tickets, ferry tickets, while he tries to figure out what her situation is. It isn't easy. She doesn't even tell him her real name at first.
They meet other people along the way. My favorite was Jeanie (Ann Dowd) and a group of kite flyers who came to Denali in a small plane. A plane ride with them showed off the beautiful scenery. Alaska has always been on my bucket list of places to visit and I've never made it. So spectacular.
Wildlike was interesting and unusual. There wasn't much exposition. We simply sat with this frightened girl and watched her desperate efforts at getting away from her Uncle and home to Seattle. It was delicate and unspoken in many ways, and about as far from blockbuster action as you can get.
Based on the number of awards the film has amassed, I think it spent quite a while on the festival circuit looking for distribution. (I could be completely wrong about that, but it's a 2014 film.) I'm happy to see it available on Prime Video now.
Here's the trailer.
If you watch this one, please take a minute to share your feelings about it.