Eva Longoria: Searching for Mexico takes the actress on a long and delicious tour of Mexico from the perspective of great food. She finds the hot culinary capitals and the most renowned chefs to tell the story of Mexico.
I think the thing that struck me most about Eva Longoria: Searching for Mexico was the emphasis on tradition and history in every place she visited. The connection to the land, the water, the food, and the various styles of cooking were all rooted in history.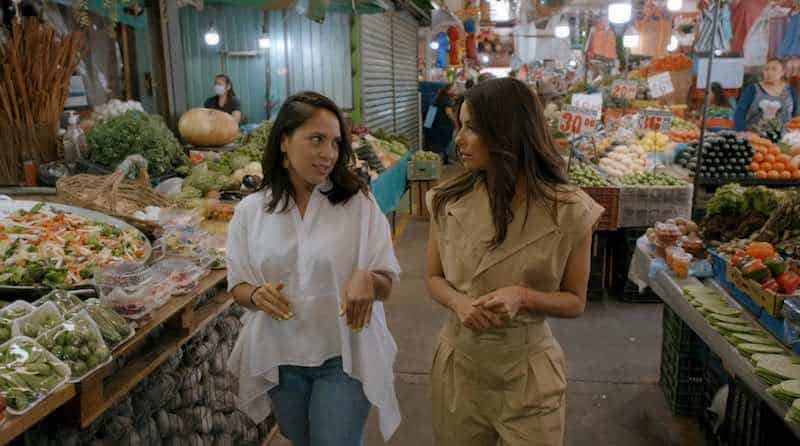 In six episodes, Eva went to Mexico City, Yucatán, Oaxaca, Nuevo León, Jalisco, and Veracruz. In each location she visited markets, high end gourmet restaurants, and street vendors. She talked with famous chefs, farmers, all kinds of cooks, tequila makers and agave growers, fishermen, and dozens of others.
The food ranged from indigenous influences to modern fusion ideas. But always it was based on traditional ways of cooking and traditional ingredients. It was all delicious, according to Eva who exclaimed over every bite with delight.
Each person she talked with knew the history of the food they prepared. They knew what it had been like for the Maya and Aztecs, who still have strong food traditions. They knew what happened after the Spanish came, and later the French. They knew what difference the Mexican Civil War made in food traditions. They knew how the food reflected the history of slavery in Mexico. The words "searching for Mexico" in the title were accurate – it wasn't just great food under the microscope in this documentary series but Mexican history.
Eva helped with some of the cooking, dripped mole sauce on her clothes, and got her hands dirty.
If you've seen Taste the Nation with Padma Lakshmi, this is a similar exploration. It looks for the various food cultures that have influenced Mexican cuisine and how immigration has played a big part in the story of food.
I saw the series on Max but it was originally a CNN doc series, so it might be available in other places.
More salsa!