Holiday in Santa Fe is a Lifetime movie. That means it's a typical happy holiday fantasy with a cheerful story and a little romance. I watched it because of some unique aspects of the film.
Holiday in Santa Fe is set on the plaza in Santa Fe, NM. If you've been there, you'll see familiar sights, and if you've never managed to make it to this top destination site in the US, you'll feel like you've been there. There are nice aerial shots and plenty of looks at Santa Fe style architecture.
As you walk around the plaza with the stars Mario Lopez and Emeraude Toubia you can spy famous churches, hotels, copper burros, and ice cream shops. This film is strictly about the HIspanic/Latinx/Mexican characters and heritage of New Mexico. (What you don't see on the plaza is the Native American market. You'll hear mariachi music but no native flutes. You'll see lots of Milagros but no silver and turquoise.)
The other unique aspects of Holiday in Santa Fe that caught my eye was it was written by the very funny Cristela Alonzo and directed by Jody Margolin Hahn.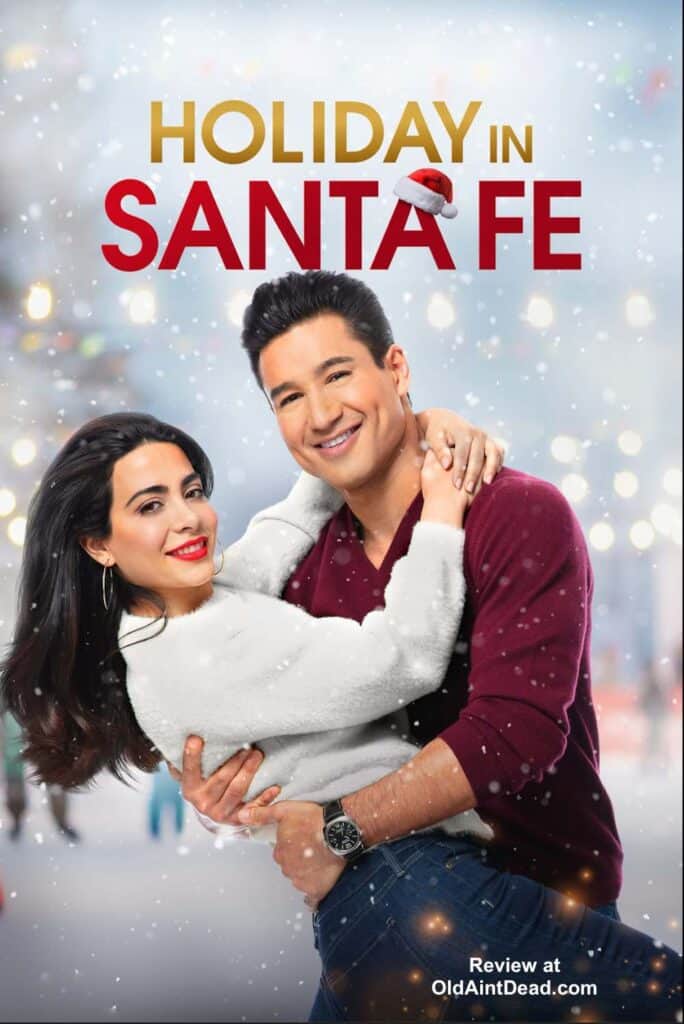 The plot of the movie is that a successful Christmas shop run by the Ortega family might be for sale. Tony (Mario Lopez), his sister Magdalena (Aimee Garcia), and his father Jose (Efrain Figueroa) are wondering how they'll keep the shop going without Tony's mother. She was the artist who made the shop famous. Her daughter Magdalena is not sure she can carry on her mother's artistic genius and keep the shop afloat.
Belinda (Emeraude Toubia) arrives from a big greeting card company, ready to buy the shop and sell Christmas products under the new brand name.
As you can guess from the poster, a romance develops between Belinda and Tony. She comes to understand the artistic genius of this family and their art while falling for everyone in the family, including Magdalena's teen daughter Frankie (Gia Lopez).
The film is now on Hulu, Prime Video, and I'm sure it will cycle through on Lifetime this holiday season. Here's an extended scene as a trailer.