How to Please a Woman is an Australian comedy about a woman who loses her job and stumbles on a new business idea that women LOVE. Sally Phillips stars in this funny and sexy story. Beware – some spoilers ahead.
How to Please a Woman begins with Gina (Sally Phillips) swimming in from the ocean with her swimming group. The group is all women, all 40ish like Gina. They are grinning about something they have planned for Gina's birthday. Some of the actors in this group of women were Caroline Brazier, Tasma Walton, and Asher Yasbincek.
When Gina gets to work she visits a moving company her boss wants her to close down as a bad investment. Back at the office, Gina wants to argue for the company being supported. Instead, she gets fired.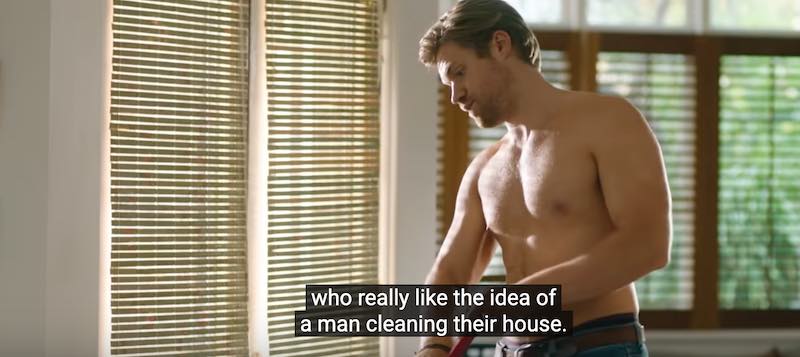 Knocking at her door is a stripper – her birthday present from the women at the swim club. He says she has him for two hours and he will do anything she wants. She wants him to clean her house.
And, she has a brainstorm. She recognizes the stripper, Tom (Alexander England), from the moving company. She goes back to talk to the moving guys about her idea. Will they clean women's houses now that their previous business is gone? Maybe with their shirts off?
The men include Steve (Erik Thomson) who is the boss. Tom, who already lost his job as a stripper, Ben (Josh Thomson), and Anthony (Ryan Johnson). All except Steve are game for the job.
Steve offers to do the website and publicity for the new business. He's very attractive, about Gina's age, and more interesting than her very boring husband who has no interest in sex. You can see what's coming, right?
The big twist is when Tom goes out on his first housecleaning job, he ends up having sex with the woman. Housecleaning and sex? It's perfect.
Gina quickly revises her business plan, applies for a permit for sex workers, and business is booming! The fellows are a bit rough around the edges in the pleasing women department, so Gina's swim friend Hayley (Hayley McElhinney) agrees to "train" them. She also volunteers to go clean the house of a woman who asked for a female house cleaner. The business expands again.
The tagline for the movie is "ask for what you want" and it's a lesson for all the frustrated women in the story, especially Gina, who aren't getting what they need in their sex lives. I thought the film was fun and enjoyed the definite message.
The film was written and directed by Renée Webster. It's available on Hulu and for rent on Prime Video. You can take a look at the trailer here.