In the Fade, a German film released in 2017, is about a Nazi hate crime. With white supremacist terror attacks on the rise, the film is more relevant now than it was several years ago. There are minor spoilers ahead.
In the Fade stars Diane Kruger as Katja, a German woman married to Nuri Sekerci (Numan Acar). Nuri is of Turkish origin. They have a six year old son, Rocco (Rafael Santana). Several years ago Nuri was in prison on drug charges. Now he's running a small business helping people with taxes and translation services.
Katja takes Rocco to Nuri's office after school one day. She plans to go to a spa with Birgit (Samia Muriel Chancrin). I wasn't entirely clear whether Birgit was her sister or her friend, but they were very close.
As Katja leaves Nuri and Rocco in the office, which is in an ethnic neighborhood in Berlin, she sees a woman walk away from a bicycle without locking it down. Katja speaks to her but the woman just walks away.
When Katja returns to the office to pick up Rocco, it is surrounded by emergency vehicles and police. Her family is gone.
The bicycle held a bomb. Nuri was targeted simply because he wasn't German.
At first the police try to blame the murder on the victim because of his record or his ethnicity. Katja tells the police it was Nazis and she describes the woman who left the bike.
They find the woman and her husband. There is a trial. There was plenty of evidence against them. But the bombers are found not guilty, based on some lies a Greek hotel owner told in court.
Over a year has gone by and Katja is still grieving horribly. She traces the bombers to Greece and goes there to take justice into her own hands. I didn't like the way the film worked out in the end.
The point of the ending, I think, was that Katja didn't have the ruthless hate that would allow her to do what she meant to do. She wasn't a Nazi and couldn't act like one. Her solution was extreme nevertheless.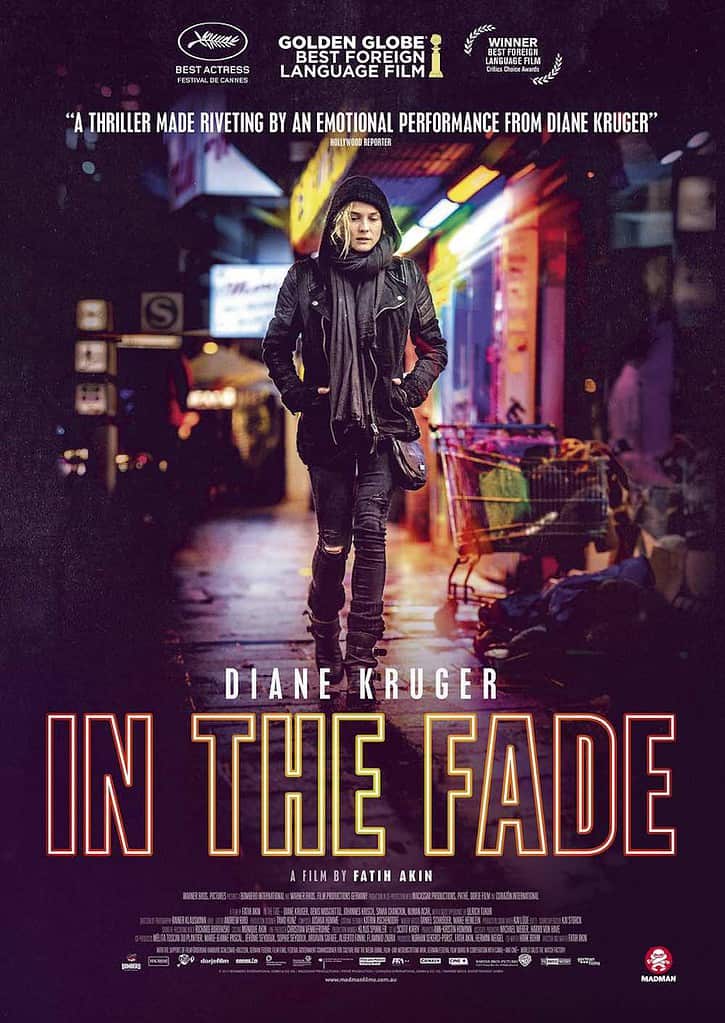 The film was directed by Faith Akin (a man). The high point of the film, which won Best Actress and Best Picture awards from various sources, was Diane Kruger's powerhouse performance. She was outstanding and made the film shine as she worked her way through love and pain, anger and loss, injustice and grief.
When the justice system can't be counted on to protect against white supremacy, then some other action is required to protect democracy. But the message in this film doesn't offer any ideas about what is required. It ends Katja's pain, but it doesn't really solve anything. There has to be a better answer.
You can see In the Fade on Hulu and several lesser known streamers now. It's a grim, sad, story but well told and well done. It's a good reminder that we need to be ever vigilant against the evil power of white supremacy.