International Falls is a painfully tender indie film about a failing comic and a wanna be comic who meet in a hotel bar in International Falls, Minnesota. They spend two fateful days together. It's one of those quiet stories that feels completely honest and real.
International Falls begins with comic Tim (Rob Huebel) checking in to the hotel where he's set to appear in the bar as a headliner for two nights. He's underdressed for the Minnesota winter and tells everyone he's a terrible comic.
Behind the desk, checking him in, is Dee (Rachael Harris). She's the married mother to two girls. She wants to do stand up. The comedians who come through the hotel interest her. She goes to see Tim do his set that night.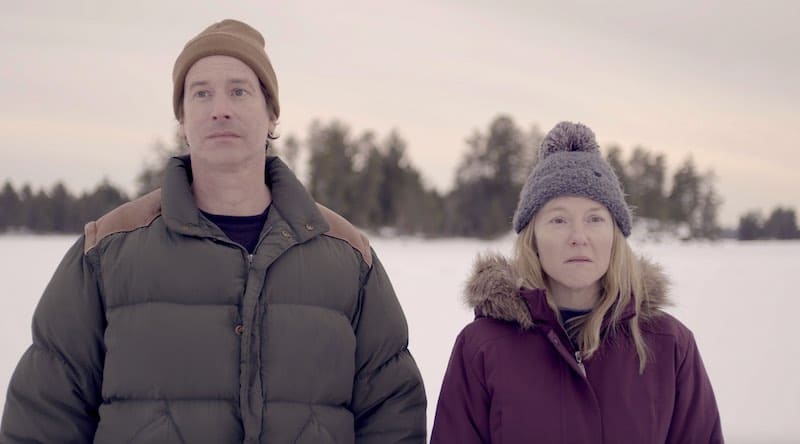 They end up spending the next two days together. It's partly sexual, but not really. It's more about life and authenticity and parenthood and marriage and how to be a comic. He gives her tips on how to save and develop her ideas for jokes. He also drops hints about his own plans that seemed pretty obvious to me, but Dee didn't pick up on them.
Dee was dealing with her own issues. Her marriage to Gary (Matthew Glave) was falling apart. He was cheating on her. But her weekend with Tim helped her bring her marriage into focus for her.
This intimate story of two people who are both lost and miserable is a perfect example of why independent film is such an important part of the storytelling landscape. Written by Thomas Ward and directed by Amber McGinnis, it's unique and full of truth and heart. Rachael Harris and Rob Huebel are both excellent here.
The film is currently available on Hulu, Prime, and a few other streamers. If you watch it, I'd love to hear how you felt about it.