This episode is about grief, about dealing with loss, about flailing for the right choice when all of the choices are wrong, and about being there for the people who need you.
There are spoilers ahead.
Episode 4 of Last Tango in Halifax starts in what seems like a good place.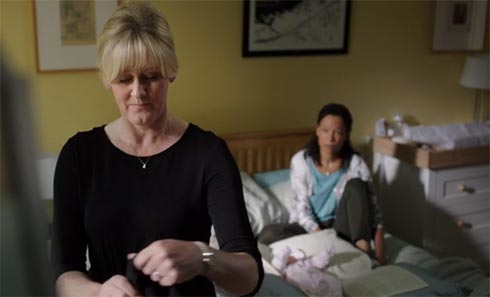 Caroline (Sarah Lancashire) is getting dressed in a black dress. Kate (Nina Sosanya) sits on the bed with the baby. They discuss the baby's name. They agree on Flora Grace. William (Dean Smith) knocks on the door and says "The hearse is here."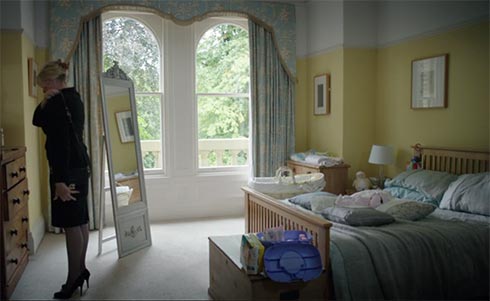 That's when we realize Caroline and the baby are alone in the room. Caroline's been carrying on a grief-stricken conversation with a Kate who is only there in her mind. Kate did not survive being hit by a car.
Kate's funeral is the next scene. Kate's mum, Ginika (Michelle Hurst) is holding the baby.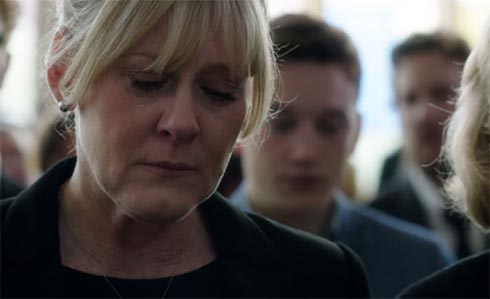 Caroline is crying, as she is through most of this episode. Kate's mum is crying. Back a few rows is Greg (Marcus Garvey), the sperm donor, eying the beautiful little girl Ginika is holding.
Once again Caroline's house fills with guests, but this time the occasion is not a joyous one.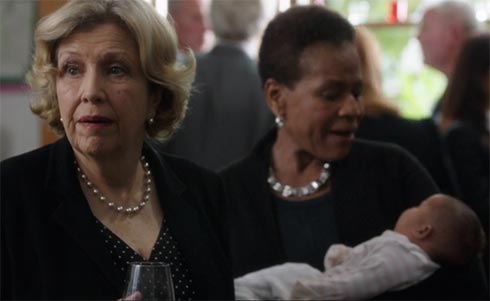 Celia (Anne Reid) and Ginika discuss Greg, who's an idiot, and John (Tony Gardner), who's an idiot. John comes over and Ginika surprises him by knowing his novels. Ginika tells Celia she likes Caroline and that Kate was very happy.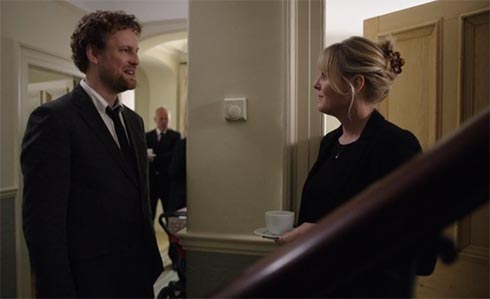 Greg says he knows he's not supposed to ask, but he wants to know about the baby. Caroline says she's on the birth certificate as a parent. He offers to help, even though he realizes he really shouldn't be involved and that wasn't the deal. Caroline takes him in the kitchen and lets him hold the baby.
Caroline watches Greg with a weepy, red-eyed look.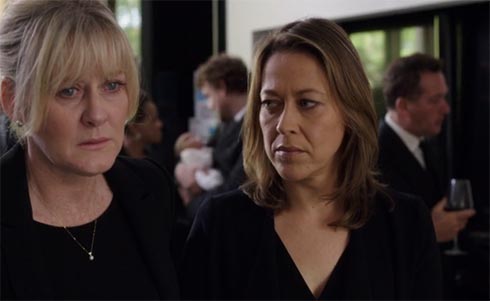 Caroline points out Greg to Gillian (Nicola Walker). She says he's the biological father and Ginika, the biological grandmother. She says, "And I'm not actually anything."
The baby has colic and cries all night. Caroline says it feels like she's crying for her mother.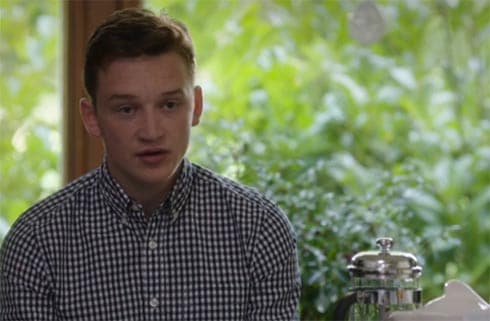 Most of the people are gone. Flora is crying. Lawrence (Louis Greatorex) is complaining because the baby bothers him. He says, "It's not even ours." William calls him a nob. Gillian offers to take Flora outside for a stroll, so Caroline can rest a bit.
John, of course, tags along like a puppy at Gillian's heels. She tells him she's marrying Robbie (Dean Andrews). He turns and goes back to the house alone.
Caroline sits down with Alan (Derek Jacobi). She asks him if there are any more skeletons in the cupboard because she doesn't think her mother could take any more. He promises there are not, except he's realized lately that he'd settled for something he never really wanted with his first wife.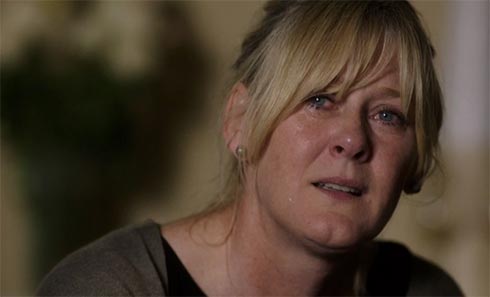 Celia comes in with tea. Celia and Alan try to make light conversation. Caroline withdraws into her grief and sees Kate standing at the window, smiling gently at her. It's a punch to the gut that Caroline is becoming all too familiar with.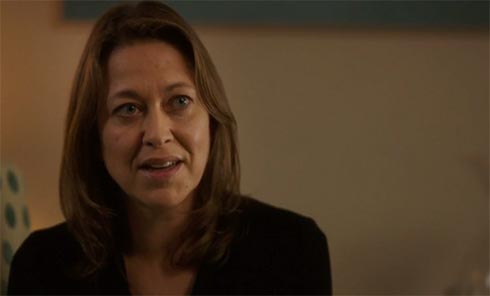 Caroline is looking at a web site for nannies when Gillian returns. Gillian tells her she's marrying Robbie. Caroline doesn't really have the energy to think about Gillian's plans. She does ask how Gillian thinks she can live with someone, sleep with someone knowing she'd murdered his brother. Finally, Caroline says, "We agreed we were never going to talk about Eddie. You do what you like."
Caroline walks Gillian out and she leaves. Caroline looks up at the night sky, at Orion, and has a moment – a brief moment – of peace. Then Flora starts to cry.
Robbie comes to the farm the next day. He and Gillian talk about the funeral, about how Caroline is doing. She asks how things went at the farm yesterday. Robbie wants to tell Raff they are getting married and to plan the wedding and a honeymoon. Raff (Josh Bolt) can take care of the sheep.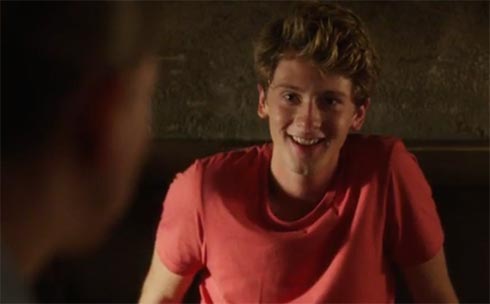 Raff hears his name and they tell him about the engagement. He's pleased about it.
Raff says Gary (Rupert Graves) wonders why no one has rung him lately.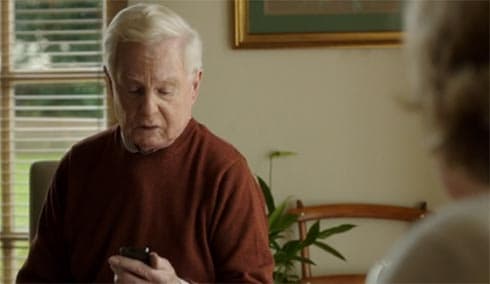 Raff texts the wedding news to his Granddad. He adds that Gary wants to know why nobody's rung him.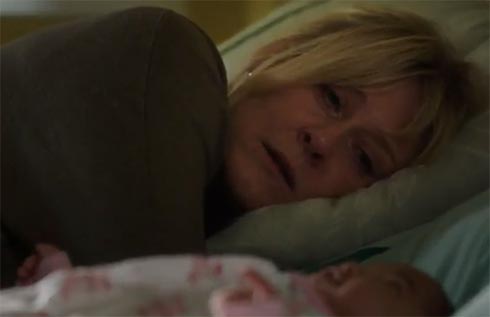 Caroline's on the bed with Flora. She pours out her heart to the baby. She promises to take care of her. She says, "Your mum would have been so thrilled with every tiny little bit of you." She debates her various options about retiring, keeping up her career, getting a nanny, getting help from relatives such as her mother and John, selling the house. Flora has no answers.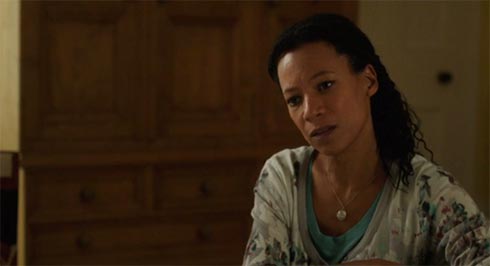 Kate shows up at the foot of the bed and says a nanny was never an option.
Downstairs they worry because Caroline's talking to herself. Lawrence is still acting like a nob. Celia decides to take Caroline a cup of tea.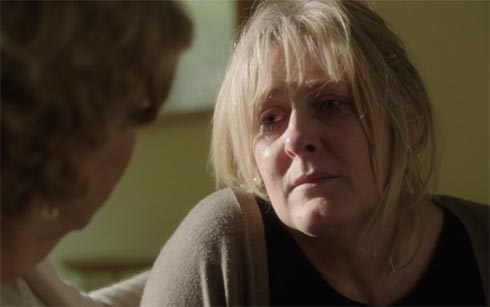 Caroline and Celia talk about dying, grief, and healing. About getting on with living. Caroline wonders if it's weird being dead. If some people linger longer than others. Caroline can't stop imagining what Kate went through at the end, to die in such a violent way.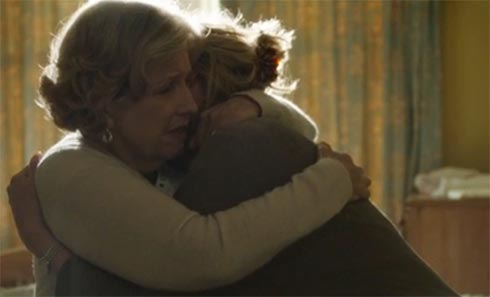 Caroline sobs in her mother's arms for a long time. Finally she pulls away and talks to her mother about options. She asks if Celia could take shifts with the baby, help out. Celia says she'll help as much as she can.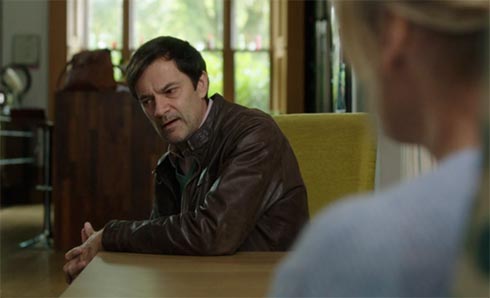 Caroline asks John if he could help. He says maybe for an hour one afternoon a week. He's useless, isn't he? He does say he wants to get a flat nearby and spend time with Lawrence. He urges her to be realistic about the life-changing event that has happened to her.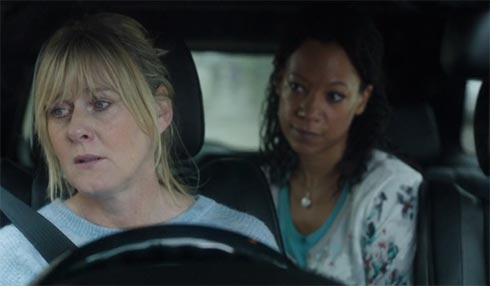 Caroline drives William to the train. Unlike Lawrence, William accepts Flora as his sister. As soon as he's out of the car, Caroline slips into another imaginary conversation with Kate.
Kate suggests ringing Greg. Caroline says, "I'm not ringing Greg." Kate says he's not as big a twerp as Caroline thinks. And – he's the only person on the planet likely to feel as protective toward Flora as Caroline and Ginika do. Caroline says what about a proper nanny? Kate says "I wouldn't speak to you. You've got Mary Poppins in your head. That doesn't exist." Caroline says, "I promise I won't do anything that you would hate!"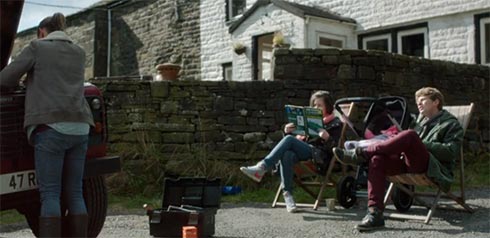 In Halifax, Gillian tells Raff and Ellie that Robbie helps bring out the good in her. Ellie (Katherine Rose Morley) says Raff has gotten cocky since he's been working for Gary. Robbie comes out and they discuss inviting Gary to the wedding. Raff thinks Gillian's jealous of Gary.
Over dinner at the farm, Gillian says her dad's a good man. She can't crucify him. And she is jealous of how successful Gary is, although she won't say it out loud.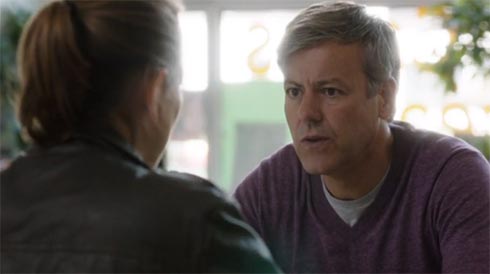 The next day, Gillian meets Gary. He talks about being so angry because no one told him the truth. He thinks his dad always loved his little brother the best. He wonders why nobody is ringing him and basically reveals he's having a crisis of confidence. He's angry and anxious about everything.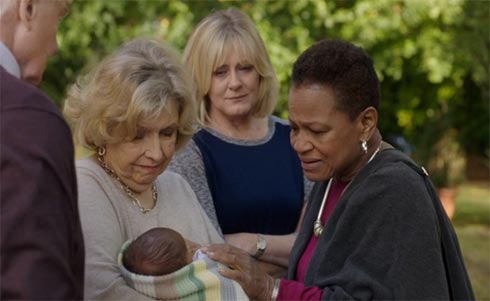 Ginika is going back to the U.S. She will be back for 2 weeks in the summer. She hugs everyone goodbye and takes one last long look at her beautiful granddaughter. Caroline gives her a big tearful hug.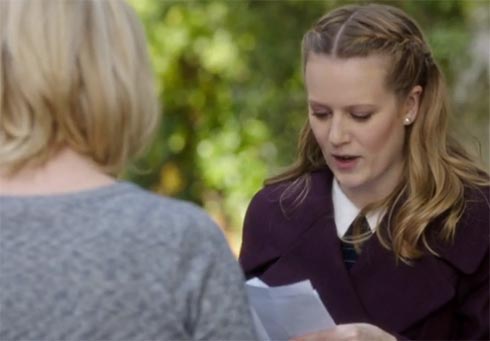 Up the driveway comes a chatterbox of a young woman named Holly (Cara Theobold). She was once Caroline's student. She's now a nanny. The agency sent her. She exclaims over the house, the Lexus, the baby's skin, and everything in sight.
Caroline manages to get in a word and offers her tea. As Holly goes inside, Caroline, Celia and Alan stare after her in amazement. Methinks Caroline is about to do something Kate would hate.
Some Thoughts
I hate this. I'm so sorry the story went this way. I wanted Caroline and Kate to be happy, at least for a while. Many people loved them together: two lesbians, one a woman of color, being treated as normal human beings. In the midst of this glorious situation we get the kill-the-lesbian storyline. It felt for a while like these two woman would escape the kill-the-lesbian trope, but they did not.
Giving up Kate is a great loss for this series, not just for Caroline.I loved having Kate in this series. I loved her personality, although her character wasn't well developed. I loved that she is a woman of color. I loved the way she stood up for herself. I loved how good she was for Caroline. Giving up Kate is a great loss for this series, not just for Caroline.
I'm sure Sally Wainwright will be giving interviews explaining why she chose to write this particular story, why she wanted Caroline to have to deal with grief, why Kate had to be the one to die. I can't wait to read those interviews. In the meantime, I'm speculating that she'd written Caroline into the place she'd been heading as an out and proud lesbian. That struggle is over. A new struggle is needed.
Update: See this post for more discussion about this trope and Kate's death as well as comments from Sally Wainwright: Another Dead Lesbian and the Question of Representation.
The thing I like about Last Tango in Halifax is that there isn't a weekly thing that has to happen. No weekly crime to solve, no weekly medical emergency to handle. It's just people living everyday lives. To make it dramatic, to make it interesting, those ordinary lives have to fall apart or be put back together with plausible events.
People die suddenly. That's reality. It's happened in my family, and probably in yours. The crushing effects of grief, the struggle to keep going, the uncertainty about how to create a new future – those things are all real. That kind of reality that makes a dramatic difference in ordinary lives.
Caroline knows Kate wouldn't want a nanny. She's having tearful conversations with Flora about it, but, realistically, how can she manage Flora without a nanny? Yet Holly seems like a flake. Kate would really not like her.
Kate looks so beautiful in Caroline's memory.The imaginary conversations with Kate don't seem odd to me. It's common to feel that way after a loss. I think they will slow down and disappear over time, but it was nice to see Nina Sosanya in this episode. She looks so beautiful in Caroline's memory.
Sarah Lancashire is brilliant at portraying grief. She did it for a Sally Wainwright series called Happy Valley, and she's doing it again in this series. She must have spent days in a very sad place filming this episode.
Seeing Michelle Hurst as Kate's mum was a lovely surprise. She was a favorite in Orange is the New Black. I'd heard she was injured in a car accident, so I'm happy to see her looking well.
Episode 4 was directed by Syd Macartney, who has not been a director on Last Tango before. Sally Wainwright worked with Syd Macartney on Scott & Bailey.