Love and Death stars Elizabeth Olsen in a brilliant performance as Candy Montgomery, the Texas housewife who admitting killing her neighbor and friend with an axe.
The true story in Love and Death has been told often in the 30 years since it happened. Just last year, there was another TV version of it called Candy starring Jessica Biel and Melanie Lynskey, which I haven't seen and cannot compare with this version of the story.
This 2023 series on Max was created and written by David E. Kelley and mostly directed by Lesli Linka Glatter. We've seen Elizabeth Olsen in many things, including her roles in various Marvel properties. But this is the first time I've watched her in something where my predominate thought was about how stunning her performance was.
Candy Montgomery lived in small town Texas. She and her husband Pat (Patrick Fugit) had two children. They were stalwarts in their church. She sang in the choir. They were on the church volleyball team.
Among their many friends were Allan Gore (Jesse Plemons) and his wife Betty (Lily Rabe). The Gore's daughter was best friends with Candy's daughter. Betty was pregnant/a new mother.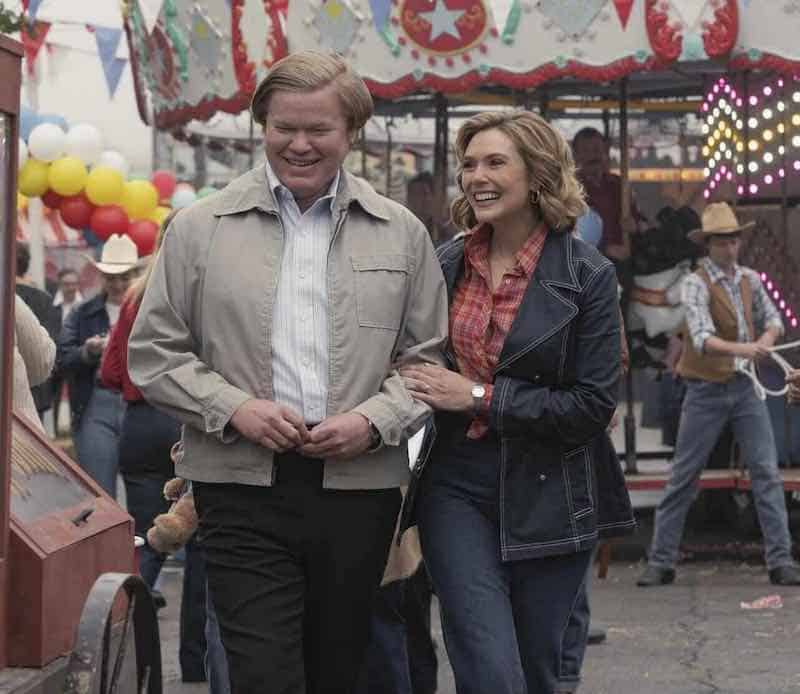 Candy decided she was sexually attracted to Allan. Jesse Plemons was heavy and puffy in this, with the world's most unflattering haircut. He was sexually unsophisticated and not outgoing. But she wanted him, and she told him so. They discussed it at length. Made lists of the pros and cons. Set rules. And finally had an affair that lasted a few months.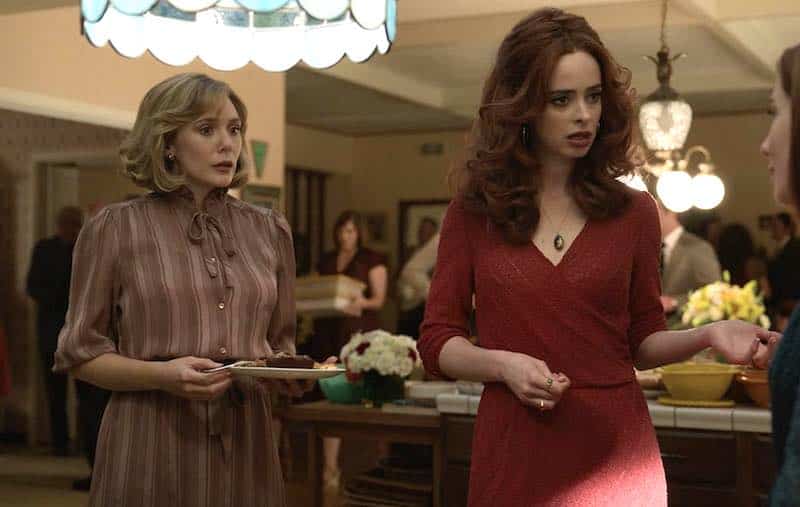 Candy's best friend Sherry (Krysten Ritter) knew all about the affair. When Candy was accused of murder, Sherry was right there by her side the whole time. Her husband Pat didn't learn about the affair until the murder. He was less supportive of Candy, but did stick with her through the trial.
The 41 Whacks
Candy went to Betty's house to pick up Betty's daughter's swim suit. This was months after the affair had ended. In the trial, Candy and her lawyer Don Crowder (Tom Pelphrey) claimed self-defense. Candy's version of the story (which is the only one we have) was that Betty asked her if she was having an affair with Allan. Candy answered truthfully that she had, but it was over.
Betty attacked her with an axe. Candy defended herself and got the axe away from Betty. Even after Betty was clearly dead and could no longer hurt her, Candy continued chopping with the axe. She struck Betty 41 times.
In court, the lawyer and a psychiatrist who had hypnotized her claimed she snapped into a blind rage because of a childhood trauma to explain the excessive damage Candy did to Betty.
After a few initial lies when Betty's body was first discovered, Candy admitted to the police and her lawyer that she had indeed killed Betty. But it was because Betty came for her.
You may know how this story ends since it's a well known case, but I'm not going to reveal the ending. If you don't know how it turned out, I'll leave that for you to discover.
From David E. Kelley's writing and Lesli Linka Glatter's directing through the excellent performances from the entire cast all the way to Elizabeth Olsen's stunning portrayal of Candy Montgomery, this is a fascinating series about a real crime.
If you haven't seen the trailer for Love and Death yet, it gives you plenty of details. Have you seen this one? What did you think of it?