The Marvelous Mrs. Maisel, season 5, took an "everything including the kitchen sink" approach to wrapping up this funny series. There were flashbacks and flash forwards, there were musical episodes, there was a roast, there were shows within shows, there were jokes on top of jokes. The love affair this show had with 1960s fashion, music, and New York City continued unabated.
I'm happy to reveal that Midge (Rachel Brosnahan) finally got her break and made it big. It took a lot of hard work but it happened. The Marvelous Mrs. Maisel finally became a household name. She was so rich and famous she took a helicopter to visit her son Ethan as a grown man working on a kibbutz in Israel.
The Big Break
Susie (Alex Borstein) managed to get Midge a job on The Gordon Ford Show. The Gordon Ford (Reid Scott) character was a Johnny Carson style late night talk show host.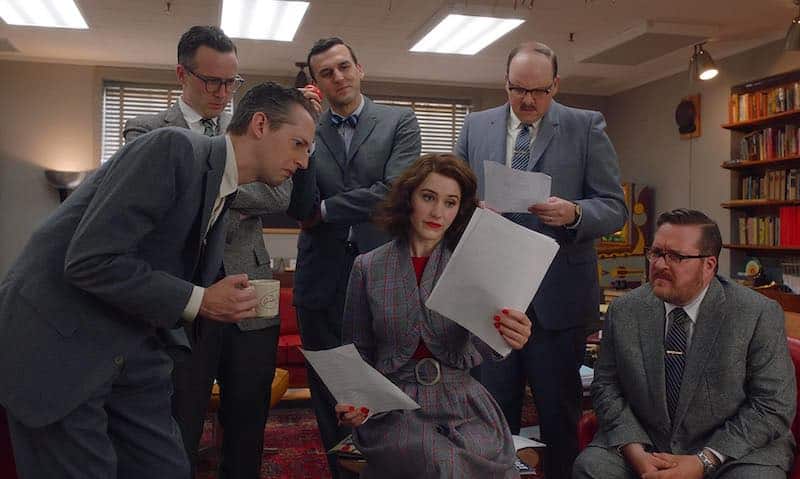 Getting a "girl" in the writers room was a breakthrough. Both Susie and Midge thought it would lead to Midge getting a chance to appear on the Gordon Ford Show doing her stand up act. Turns out the writers never got to appear on the show – it was a rule.
Part of the set-up around Midge's experience on the Gordon Ford Show was the big reveal of Susie's romantic past. Gordon was married to Hedy (Nina Arianda). Here's a spoiler for you, in case you want to skip the next couple of paragraphs.
Susie and Hedy were a couple in college. Susie finally confirmed it to Midge after Midge's clumsy attempts to understand Susie's sexuality. Susie's strong reaction to the sight of Hedy finally cracked the ice and she told Midge the story.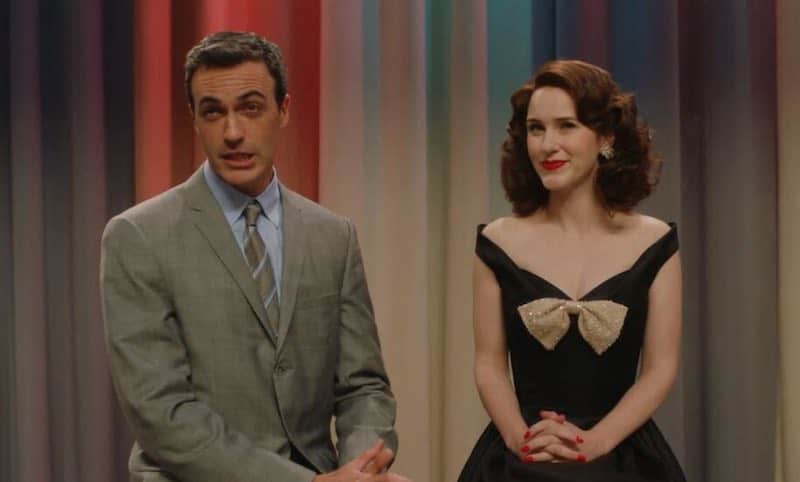 Midge asked Susie to ask Hedy to make her husband put Midge on the show. He said yes, then reneged. But Midge was not one to be held back.
The Family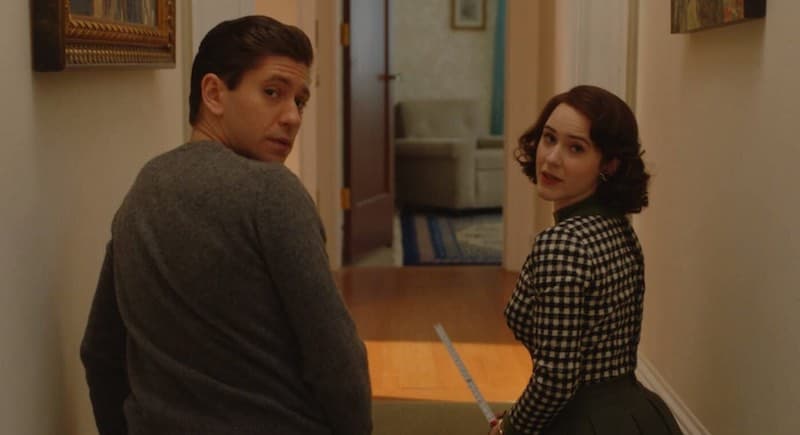 Midge and Joel (Michael Zegen) were trying to be good parents, working at being friends, and possibly still in love with each other.
The four comedy geniuses playing their parents were Rose (Marin Hinkle) and Abe (Tony Shalhoub) on Midge's side. On Joel's side were Moishe (Kevin Pollak) and Shirley (Caroline Aaron). The parents had plenty to do, especially Tony Shalhoub, in keeping the crazy comedy going. And I can't leave out the housekeeper, Zelda (Matilda Szydagis), who always brought the humor.
There was a love story, too. It was about the friendship between Midge and Susie, which we see in some of the flash forwards as enduring into their elder years. Their friendship was the real love story here.
The Kitchen Sink
So many guest stars came by for a hot minute to help wrap up the final season. Just a few of them were Jane Lynch, Stephanie Hsu, Milo Ventimiglia, Hank Azaria, Sutton Foster, Danny Strong, Debra Monk, and Darren Criss. Lenny Bruce (Luke Kirby) was still there in several episodes.
All 5 seasons of this story are appealing and affirming to me because they're so blatantly feminist. Midge broke every patriarchal taboo in both her personal and professional life. She made it big because of that.
The final season was an enjoyable romp with an everything approach to the plot lines and episode styles. It was an eclectic season with a bittersweet but happy ending.
The Marvelous Mrs. Maisel was created by Amy Sherman-Palladino, who also directed several episodes. Daisy von Scheler Mayer also directed an episode in season 5.