Lyle, Lyle, Crocodile, from the book by Bernard Waber, found a new life as a musical starring a sweet crocodile who sings and dances his way into the life of a young boy. It has a good message for kids and is deep enough for the adults with them to enjoy it, too.
Lyle, Lyle, Crocodile begins with down-on-his-luck entertainer Hector P. Valenti (Javier Bardem) discovering a tiny, sweet-voiced singing crocodile in the back of a pet shop. (Shawn Mendes does the voice.) Hector sees the fame and fortune he longs for in the singing crocodile.
He takes it home to his attic on 88th Street in New York City. Hector and Lyle practice a song and dance routine. But when they are on stage to perform, Lyle freezes from stage fright.
Defeated, Hector leaves, promising to be right back. But he seems to be gone forever.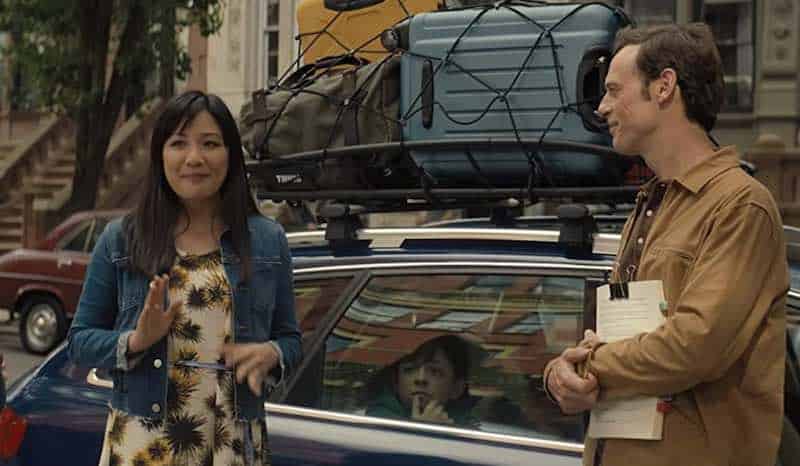 Months later a new family moves into the apartment under the attic. They are Mrs. Primm (Constance Wu), Josh (Winslow Fegley) who is nervously hiding in the car, and Mr. Primm (Scoot McNairy). Their very nasty downstairs neighbor Mr. Grumps (Brett Gelman) is there to warn them about everything he hates.
By now Lyle is about 7 feet tall and makes quite a racket when he dances his heart out up in the attic. The Primm family first fear him, then learn to love him. Lyle has a powerful effect on the family, helping each of them in various ways. Messages about belonging, friendship, love, self-reliance, and courage come through the interactions with the Primm family.
That's when Hector comes back. He want to try again to get Lyle to perform before an audience. This leads to all sorts of complications that fill the 3rd act of the film and create some excitement and suspense.
Of course, it all leads to a happy conclusion.
As I said, this is a musical. Shawn Mendes does a delightful job with his singing, but Constance Wu, Javier Bardem, and Winslow Fegley are not made to sound like professional singers. The music is selected to tell the story. Lyle doesn't talk – he only sings – so his song choices are crucial to a message he wants to deliver.
It isn't the big Broadway musical style of music, but includes songs your children may soon be singing along with.
You can see the film on Netflix. Even if you don't have youngsters in the house, you can still enjoy it.