There are a lot of things wrong with the United States of America. The broken justice (injustice) system is one of the worst. In season 4 of Orange is the New Black, the for-profit aspect of that brokenness is explored in damning detail. Litchfield, a minimum security women's prison, is turned into a battlefield with corporate greed directing the battle. There are spoilers ahead if you haven't seen all of season 4.
Military Mentality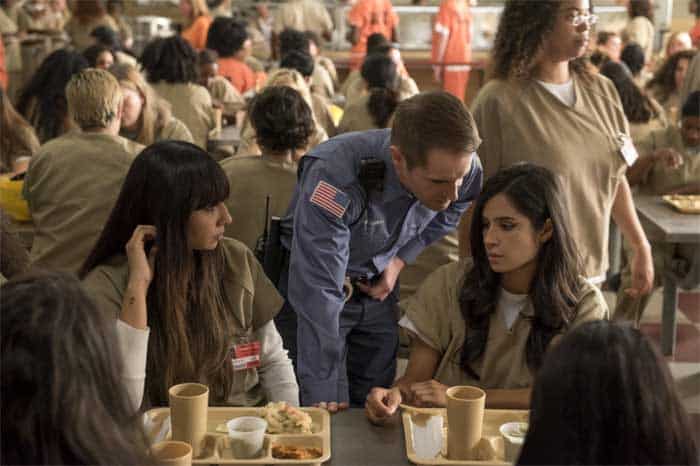 The previous COs walked out at the end of season 3 because their hours were cut. They were part time rather than full time. Corporate owners don't have to provide benefits to part-timers.
The corporation gets bonus money when it hires veterans. It will hire a bunch of untrained replacement COs who are ex-military. The top new CO Desi Piscatella (Brad William Henke) comes down from the maximum security facility when all the women are running loose in the lake.
Piscatella regards the women as enemy combatants. He defies Caputo (Nick Sandow) at every turn. He finds Caputo soft. Piscatella takes actions that escalate danger. He supports his "troops," including the psychopathic Humphrey (Michael Torpey), over the rights of the inmates.
The Education Farce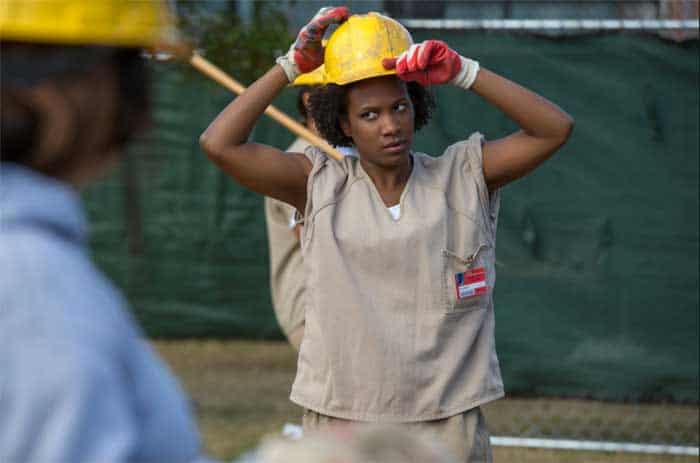 Caputo, still in his first days as warden at Litchfield, holds out hope for doing something good. With the overcrowding brought on by the influx of bodies (more bodies = more money for the corporation) there aren't enough jobs to keep people busy.
Caputo suggests an educational program. The corporate heads take the idea and pervert it. Prisoners don't get paid for taking classes. Instead of English and Math as Caputo wanted, the prisoners will learn construction. The women are given no educational instruction other than wear a hard hat. They are handed tools and made to construct a new dorm to hold even more prisoners who are on the way. The corporation exploits the prisoners as free labor.
Human Rights Orange is the New Black Style
Disregard for the rights of inmates takes several dehumanizing story arcs through season 4, building to a horrible tragedy.
Let's start with Sophia's (Laverne Cox) stay in SHU. In a post at the end of season 3, I mentioned a number of issues with the overuse of solitary confinement in prisons.
No one can be persuaded to reconsider leaving Sophia in SHU. Gloria (Selenis Leyva) alerts Sophia's family that she's been sent to SHU, even though she did nothing wrong.
Sophia fights her situation as best she can. She floods her cell. She beats herself bloody against the concrete walls. She starts a fire in her cell.
Sophia's wife Crystal (Tanya Wright) calls and writes and even goes to Caputo's house demanding answers.
Sister Ingalls (Beth Fowler) gets herself sent to SHU. She smuggles in a phone (in a very uncomfortable place). She plans to take a photo of Sophia and get it sent to the outside world in hopes of helping. The phone is discovered.
Caputo, in a brave act that actually brings good results for him in season 4, takes the phone and shoots a photo of Sophia in her cell. He delivers the phone to Danny (Mike Birbiglia), whose father owns the corporation. Danny releases the photo and Sophia is finally sent back to the general population in episode 12.
In another prisoner abuse arc, Piscatella keeps Red (Kate Mulgrew) awake for days on end.
In another prisoner abuse arc, Humphrey makes Maritza (Diane Guerrero) eat a live mouse while holding a gun to her head.
In another prisoner abuse arc, Blanca (Laura Gómez) is forced to stand on a table in the cafeteria for several days with no food, water, or bathroom breaks.
In another prisoner abuse arc, Suzanne (Uzo Aduba) is pushed by COs into a bloody fight with Maureen (Emily Althaus).
I Can't Breathe
The saddest and most tragic abuse involves Poussey (Samira Wiley). There's a moment when all the women climb onto the cafeteria tables in a peaceful protest against the abuse by the CO's. CO Bayley (Alan Aisenberg) gets in a tussle with Suzanne. Poussey rushes to help. Bayley is actually an okay guy, but he's left on his own with these two. Bayley fights off Suzanne with one arm while holding down Poussey with a knee and the other hand.
Poussey says, "I can't breathe."
Under Piscatella's direction, the other COs watch the scuffle in amusement. Bayley pushes harder and harder on Poussey while Suzanne beats at his back. There's so much noise Bayley can't hear Poussey. Other prisoners pull Suzanne off. It's too late. Poussey is dead.
They leave Poussey on the cafeteria floor for two days while the corporate PR people figure out how to spin her death. It wouldn't do for anyone to have a reason to sue the corporation. No one calls her family in all that time. No one calls the police or the coroner. For two days.
They decide to blame it on Bayley. Caputo is forced in front of a microphone at a news conference. Caputo goes off script. He says the officer responsible was, "set up to fail. He was a victim of circumstance." Caputo does not name the officer.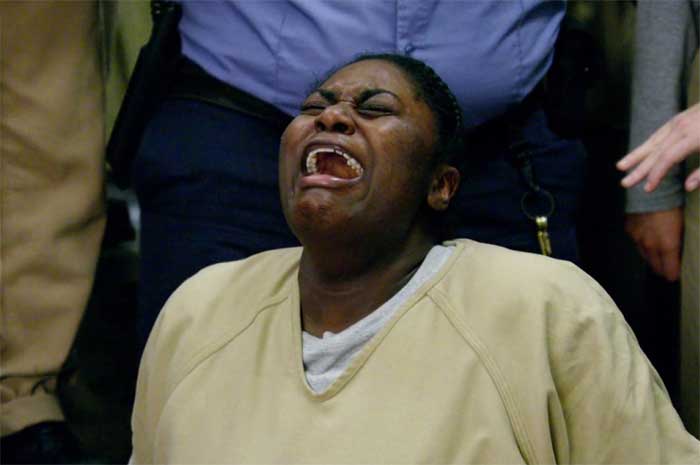 Taystee (Danielle Brooks) along with everyone else in the prison (and the audience, goddamit) is grieving hard over Poussey. Taystee works in Caputo's office now. She hears the press conference. Caputo doesn't mention Poussey's name.
Taystee runs from the office screaming, "They didn't even say her name." The explosive riot that closes out the last moments of season 4 starts when the prisoners hear that.
Sweet, wonderful Poussey. Why her? It's not the dead lesbian trope. It's Black Lives Matter.
Black Lives Matter
The 1st episode of the season had a comment about dying in a while riding in the back of a police van. This was a reference to the death of Freddie Gray. When Piper (Taylor Schilling) inadvertently organized a white power group of followers, they chanted, "White Lives Matter." This was a  reference to the controversy over the use of All Lives Matter when the Black Lives Matter movement began.
Season 4 built toward Poussey's death while saying, "I can't breathe." Poussey used the exact words used by Eric Garner when he suffocated in a choke-hold from Staten Island police in 2014.
The season climaxed with a riot in the final episode. The riot flared from the phrase say her name. The #SayHerName movement refers to numerous deaths of black women, particularly Sandra Bland, while in police custody.
As the last seconds of the last episode tick by Daya (Dascha Polanco) holds a gun on two COs. Hallways full of shouting prisoners surround her. Will she pull the trigger?
Poussey is a huge loss for Orange is the New Black and for the fans. I hope it will add to the discussion of Black Lives Matter and help shine a light on the need for reform in the penal system in the US.
Privatization
Bernie Sanders wrote a post in 2015 "We Must End For-Profit Prisons." He mentions some reasons for ending the for-profit prison system. The reasons he listed:
For-profit prisons harm minorities
For-profit prisons abuse prisoners
For-profit prisons victimize immigrants
For-profit prisons profit from abuse and mistreatment
Prison industry money is corrupting the political process
For-profit prisons are influencing prison policy and immigration policy
For-profit companies exploit prison families
Young people are being mistreated and exploited
Incidentally, Hillary Clinton has spoken out against private, for-profit prisons, too.
There are even more bullet points that Mr. Sanders could have mentioned. A lack of psychiatric help. Lack of enough food. High demand for more bodies from police and courts. Sexual assaults, especially on immigrants in detention. High suicide rates from lengthy isolation. Lack of dental and medical care. No educational training or preparation.
For-profit prisons are one of the worst injustices in the American penal system. Everything about them is wrong. Will attention from Orange is the New Black help create change for the better?
It will if we let it.
Images © Netflix