Petite Maman from French writer and director Céline Sciamma attracted a lot of attention when it came out, as her work frequently does. It's a charming and magical tale of childhood and love.
Petite Maman is told with spare dialog, almost no music, and two young sisters playing the lead characters. It's a blend of reality and fantasy that promotes a mesmerizing sense of connection and love.
Nelly (Joséphine Sanz) moves from room to room in a nursing home, saying goodbye to each woman. In the last room, the bed is empty and her mother is clearing out personal items. Her grandmother has died. Nelly didn't think their last goodbye was good enough. She asks to keep her grandmother's cane.
The scene moves to a house in the woods. Nelly, La mère (Nina Meurisse) and Le père (Stéphane Varupenne) are there to clear it out. Nelly and her mother sort through her grandmother's things. Nelly asks about her mother's childhood, but she isn't forthcoming. Nelly especially wants to know about the hut her mother made in the woods.
Nelly's mother leaves and she and her father continue the clearing out.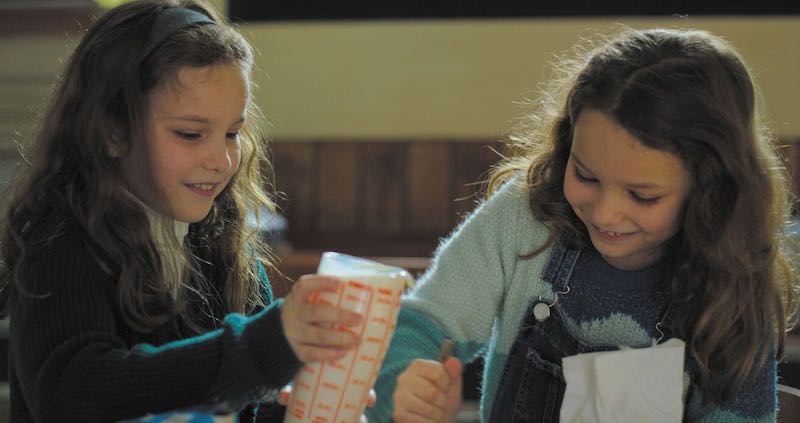 Nelly goes to play in the woods, or perhaps I should call it the enchanted forest. There she meets Marion (Gabrielle Sanz), a child her age who looks a lot like her. Nelly comments that Marion is her mother's name. Marion is building a hut of sticks and twine.
They bond, almost wordlessly. They spend the next few days together. Nelly goes into Marion's house and realizes it is an exact copy of the house she's staying in. The same spring loaded closet door, the same tile in the bathroom, the same wallpaper in the kitchen, the same bedrooms.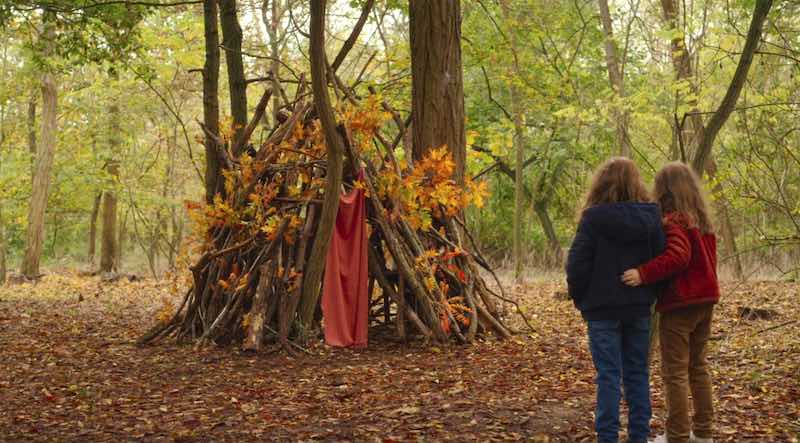 They work on the hut together. Eventually Nelly tells Marion that she's her daughter from the future. She realizes Marion's mother is La grand-mère (Margot Abascal). La grand-mère walks with a cane.
The two children have very adult conversations. They are deeply meaningful talks about love and connection. It's discordant to hear children having these powerful conversations amid their play. The two young actors are utterly convincing at it. Through these talks, Nelly gets to know her mother and to understand that her mother's sadness isn't her fault.
It's fantastical to think of knowing your mother as a child, playing with her, seeing her life. Céline Sciamma turns this notion into something alive with love and meaning. It's heartwarming and leaves you feeling moved and lifted up.
Petite Maman is currently available to rent or buy on Prime Video, Apple TV, and several other places. I read that it will reach Hulu as part of the subscription price.