The Handmaid's Tale, season 4, concluded on Hulu on June 15. It was a complicated storyline in 10 episodes. I'm going to hit some high points. Be warned, there are spoilers ahead.
The Big Spoiler
Let's start with the biggest spoiler of all – what happened in the final episode of season 4. June Osborne (Elisabeth Moss) is consumed by rage and a need for revenge all season. We learned earlier in the season that June's capable of killing. June gets help from Nick (Max Minghella), Commander Lawrence (Bradley Whitford), and the Canadian lawyer Mark Tuello (Sam Jaeger). They conspire to take Fred Waterford (Joseph Fiennes) into the woods.
June and a group of handmaids, including Emily (Alexis Bledel), chase Waterford down in the woods and beat him to death. They hang him in public and cut off his finger to send to Serena Joy (Yvonne Strahovski).
He deserved punishment, in my opinion. But the question this turn in the story raises is about June and what Gilead has done to her. Has it made her as evil as the captors who tortured and traumatized her for so many years? Is she still the savior in this story?
Who becomes the new villain? Is it Serena Joy who was equally an architect of Gilead with her husband? Or perhaps Aunt Lydia (Ann Dowd), who is still a true believer.
June is safe in Canada with her husband Luke (O-T Fagbenle) and her toddler daughter, yet she chooses to risk it all to get revenge on Fred Waterford. Season 5 will have to deal with her mental state. Her daughter Hannah is in Gilead. Still unfinished business.
Mckenna Grace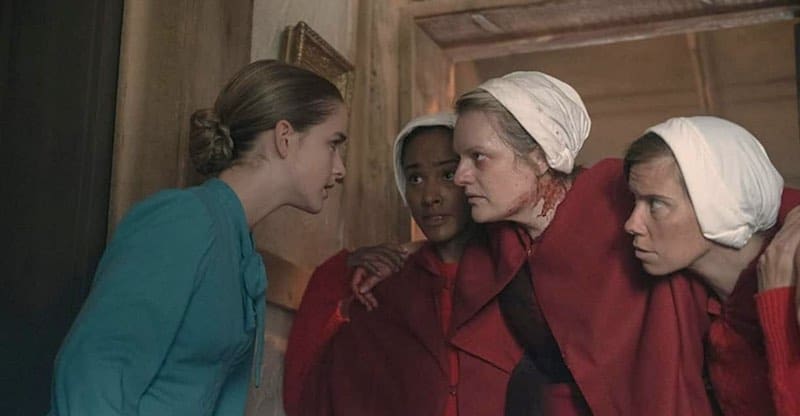 There are many escape attempts in season 4. In one of them, several handmaids hide out at a farm run by the young wife, Mrs. Keyes (Mckenna Grace). She's dealing with her Commander by slowing poisoning him with nightshade. The performance from Mckenna Grace here is terrific.
The Handmaid's Tale has a big cast boasting many brilliant performances – especially Elisabeth Moss. It's hard to make an impression among all that excellence, but Mckenna Grace, at a mere 14 years old, manages it.
Women Directors in Season 4 of The Handmaid's Tale
Episodes of season 4 were directed by Christina Choe, Elisabeth Moss, and Liz Garbus. Moss directed 3 of the episodes.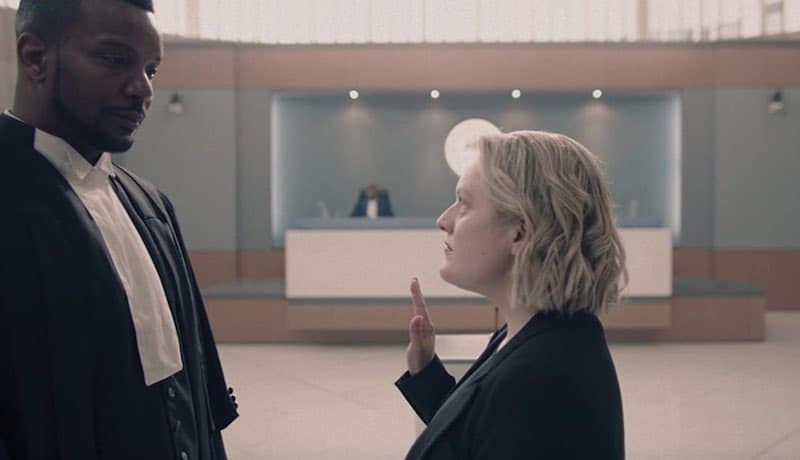 In the episode "Testimony," Elisabeth Moss directed herself giving testimony in a Canadian court against Fred and Serena Joy. A consistent multi-season characteristic of the series has been the use of extreme closeups of Elisabeth Moss's face. But in "Testimony" the camera begins on her from several feet away. It moves closer, but not by much. In the end, June is reciting the Waterford's crimes straight into the eye of the camera. Very powerful.
Several times in season 4, the decision was made to have Elisabeth Moss look straight into the camera. She's seething with pain and rage. When she looks down the lens it's as if she's looking right at the viewer and you feel the violence of her emotions spilling out.
The final episode, directed by Liz Garbus, was suspenseful and full of danger. When the climactic moments came, the camera was above the murder scene in the dark woods. In the center of a circle were former handmaids descending on Fred Waterford with tooth and fang. Around them, creating a circle of light were more former handmaids with flashlights. It looked like a star shining in the woods, beams of light in a dark world. I found that symbolism touching.
Liz Garbus gave an interesting interview to MSN about the final episode and how it compares with some of her other work.
Overall
Season 4 pushed everyone to the brink. Gilead is beginning to show cracks. June is mad with rage. While the possibility of living free in Canada is right there in front of June, she can't quite grasp it. I thought it the strongest season so far in the series except for season 1 in which the world of Gilead and the handmaids was created.
There is plenty left to do in season 5, which will be the last one. Finding redemption for June is first on the list, with more strings to pull together from the many subplots.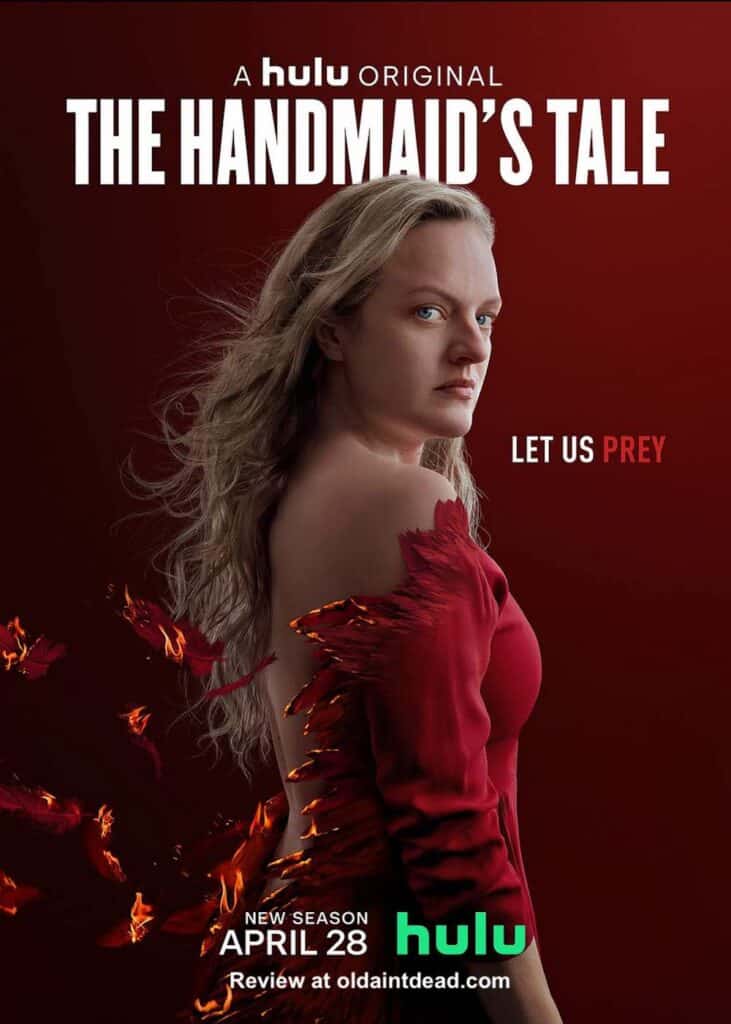 Here's a season 4 trailer.
Are you watching The Handmaid's Tale? What are your thoughts on season 4?