The Handmaid's Tale was originally a novel from prolific writer Margaret Atwood. I read it about 30 years ago when it came out, but my memory is sketchy. My sketchy memory left me free to watch the new television series The Handmaid's Tale with fresh eyes. This is a review of season 1.
Bruce Miller created the television series, with writing help from Margaret Atwood and several other writers, most of them women.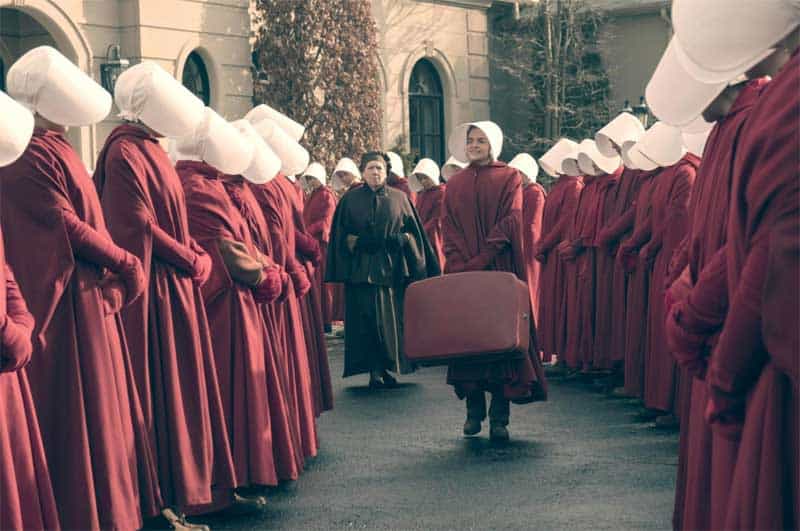 The Story
The story takes place in a dystopian future, where women are enslaved in a living hell. Women can be handmaids, as Offred (Elisabeth Moss) was, or cooks as Rita (Amanda Brugel) was. Women can be Marthas (domestic servants). Women can be Aunts. The aunts were the enforcers. Ann Dowd did a brilliant but horrifying turn as Aunt Lydia. The women on the top of this hierarchy of enslavement were wives, although the wives didn't consider themselves enslaved. But they were.
The storyline of The Handmaid's Tale is about how the women endure, survive, and resist their circumstances.
The birth rate dropped to almost nothing due to an unexplained reason. The wives were barren, married to men who might be sterile. But, of course, any lack of a child was blamed on the wife.  The handmaids were among the few proven fertile women to be found in what remained of the former United States. They were captured and used as breeders. A barren woman was assigned a handmaid to live with her and have a child for her. Offred was assigned to Commander Fred Waterford (Joseph Fiennes) and Serena Joy (Yvonne Strahovski). Her name, Offred, is of-fred. Handmaids are called by the name of their commander.
As patriarchal horrors so often do, the society creating this system of female enslavement used religious verbiage to justify itself. The women were raped by their commanders while lying in the lap of the wife in what was called 'the ceremony.' The attempt to impregnate the fertile handmaid was shrouded in Bible quotations and many social conventions meant to prevent emotional involvement.
Flashbacks were used frequently to provide character backstories. We met Offred from before when she was June. She meets and falls in love with Luke (O-T Fagbenle). They have a daughter Hannah (Jordana Blake). June's best friend is Moira (Samira Wiley). They lived in Boston.
After the collapse of the United States, June and Moira meet up again several times. One of the times Moira is a handmaiden, later after an escape attempt she's forced to be a prostitute.
June and Luke waited too long to leave Boston. They finally tried to make it to Canada. They were separated and for a long time June thought Luke had been killed. June didn't know where her daughter Hannah was.
Flashbacks took us to the beginnings of what became known as the Republic of Gilead as Fred and Serena Waterford plotted to create the new world. The very smart Serena Joy willingly helped create a world in which she was a second class citizen and under the power of men. She thought she would have power, too. It didn't work out that way.
We see flashbacks showing how Nick (Max Minghella) came to be employed as a driver by the Waterfords. Nick lived in Commander Waterford's household and was important to Offred. They became lovers. When she became pregnant, Nick was assumed to be the father. The baby would belong to the Commander and Serena Joy, of course.
The flashbacks also help explain how each new affront, each new loss, each new change became accepted as normal. Each tiny change was not the takeover or a hostile force – no, it was just a tiny change. The changes became the new normal and accepted. The same dynamic played out in the Republic of Gilead with the women even commenting, "Oh, so this is the new normal," and, "You get use to things," as things grew worse and worse.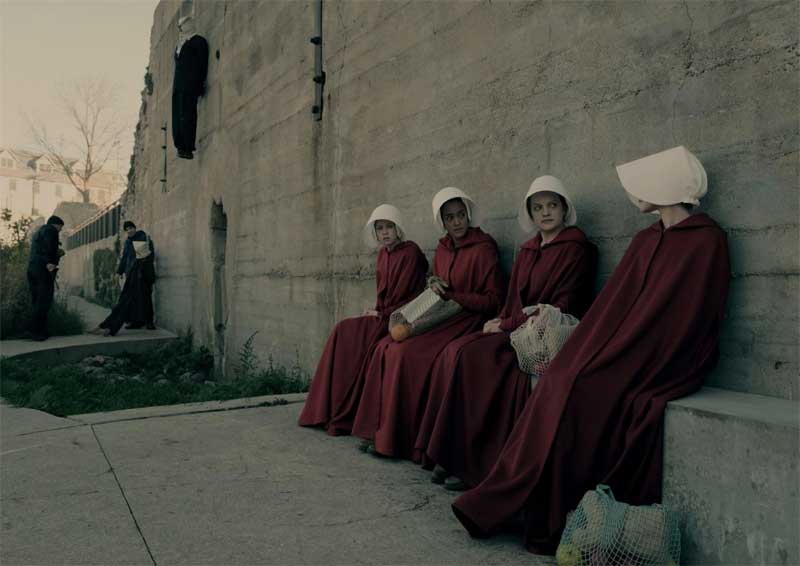 The women found ways to communicate, to plot, and to help each other in spite of the military surveillance of the simplest daily interactions. There were some heart-warming escapes and rebellions, but most of the episodes showed characters in despair over their situations.
Although the original book didn't have a diverse cast, the television series does. Men and women of color are visible. Lesbian characters such as Moira and Alexis Bledel's Ofglen were considered abominations. Ofglen was expected to bear children even after a clitorectomy and seeing the woman she had a relationship with hung.
Performances
The performances were wonderful. Elisabeth Moss, Samira Wiley, Yvonne Strahovski and Joseph Fiennes stand out. Really, everyone was on top of their game. Madeline Brewer, Alexis Bledel, and Tattiawna Jones as handmaids were excellent.
Direction and Music
Season 1 had 5 directors: Reed Morano, Mike Barker, Kate Dennis, Floria Sigismondi, and Kari Skogland. The 5 of them achieved a similar look and feel through every episode.
The light as it filtered through windows and muted, cloudy skies were almost characters in the series. The air itself was gauzy. Against that washed out background, the red, blue, and black of the women's dresses stood out in stark contrast.
The lingering closeups on every character, especially Elisabeth Moss, were a technique used by every director. We heard Offred's thoughts as a voice over, but the closeups were telling. Subtle, nuanced acting betrayed emotion to those who watched up close.
Long moments of silence and action sequences where the sound faded away to nothing but ominous music were another frequent element. The music screamed when the characters could not.
The language used by the characters when they spoke freely and not in prescribed religious language was modern. The series had a contemporary feel.
The orchestral score was generally ominous, but sometimes pop music was interjected. Often used during the ending credits, pop songs such as "You Don't Own Me" by Leslie Gore, "Daydream Believer" by The Monkees, and "I Want a Little Sugar in My Bowl" by Nina Simone drove home points from each episode.
Relevant Themes
The dystopian future Margaret Atwood imagined in 1985 is closer to reality now than ever. The U.S. Constitution hasn't been suspended. Martial law is not in force. Yet women's voices are not heard. Rich, powerful, old men are in charge. The few women they allow to speak are mere Aunts, enforcing and parroting the dictates of the patriarchy.
Religious oppression, an overbearing patriarchy, an overgrown military and police force, hypocrisy among the leadership, climate (which was cold rather than hot in this story), education, literacy, and women's rights were themes running through The Handmaid's Tale. By taking an exaggerated look at what can happen to the lives of women in a patriarchal world where men are in control of women's lives and bodies, The Handmaid's Tale attempts to wake us up to what is happening in the U.S. and around the world right now.
At a time when our country is taking steps backward rather than forward, media like The Handmaid's Tale calls us to continue to resist, to notice and resist the small losses. As Hope in the Dark: Untold Histories, Wild Possibilities
says, each time we write or phone or show up to protest, it adds up.
In the final episode of season 1, Offred leads a rebellion that undermines the authority of Aunt Lydia. A small thing perhaps, but it could be built upon. It matters to not accept the loss of rights and freedom as the new normal.
Using a phrase from The Handmaid's Tale, "Blessed be the fruit," this tweet points out one of the small steps against women pushed forward as the new normal in the U.S. right now.
Missouri has voted to allow employers to fire people who use birth control. Blessed be the fruit. https://t.co/jim2NSdLyO by @Sej_Singh

— Feministing (@feministing) June 21, 2017
Have you watched this Hulu exclusive series? What did you think of it?
P.S. I love Margaret Atwood

Here's Margaret Atwood signing my books. I've read all her novels, but her poetry is wonderful, too. Give it a try.