We begin this episode of Lost Girl back in the conversation in which The Keeper (Christine Horne) tells Bo (Anna Silk) her blood has spoken and she's dark.
Bo calls bullshit on The Keeper, but, alas, the gargoyle read her blood when he took that chunk out of her arm. Bo wants to know how something so momentous could happen without her approval. Seems it's a mystery for her and whoever led the dark recently – that would be Vex (Paul Amos). The Keeper tells Bo to leave. Bo says, "If anyone's taking a leave, it's you and your circle jerk of doom." She planned this as her grand exit remark, but The Keeper adds, "If you see the human doctor or that terrorist pet of yours, tell them we will see them soon. Their deaths will be most painful."
Bo tries sucking the chi from everyone in the room, but as soon as she does it goes right back where it came from and Bo collapses on the floor.
Bo's current choices are, 1) Pay fealty to the leader of the dark Fae, or 2) die. I hate it when The Keeper gets in the last word.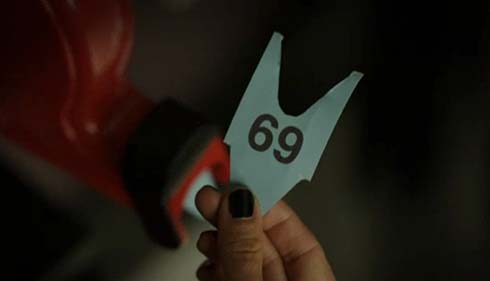 Bo and Kenzi (Ksenia Solo) go to some joint where the purpose of the place is either to make a whole lot of 69 jokes or else let Bo fill up on sexual chi.
I've said for 4 seasons that Bo needs a place she can pop in on her way home, a place away from her love life, to fill up on sex. A gym full of Amazons, or a biker bar full of dudes in leather jackets. A place to service her needs. All of a sudden such a place appears, serving up just what Bo craves. Welcome to Club 69. Take a number.
Once Bo's recharged the old double D's – her batteries, you silly – she blames her current problem on The Wanderer. She's ready to find him and plans to use Vex to help her.
Kenzi thinks maybe Dyson could help, but he's still off somewhere searching for Lauren (Zoie Palmer).
Dyson isn't the only person MIA in this episode: Hale is missing, too. Every episode so far in season 4 has had missing persons. Is this a meaningful statement on the "lostness" of everyone in season 4, or is it budget cuts?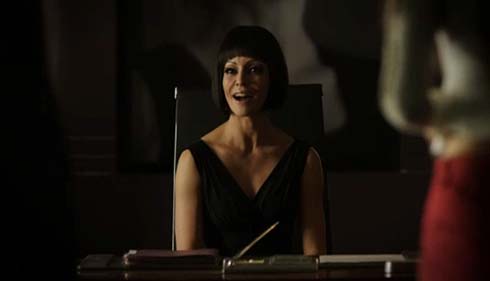 Bo and Kenzi storm The Morrigan's place to discover that Evony (Emanuelle Vaugier) is back and très happy that Bo has joined the dark Fae. Since Bo thought Evony was dead, she is a bit surprised finding her here. Bo says she's having her dark conversion annulled as soon as she gets Vex.
The Morrigan invites them to a dark Fae party. The Morrigan says Bo can get out of being dark Fae if she shows proof she was tricked before the next full moon – which is that night.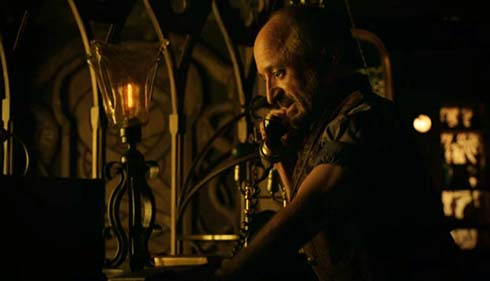 Trick (Rick Howland) promises to do dinner with someone on the phone if they will get him intel on The Wanderer. When he hangs up the phone, he looks at a pulsating seed or nut thingy. Whatever it is, it requires worrisome music as it pulsates. Trick locks it in his vault.
A man appears out of the dark to tell Trick he's been summoned by the Una Mens for an inquisition on his life.
Kenzi, Bo, and Tamsin (Rachel Skarsten) arrive at the dark Fae party. Kenzi goes straight for the food and booze. Evony offers Bo a human to feed on. Bo sends the human and her human friends packing. Evony finds Bo's refusal to feed off the human lame. She argues that at least the dark Fae are honest about what they do, unlike the light Fae who pretend they are better than the dark.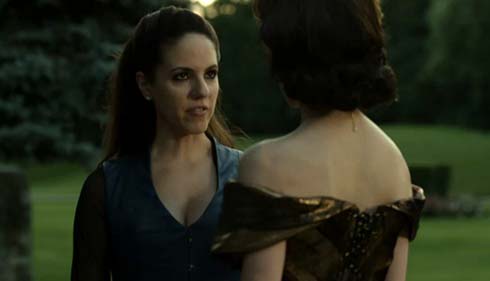 Evony shepherds Bo outside where they continue to argue about whether or not Bo is going to stay dark and be loyal to The Morrigan. The Morrigan repeats the story that Vex is who they both need to find. The Morrigan is "giving her every resource" to find him. To prove what a good friend she is now, Evony turns Bo around to see this.
Lauren walks across a grassy field, looking so gorgeous it's likes she's a Valentine's Day commercial.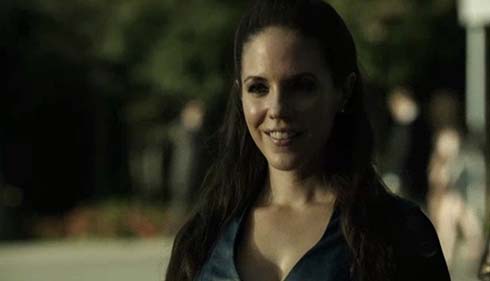 Bo smiles as Lauren walks closer in slo-mo. As Bo watches this heavenly creature approach, she frowns slightly – maybe things aren't entirely perfect in the situation.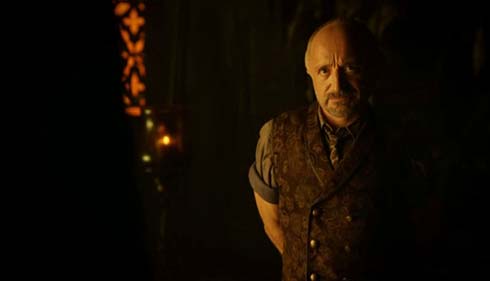 While the Bo and Lauren reunion is going on, Trick is before The Keeper for his inquisition. We learn the story of the Una Mens. When the Blood King became corrupt, a council was made of members willing to sacrifice their individual flaws to form a single soul without ego or ambition. The Blood King agreed, then betrayed the Una Mens. The deal involved every one of the six council members swallowing a seed of the sacred papyrus plant to be blessed as a single vessel of humility and justice. The king stole his seed and vanished. (Hey, Keeper, I think Trick has it in his vault.)
The Keeper says if the Blood King swallows the sacred seed, he can be unchallenged and take his place among them. Trick likes the unchallenged part of her remarks.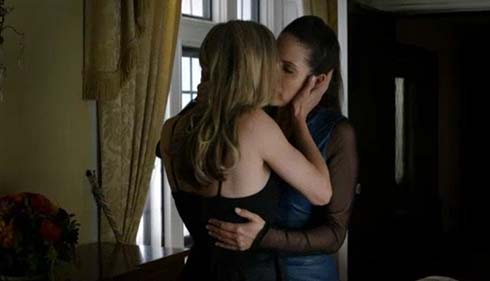 Bo and Lauren find a quiet room at the party, where they say they have a lot to talk about but can't stop kissing long enough to say much or eat the quiche a waiter offers. Bo, in her new none-too-tender way, is ready to rip Lauren's dress off her right there at the party. Lauren doesn't seem offended, she only wants more kisses.
Kenzi and Tamsin are filling plates off a table covered with 9000 kinds of food, when Kenzi picks up some sushi and discovers Bruce under it. The sushi table is actually Bruce (Ron Archer). Kenzi calls him brushi.
He says it's his punishment. He's shirtless (hey, someone's gotta do it – Dyson's not here) and Kenzi pulls a tablecloth off a nearby table to wrap around him. The bride and groom whose party this is lay dead under the table, but Kenzi is more interested in Bruce. Bruce, however, feels bad because they read their vows in iambic pentameter – so lovely.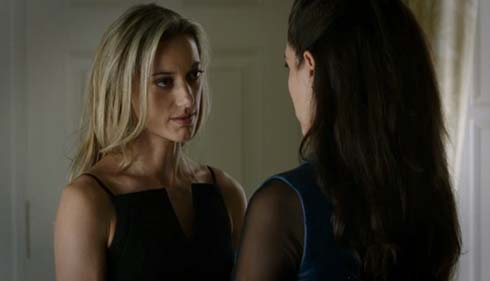 Bo and Lauren continue kissing as fast as they can. Lauren says, "Bo, I'm so glad you're here." She pauses, "Why are you here?" Equally interesting but unasked by Bo: why is Lauren here?
"Vex worked with The Wanderer to turn me dark." You're dark? asks Lauren. Lauren says she's hiding from the Una Mens. That does not sound right – the Una Mens isn't who had her captive in the last episode, even though they threatened Bo with Lauren's name. Bo and Lauren promise to tell each other everything, but instead start kissing again.
Evony comes and and goes back to business. She wants a blood oath that Bo will bring Vex to her. In exchange, she offers the means to find him.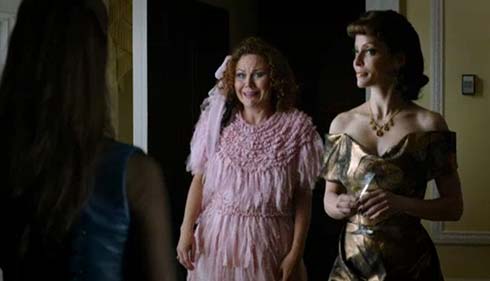 In walks Pietra (Samantha Espie) who is super pumped to be going on an adventure with Bo as one of "Evony's Angels." Evony explains that Bo also needs a certain drug that only you-know-who can provide to make Vex compliant. Evony leaves with the Scavenger and tells Bo and Lauren they have a few minutes to collect themselves.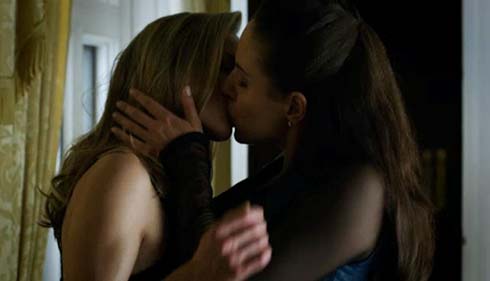 Not much time, says Lauren. Bo figures waste not, want not, and grabs Lauren for another kiss.
Bo, Lauren and Pietra take off in the dead bride and groom's limo to search for Vex. A Just Married sign and a string of cans decorate the back. Pietra does some scavenging and comes back with a huge knife.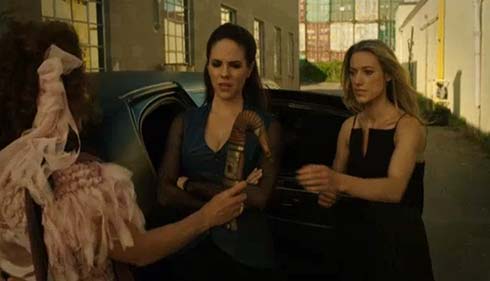 The knife is the key to Vex being able to cut out some poison which prevents him from leaving town. Vex is expecting Pietra to bring him the knife.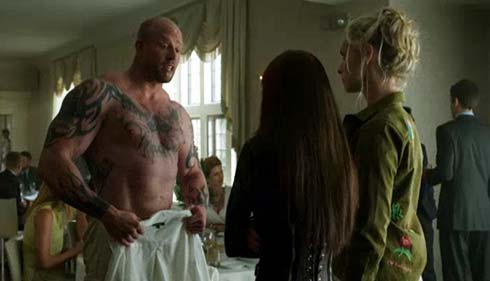 Bruce, still shirtless, but not for long so enjoy it while you can, tells Kenzi he can be saved if another Fae masters him until his punishment is fulfilled. Kenzi immediately tells Tamsin, who is, what – 3 weeks old by now – to master Bruce.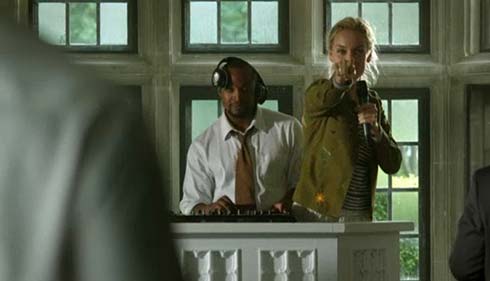 Tamsin grabs a mic from the D.J. (so convenient there's a D.J. at this party) and says she's gonna master all over the big guy, Bruce.
Wait one sec. You can't just declare yourself a master. You have to duel for it with the current master. Evony calls out the "dualist."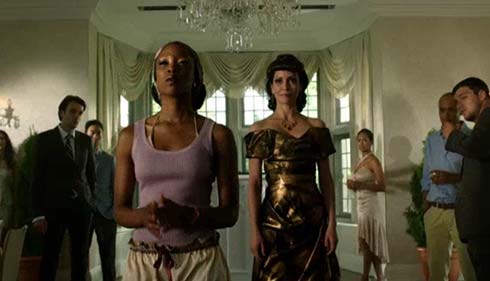 The dualist is a bad ass chick that isn't going to take any shit off of anyone. Unfortunately she doesn't have any lines, so I can't find a credit for her name. Just call her Awesome Personified for now.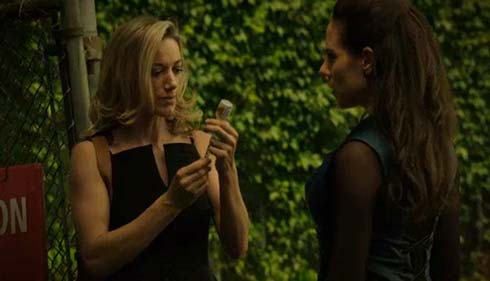 On the street where Pietra is attempting to attract the attention of Vex by marching about with the big knife, Lauren gives Bo a syringe full of Socrates' own hallucinogenic for subduing Vex.
Bo wants to talk because they could be there a while. She wants to know about their break, about Taft, about who Karen is. The heart-to-heart is interrupted when a tall blonde who looks like she's auditioning for a part as a walker on The Walking Dead stumbles up and snatches the big knife. Clearly, Vex's mesmering at work. Bo takes off after the walker.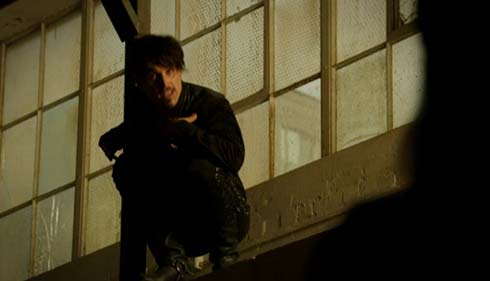 She finds Vex in a warehouse. She tells him he and The Wanderer are going to undo making her dark Fae. He says he knows nothing about a Wanderer but legends. She intends to haul him back to the Morrigan.
Through a misshap with the girl who was on her way to The Walking Dead, Vex shoots the drug into Bo. We see that Vex's hand is seriously messed up. We also see that Vex's messed up hand looks something like a glimpse of arm we saw in episode 4 when Lauren's captor revealed himself.
Bo wakes on a bed, paralyzed. Vex is boiling up something to help him with some surgery.
He must cut off his hand with the giant knife in order to save his own life. He's the last mesmer and not about to go quietly into that good night. Bo urges Vex not to amputate his own hand. Lauren didn't do a full amputation – just a break. Now they are back together again and Bo is humming heart happy songs.
Vex is annoyed by her happy heart and ready to cut off his right hand, Ginger, because he'll still be able to dance with Fred, his left hand. Most guys name their junk, but not Vex.
At the party Evony flips a coin and Tamsin gets to pick the weapons for the duel over Bruce. She chooses to dance. Lucky us, there is a D.J. handy to spin some tunes.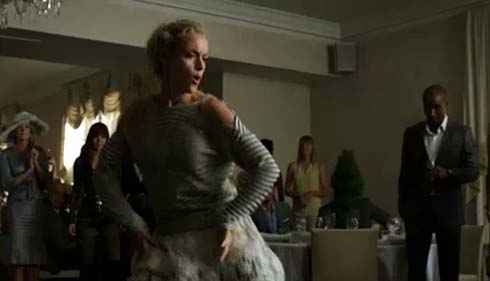 Dance to the death commences. Tamsin's been getting lessons from Kenzi, but she's pretty terrible, although I judged her twerking improved.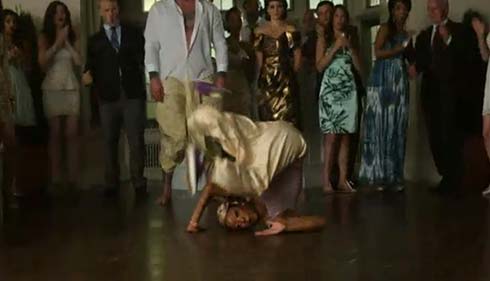 Awesome Personified, however, is awesome, and clearly going to win the battle to remain the master of Bruce.
But wait, Tamsin has a secret weapon.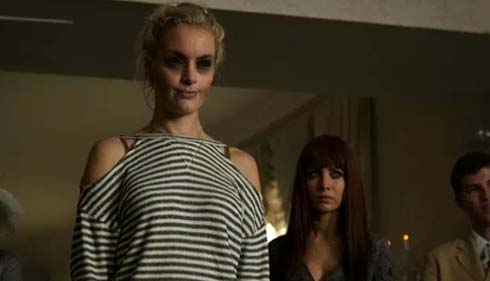 Tamsin goes skeletor on the dualist and kills her right there. One way to dance to the death, I guess. Tamsin's a bit surprised and upset by her Valkyrie powers but the Morrigan says, "Well done, our little blooming warrior princess."
Back at the warehouse, Bo regains some movement. Vex drinks the stuff he's been brewing and THWACK, he chops off the hand just as Bo is able to get off the bed.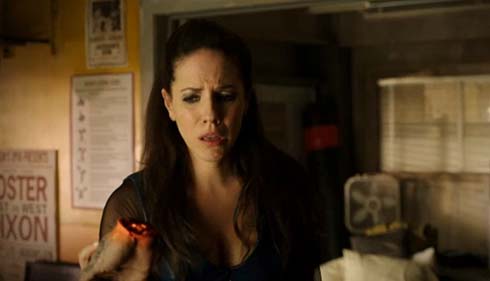 Oh, gross. She picks up the hand. Don't mesmers bleed?
Vex uncovers a red sports car that looks like it should belong to Agent Colson on Agents of S.H.I.E.L.D and which he will now have trouble driving. The missing hand, you know.
Bo chases after him and learns that she should have been talking to The Morrigan's archivist if she wanted answers. Bo realizes The Morrigan played her. Vex wants her to "take the stick" if he takes the clutch and together they can drive off in the hot red sports car.
We miss the whole car driving experience and go straight to The Morrigan's office for the next scene. Bo gives Evony the hand in a bag of ice, but Evony wants ALL of Vex to get rid of the Una Mens. Bo says she won't let him be tortured. Evony says okay, if Bo agrees to be responsible for him. She says fine, so now Bo is babysitting Vex again.
Bo says, "Archivist. Now." The Morrigan says, "Oh, you figured it out."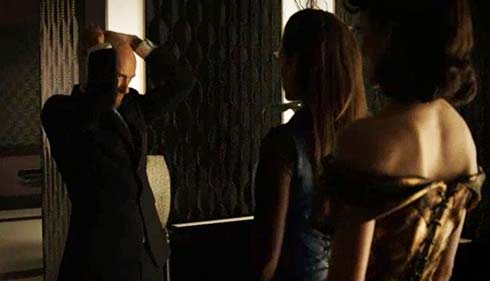 The archivist (Clint Butler) enters and pulls a layer of skin off his bald head. Any pledge to the dark shows up there. He hands the flap of skin to Bo. The Morrigan, peaking over her shoulder, says, "There's your signature. And there's your sponsor."
Bo reads from the flap of skin, "Who's Raynor?"
Evony hasn't a clue. Bo wants her to tear it up because she obviously had nothing to do with the agreement. Evony says it's a binding agreement and the only person who can change it is her sponsor.
Bo snatches Vex's hand back. Lauren walks in. Evony conveniently leaves her own office so Bo and Lauren can share doleful eye contact.
Cut to the Dungeon. The Keeper is still questioning Trick. She offers him the job of The Ash. He wants it.
Bo wants to take Lauren back to her place to share a giant claw-footed bathtub.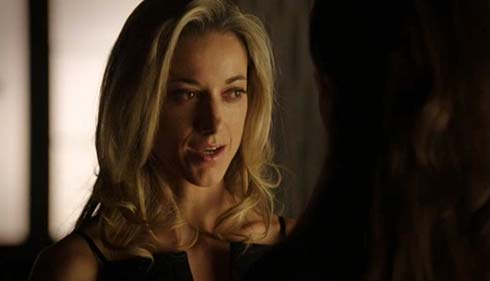 Lauren makes one of those awful speeches she does periodically when she's protecting someone. (Speaking of Crystal, where do you think she is?) She says she can't go back with the light. The light never looked for her, but the dark offered her protection. No one else came. With the dark she can come and go as she pleases. Lauren says, I feel free. Bo says, I could free you.
Lauren says, How? Bo says I could claim you. Lauren thinks that's not freedom.
Lauren pats Bo's shoulder. "It's gonna be okay, Bo. Now that you're dark, I'll see you around." I'll see you around? What is Lauren doing?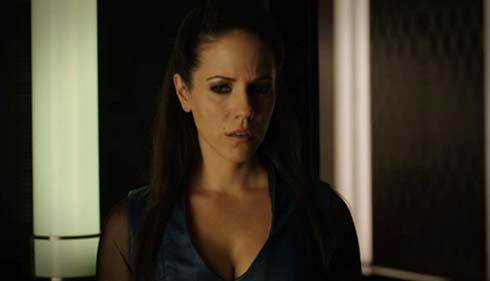 Maybe Bo recognizes that Lauren's speech closely resembles the cover story speech she delivered at Taft's lab, because she says, "When you're ready to come back to your real family, let me know." Even so, Bo looks crushed as she leaves. No happy heart songs now.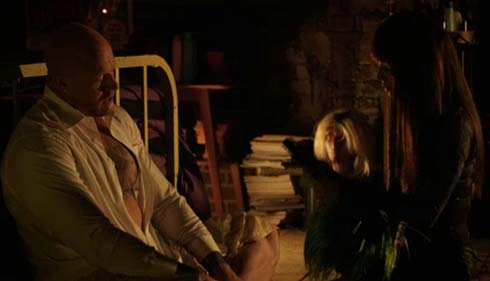 Kenzi and Bruce talk in Kenzi's bedroom. (Kenzi's bedroom again. Hello room.) She tells him he's free and he should spread his wings and fly. Tamsin, who is pretending to sleep nearby, smiles at this suggestion. I wonder, can Valkyries fly?
Bo brings Vex's hand in a copper bucket of ice to the Dal. A drink and a talk with Trick at the Dal is the closest Bo has come to doing something normal since she's been back. He tells her he's been named the acting Ash. They drink to how odd it is that Trick is the head of the light and Bo is the darling of the dark.
She asks about Raynor. Trick says they need to look in the King's book of records.
There's a rush of dramatic music and we see something spilled on the floor but I cannot tell what it is. Maybe the empty container that once held that pulsing seed?
The Archivist enters the dungeon where he gives the succubus declaration, AKA the hunk of skin from his bald head, to The Keeper. She looks at it and opens a big book.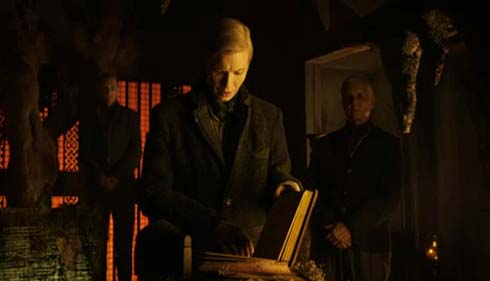 She looks for the name Raynor. When she finds it the letters go all squiggly. She says, "No. It cannot be. Never again."
"The Wanderer" plays as the credits roll.
Personal Thoughts
The Bo and Lauren reunion is less than perfect, I suspect because Lauren is once again, for the millionth time, doing something she doesn't want to do because someone she cares about is in danger. If I'm right, that may mean Ali Liebert isn't finished with Lost Girl yet.
The name Raynor comes from a root word that means king or leader. In Norse the meaning of the name Raynor is warrior from the gods. I'm thinking that means The Wanderer. The music at the end was a big clue, but the name tipped me off long before the final credits.
I'm not convinced that Vex is the guy who was holding Lauren and Crystal in episode 4. It didn't sound like Vex on the speaker. Why would Vex call her Karen? But the hand looked wonky like Vex's hand. Who else could it be and how did Lauren get delivered to The Morrigan?
Since Bo can be healed by sexual chi, I've indulged in wishful thinking that the cruel, not-our-regular Bo we've seen in the previous episodes this season would be healed by Lauren's return. Healing love, don't you know. It almost seemed like that was happening, but it didn't quite. The jury is still out on whether Bo can return to her pure heart.