Atypical is a comedy series on Netflix. Three seasons are available. I watched them all in one weekend. My eyes are tired, but I enjoyed the time with this family, centered around Sam (Keir Gilchrist), a young man with autism.
Atypical is a typical comedy. The setting is bright and cheerful, the quips are quick and frequent. The family drama centers around the 4 main characters.
The Family
Sam is a senior in high school when the series begins. He wants a girlfriend, he wants to see boobs, and he wants to have sex. All these desires are hard to accomplish because of his autism. He is high functioning and resilient – possibly more than a real person with autism would be.
Keir Gilchrist is not a person with autism. By seasons 2 and 3 a number of actors with autism were added to the cast. They were in support groups and other settings where Sam interacted.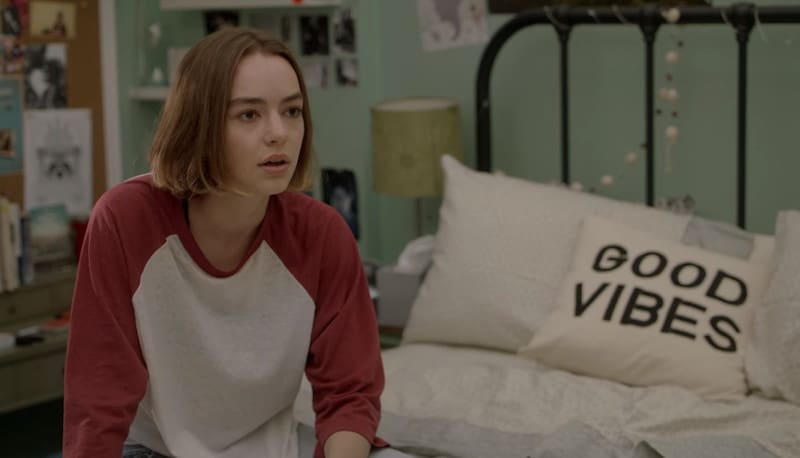 Casey (Brigette Lundy-Paine) is Sam's younger sister. She's a track star and the master of the one-liner. (Brigette Lundy-Paine uses they/them pronouns in real life, but here Casey is she/her. So I'll go with the fictional pronouns.) Casey is great with Sam. She understands him.
In Casey's sophomore year, several big things happen. She's recruited to a private school to be on the track team. She gets a boyfriend, Evan (Graham Rogers). At the new school she meets Izzie (Fivel Stewart). Slowly, over 3 seasons, Casey develops and finally acts on her feelings for Izzie.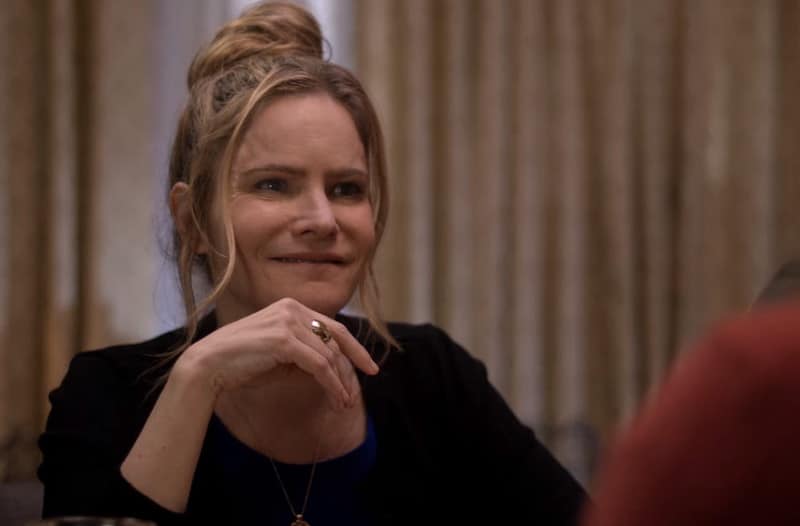 Elsa (Jennifer Jason Leigh) is the mom. She's hyper organized and runs the family and especially Sam with intense grace. She understands autism and is Sam's greatest cheerleader. She's the anchor in the family. So, naturally, she messes everything up by having a fling. At the end of the 3rd season, the family is still dealing with the fallout from this mistake.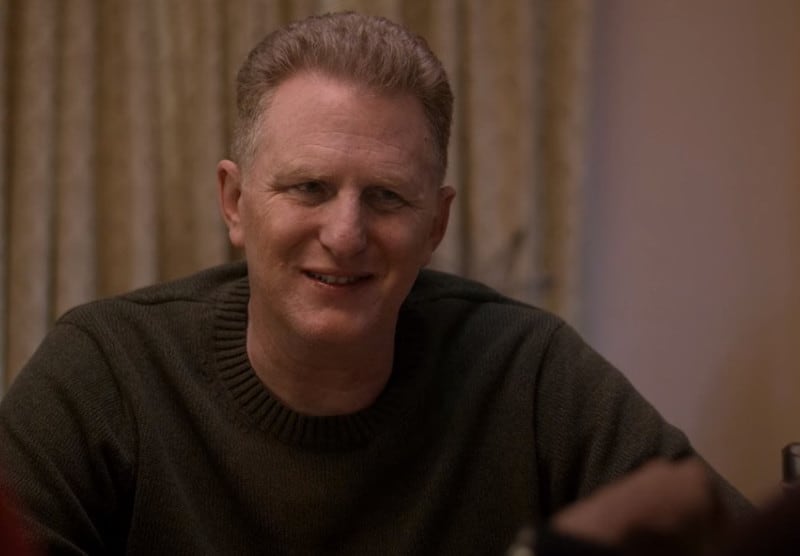 Doug (Michael Rapaport) is the dad. He's not great at dealing with Sam's autism, with his wife's betrayal, or with his emotions around anything in his life. While everyone around him seems to grow and progress, Doug sits and stews.
Other Characters in Atypical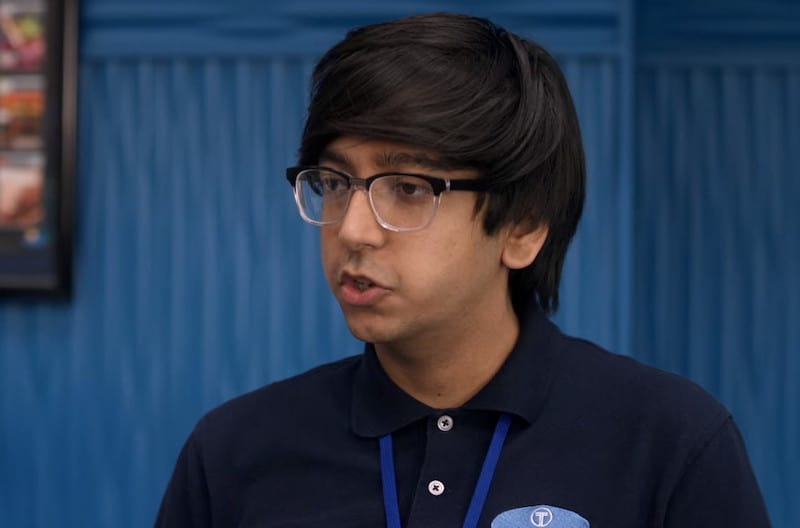 Sam works in an electronic store. Zahid (Nik Dodani) is his co-worker. Zahid is willing to give Sam advice about almost everything, but especially sex. Zahid fancies himself a sex god. While Zahid speaks in metaphoric language that Sam has trouble understanding, he still manages to be a much needed friend to Sam.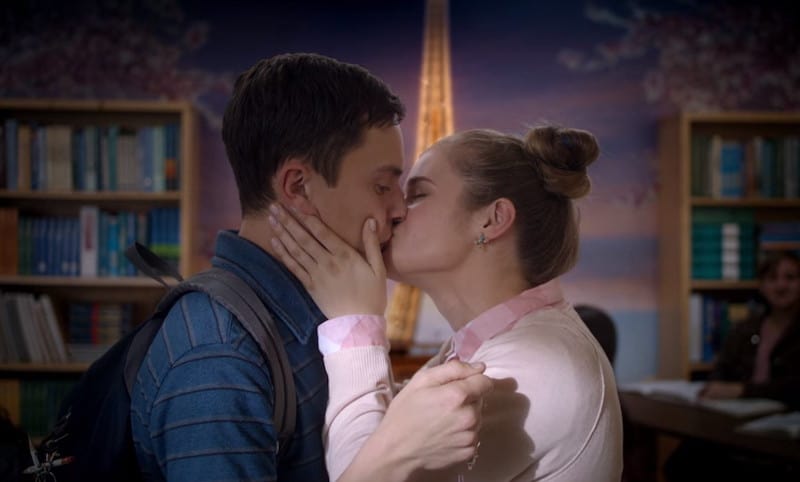 While still in high school, Sam and Paige (Jenna Boyd) have something resembling a couple's relationship. When they both go to different colleges it continues. Paige is as unusual as Sam is, but in different ways. That they manage to communicate and connect in any way is remarkable.
Sam is often in therapy. A chief storytelling technique in the series is for Sam to be explaining some obscure fact about penguins or Antarctica to his therapist while the storyline for the episode marches merrily alongside it in perfect synchronicity.
In early seasons Sam's therapist is Julia Sasaki (Amy Okuda). Even after she's no longer treating Sam, the entire family seek her out with their individual problems. She's consistently one of the funniest bits in Atypical.
Early on, Casey spends time with her friend Sharice (Christina Offley). Poor Sharice got left behind a bit with the new school and the new boyfriend. Then a new problem appeared.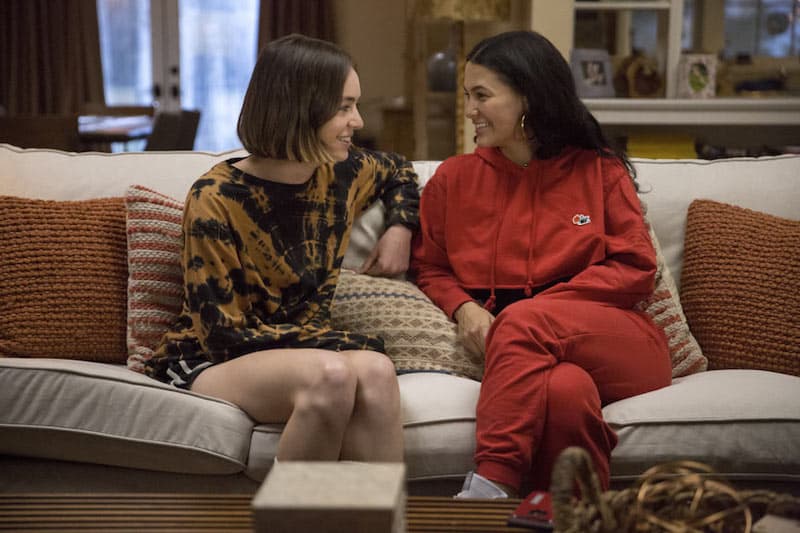 The problem was Izzie. Every time Casey felt something pulling her toward Izzie, she tried to deny it by running toward Evan. You can see the situation with Izzie building, even as you realize what a sweetheart of a guy Evan is. It was a well developed conflict and coming of age arc for Casey.
The Advocate has an excellent article about the relationship between Casey and Izzie, the show Atypical itself, and how the show helped Brigette Lundy-Paine come out as nonbinary.
As the series became more popular and continued to pile up seasons, guest stars like Eric McCormack, Sara Gilbert, and Jenny O'Hara appeared. Atypical was created by Robia Rashid, who also directed one episode in season 3. There is a nice mix of male and female directors and writers.
Obviously, if I binged through 3 seasons in a long weekend, I thought it was great fun to watch. It's very pleasant. It deals with deep and serious issues, but in a pleasant way. The acting was uniformly excellent. I was impressed by Keir Gilchrist and Jenna Boyd who had the roles I thought were the most difficult. Brigette Lundy-Paine is also an outstanding actor.
Check out the season 1 trailer.
Are you already a fan of this family comedy? What are your thoughts about it?