Charité is the first season in a story about the famous Charité hospital in Berlin. This six part season begins in 1888. Season 2, which I watched and reviewed first, is called Charité at War and is set in 1943.
As it did in the second series, Charité takes viewers into the story with a fictional female character: Ida Lenze (Alicia von Rittberg). Her story is used to tell about some of the real-life doctors who worked at the hospital at that time. The creators of the series, Dorothee Schön and Sabine Thor-Wiedemann, cleverly used a woman character to bring Charité's dry scientific stories to life.
Ida enters the hospital with appendicitis. She is saved by Emil Behring (Matthias Koeberlin). To pay off the hospital debt afterwards, she must work as a nurse's assistant.
Ida and Dr. Behring have a history. Her father was a doctor and Behring studied under him. He also courted a very young Ida, but dumped her when her father lost all his money. Ida learned a lot about medicine from her father, too.
Behring isn't just a cad, he's also bipolar and an opium addict. In spite of that, his work contributed to the healing of diphtheria. Plus, he still has a sweet spot for Ida and wants to marry her now!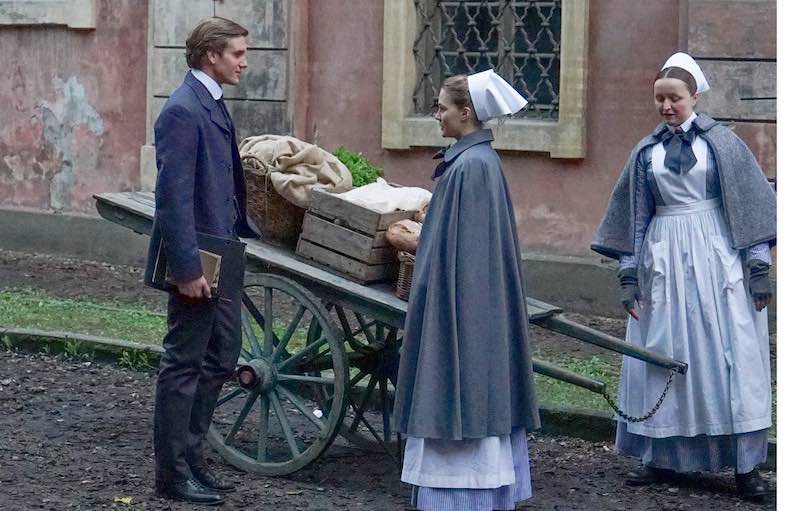 Georg Tischendorf (Maximilian Meyer-Bretschneider) and Sister Therese (Klara Deutschmann) also fall in love with Ida. There was an LGBTQ storyline in season 2 also. It was more prominent and ended better than Therese's tropey tale.
It's plain to see why everyone falls for Ida. She was smart. She wanted to be a doctor herself. And she was independent in a way most women weren't then. Women couldn't legally study medicine in Germany, so Ida went to Switzerland as the season ended.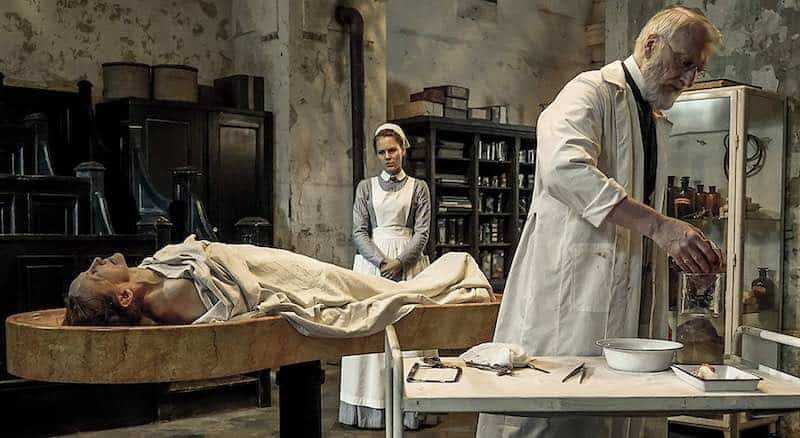 Ida was a good character to build the world of the hospital around. She sneaked into lectures and had access to laboratories and all the patients.
It was a time when many discoveries in medicine were being made. The doctors at Charité competed with each other and with others for fame and fortune. Rudolf Virchow (Ernst Stötzner) became known as the founder of modern health care systems. Robert Koch (Justus von Dohnányi) discovered the tuberculosis bacillus. Paul Ehrlich (Christoph Bach) developed the first drug against syphilis. The study of bacteriology, immunology and other medical sciences were just beginning.
It was also a time when German nationalism was growing and racism against the Jews was on the rise. The authorities brought in people from India and put them on display in a zoo! Those undercurrents were building toward what we saw in season 2 some 50 years later when the Nazis were in control of Germany.
Dr. Virchow tried in vain to convince people that Aryans were no different from other people – including Jews and South Asians. Tischendorf proved himself one of the most racist characters – Ida made the right decision about him.
An interesting subplot involved the women working to create a "carers" union to improve working conditions and patient care. Unions were frowned upon by the government.
Season 1 of this series tells a powerful story about the beginnings of modern science – science we take for granted in our everyday lives now. This is an excellent fictionalized drama based around real people in German history.
Pin Me!
Watch the trailer
The series is in German. There was no trailer on YouTube with English subtitles. However, you will find subtitles on Netflix.
Have you seen Charité? What was your take on it?