Juanita is poetic justice in action because it's about damn time Alfre Woodard had a starring role in a movie of her own. There are some spoilers ahead.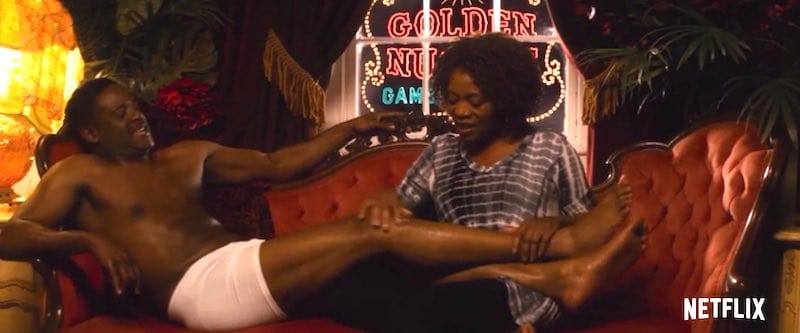 Juanita is an unusual film. Alfre Woodard as Juanita breaks the fourth wall and talks directly to the viewer some of the time. There are fantasy sequences, mostly involving a near-naked Blair Underwood. It has an unresolved ending leaving us not knowing for sure what Juanita will do next.
None of that lessens the enjoyment of this charming film. It's a warm-hearted look into the life and loves of an unappreciated woman who decides to leave it all behind and get out of town.
Juanita works in a nursing home. She's been in the same job for years and never gotten a raise. She lives in Cleveland.
Juanita has three grown kids: Bertie (Jordan Nia Elizabeth), Rashawn (Acorye' White), and Randy (Marcus Henderson). They are the basic Black stereotypical children. One's in prison. One's an unmarried mom. One's on his way to prison. She needs to stop enabling them, but doesn't know how. Leaving is her answer.
Juanita tells everyone she's going, including her best friend Kay-Rita (LaTanya Richardson Jackson). They all think she's crazy.
She buys a bus ticket for Butte, Montana – a town whose name she doesn't even know how to pronounce. It looked good on the map.
In Butte, she meets Peaches (Ashlie Atkinson), another stereotypical character. She a butch truck driver and gives Juanita a ride in her 18 wheeler to a tiny place called Paper Moon. There's a cafe, a boarding house, and a motel.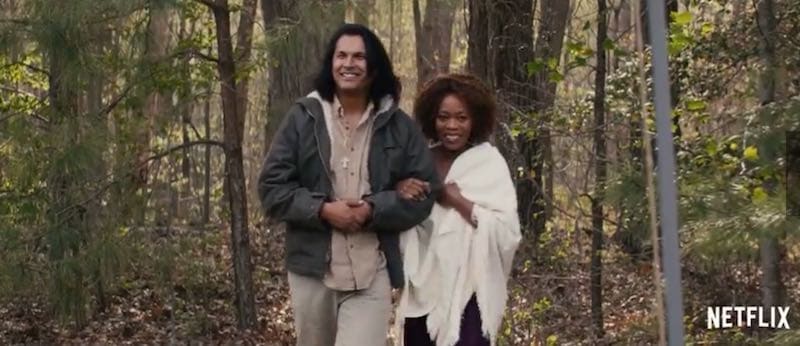 The cafe is run by Jess (Adam Beach). Jess is a Native American trying to run a French cuisine restaurant in Indian Country. There are very few customers. Juanita starts cooking with him. The cafe fills up. Jess's bed fills up too, as he and Juanita hit it off really well.
You can just kick Blair Underwood to the curb, Juanita!
Jess takes Juanita to a powwow up in the hills. She is afraid of the outdoors but she is changed by the kindness and love the Native Americans at the powwow show her.
We don't know how long Juanita will keep moving or where she'll end up when she's finished, but it doesn't really matter. She's feeling freedom, love, and lightness.
A minor character I was excited to see was Mountain (Elaine Miles). I'm a diehard fan of Northern Exposure, and remember her so well from that series. Hi, Elaine! I saw you there.
This film was not brilliant, but it was a delight to watch. It was enjoyable, and gave Alfre Woodard a lovely part. I hope you'll hop onto Netflix and give it a watch. I think you'll be glad you did. And you'll help make sure Netflix notices that a Black woman in her 60s can lead a movie to success.