Hulu's comedy series Shrill stars SNL regular Aidy Bryant in this look at the discrimination, heartache, and fat-shaming women face in our society. It's a quick watch with 6 half-hour episodes.
Annie (Bryant) works for a weekly news publication in Portland. Her boss Gabe (John Cameron Mitchell) belittles her and won't give her a chance to write anything more than the calendar.
Her sex-buddy is Ryan (Luka Jones). He's a child-man with an unkempt mop of hair and beard who has zero respect for Annie and hides her from his friends.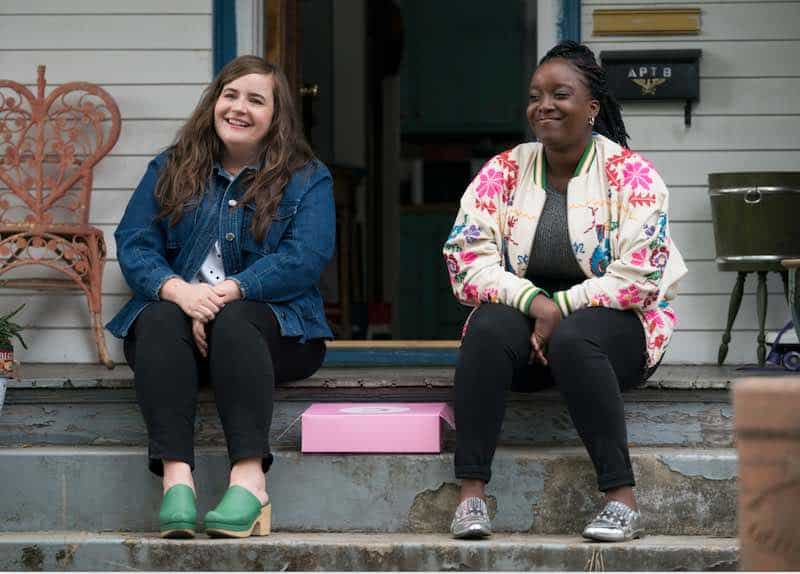 At home, Annie's roommate and long time best friend Fran (Lolly Adefope) has it together. Maybe when you're a big, Black, British lesbian in the white world of Portland you figure it out fast. I loved Fran and the way she supported her insecure best friend with no-nonsense advice.
Annie relies on the morning after pill (at $50 a pop) for birth control so Ryan won't have to suffer by wearing a condom. Her pharmacist neglects to tell her it doesn't work reliably for women over 175 pounds. Naturally, she gets pregnant. In the first episode she steps up to face the crisis on her own and has an abortion.
Going through the pregnancy and abortion seems to wake Annie up. She actually did something for herself, on her own. She feels more in control of her life. She stops being Miss Sweetness and Light Who Agrees with Everyone and becomes more assertive, more demanding, more bold.
She breaks up with Ryan after this, but it doesn't quite take. She breaks up with him several times. Why do men think they deserve a woman for no reason at all? Why do women agree to be their woman? Annie says, "It's better than nothing." But is it?
At work, Annie starts writing what she wants and publishing it without Gabe's permission. She visits her parents (Julia Sweeney and Daniel Stern) and both supports and attacks them for letting her grow up feeling ashamed of who she is.
Most importantly, she goes to a pool party for fat babes.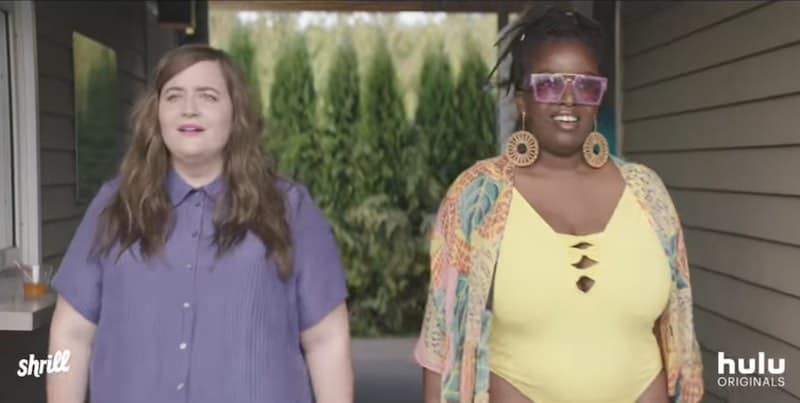 It's an epiphany for Annie. The pool is teeming with fat babes in bikinis and thongs. There are boobs and bellies and butts flying everywhere – with delight. There are beautiful, self-confident women having a great time showing it all. Annie can't get enough of the joy of it.
Shrill is a fine addition to the positive body-image work being done by women in entertainment. It joins Dietland and Dumplin' and several other works in promoting positive body-image. The women behind Shrill are big names dedicated to this message. The series delivers with humor and insight.
Elizabeth Banks is one of the producers. The series is based on the book by Lindy West, who also wrote the TV series along with Aidy Bryant and Ali Rushfield. Women directors include Carrie Brownstein and Gillian Robespierre.
I hope there is a season 2 of this series. Annie didn't quite get there in season 1. She took some control of her life. She confronted her boyfriend, her parents, and her online troll. But she still has further to go in the self-acceptance department. I'd like to see her keep working on it in another season.
How about it, Hulu? Are you going to let Annie keep showing us the power and confidence of accepting yourself as you are?