This is Us season 1 can be seen on Hulu. Season 2 just began on NBC. It's an excellent series, well worth watching. I didn't watch season 1 live because of the way it was described and promoted. But I saw and heard so many enthusiastic comments about it, I recently caught up on Hulu. I will definitely be watching season 2 live. This review is of season 1 only. Beware the spoilers.
The first season of This is Us is 18 episodes. I'm not going to describe that much storytelling in a short review. Instead I'll talk a bit about the main characters and the way the storytelling works.
Dan Fogelman created This is Us. The thing I love most about the series is the way the story unfolds. It isn't linear. It jumps around from one point to another in the characters' lives. It's the story of the Pearson family. One minute they are infants or teens, in the next scene they are adults. We see the parents falling in love, getting married, raising kids, facing problems, but not in that order.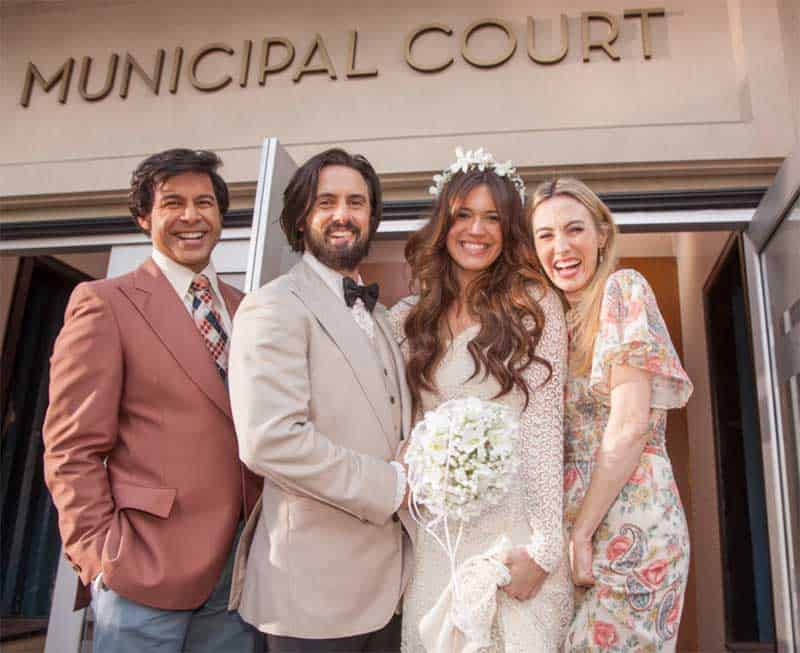 Jack (Milo Ventimiglia) and Rebecca (Mandy Moore) are the Pearsons. When the story begins we see their 3 children celebrating their 36th birthdays. Then we circle around to learn about the birth of their triplets, only two of whom survive, and the adoption of their 3rd son who was born on the same day.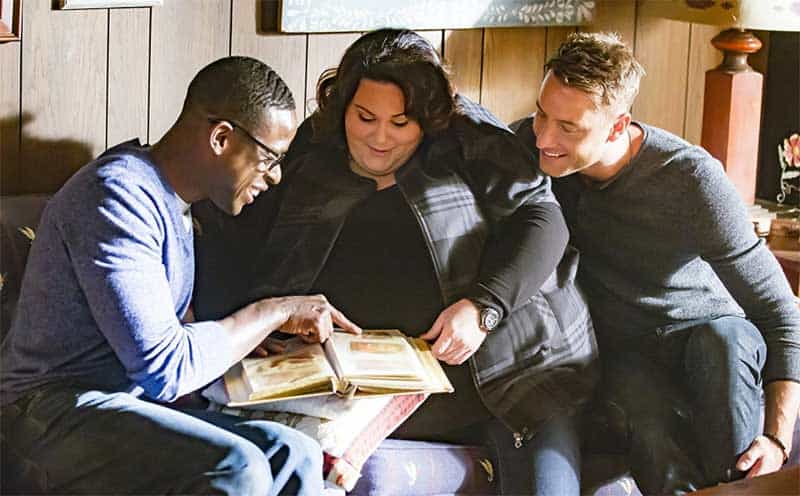 Many actors play the 3 Pearson children through the years. As adults they are Randall (Sterling K. Brown), Kate (Chrissy Metz), and Kevin (Justin Hartley). Sterling K. Brown won an Emmy for his masterful performance in season 1. The series is characterized by wonderful acting all around.
A glance at the image of the 3 siblings should tell you some of the themes in This is Us. Randall has identity issues, Kate has weight issues, Kevin looks like perfection, but he has issues of his own. Themes and issues are not as superficial as that sounds. All the main characters are explored in depth in various ways.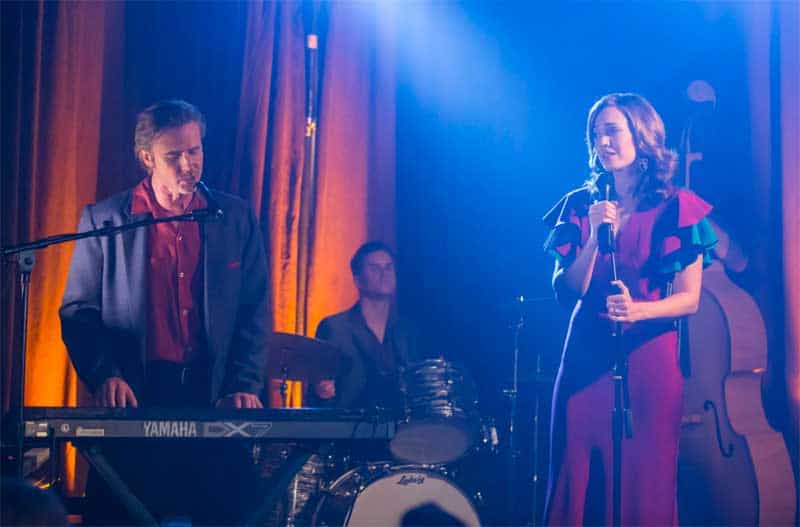 Rebecca can sing. Before she married Jack she pursued a career as a singer. She sings occasionally throughout the series, generally with a band led by Ben (Sam Trammell). Her desire to perform while the mother of 3 children runs through the episodes, creating tension.
Jack brings his own tension, especially around alcohol.
Randall and his wife Beth (Susan Kelechi Watson) have two daughters. In terms of money and a beautiful family, Randall seems the most successful of the siblings. Seems being the operative word.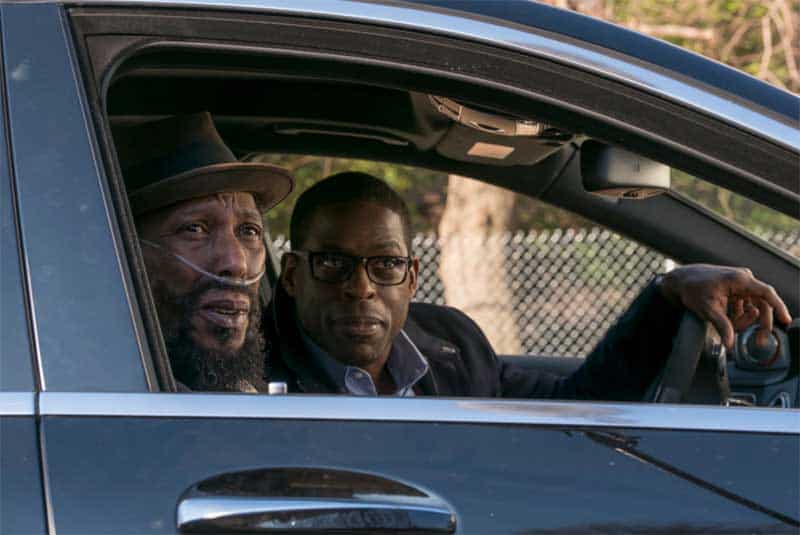 Randall finds his biological father William (Ron Cephas Jones), who is dying of cancer. We learn how William left Randall at a fire station on the same day the Pearsons were born, and how Randall came to be adopted by the Pearsons. The episodes of the series around William and Randall are some of the best parts in the season. William has an ex/current boyfriend Jessie (Denis O'Hare), which prompts one of the funniest scenes in the series when Randall's oldest daughter has to explain to her clueless dad that, "Grandpa is gay, or at least bi."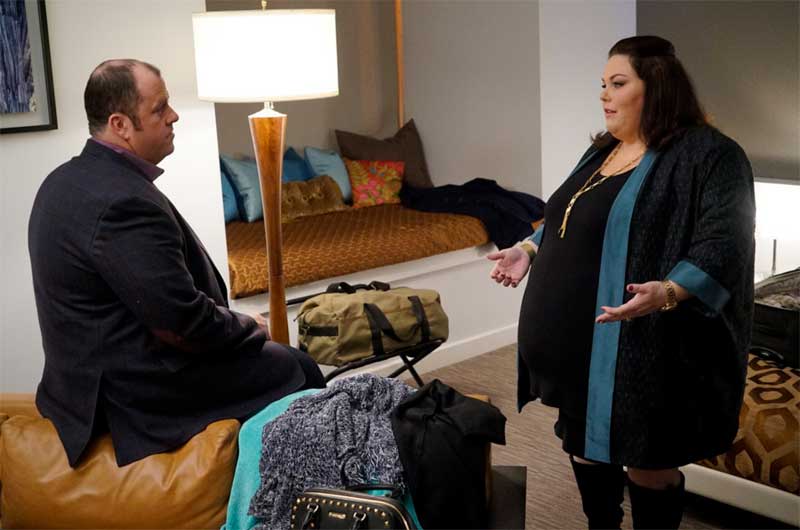 Kate meets Toby (Chris Sullivan) at an Overeater's Anonymous meeting. He is a fantastic guy and loves Kate a lot, but the course of love never runs smooth, does it? Kate can sing, too. Will she do anything with that talent?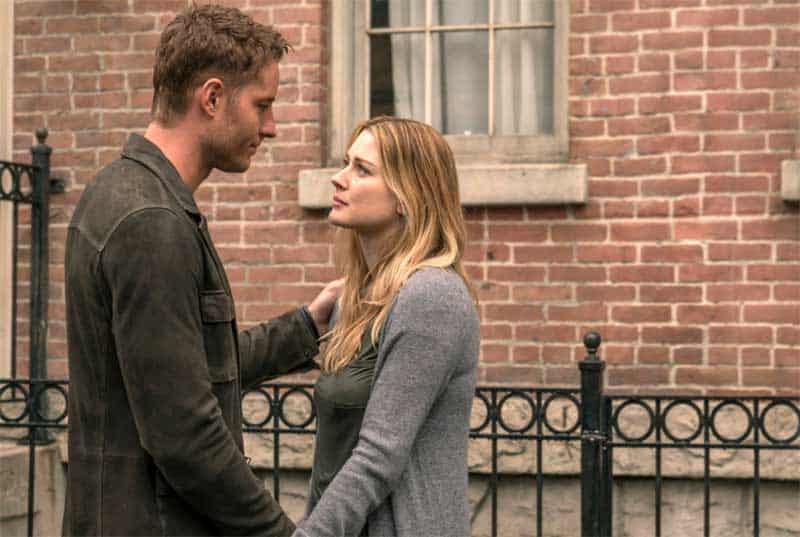 Speaking of true love and the bumps in the road for that, Kevin's childhood sweetheart and ex-wife S0phie (Alexandra Breckenridge) is around. Kevin is a well-known actor. Women fall at his feet regularly. But there's always Sophie.
Logically you would think Milo Ventimiglia and Mandy Moore as the parents of this clan would be the stars of the show, and they are at times. Certainly they are called upon to play more ages of themselves than the others. But somewhere in season 1 we realize that Jack died (we don't know how) and Rebecca is now married to Jack's friend Miguel. Because of the way the story jumps around in time, the minute you learn Jack died, you see him in a long scene with Rebecca. People may die, but they are still around in this circular story.
Every character receives equal treatment and exploration. I have to admit that the star for me is Sterling K. Brown. I felt as if all these people were swirling around just so I could learn Randall's story.
Every person is real. They are funny and flawed and beautiful and imperfect, and so real. You love them all, you hurt with them, you laugh with them, you love with them.
If you missed season 1 of This is Us as I did, I hope you can join the party and catch up with this wonderful series now that season 2 is airing.