I wrote about Limetown after seeing only the first 4 episodes of this Facebook Watch series. Now I've seen all of the first season and wanted to update some thoughts on the series.
Limetown remained mysterious and hard to pin down with logical answers to the end. To sum it up in one sentence: the military had plans to use the mind to mind communication tech from Limetown for conquest.
Military conquest is about creating capital, so there was big money and lots of firepower behind whatever was developed in the secret facility. Fifteen years later, as Lia Haddock (Jessica Biel) investigates and gets closer and closer to publicly revealing the story, the money and firepower come for her.
Every episode of this suspense thriller was directed by Rebecca Thomas. The final episode was a real doozie!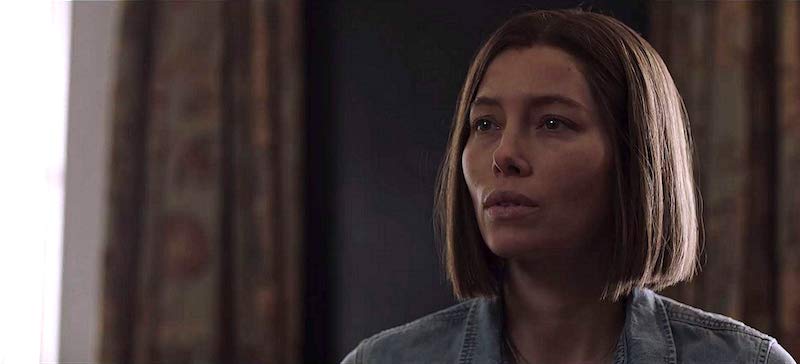 Lia Haddock had to agree that she wanted to know the story more than anything else in the world. She had to agree to it several times. The implication was that knowing the full story would mean her death. She met in a dark cellar with a woman (Janet Kidder) who told her a few secrets and then killed herself. The conversation was broadcast live. The world knew what Lia knew. The next few seconds after the woman killed herself created a cliffhanger regarding Lia Haddock's future.
I'm not sure why Lia was in so much danger, when everyone heard what she heard, but she was. It gave an exciting finish to the season.
To get to the meeting in the cellar, Lia had to follow leads down a more and more dangerous path. Flashbacks tell the story as Lia investigates. Her partner from the radio network, Mark (Omar Elba), begged her to stop. People were dying because of her broadcasts.
Her boss Gina (Sherri Saum) was nervous about everything. Lia's girlfriend (Kandyse McClure) tried to offer sensible advice.
As an aside, Lia's girlfriend still doesn't have a name on IMDB. And Lia apparently got too busy to indulge her masturbation fantasies beyond what I wrote about in my original post, because it didn't happen again. So, in addition to wondering what the heck was really going on at the secret facility, I'm also wondering why that bit was even in the story.
Lia finally met and talked with her Uncle (Stanley Tucci). He was scared shitless about what she was doing. He was the original mind reader that everyone else wanted to emulate. He was the reason they were all there.
She talked to Deirdre Wells (Marlee Matlin), a survivor who claimed to know what caused the panic that lead to the abandonment of Limetown.
As soon as Deirdra finished talking, she was hauled away by men in uniforms.
Everyone warned Lia to stop. She didn't stop. In the end, she became part of the mystery of Limetown. I hope that will be explored in a second season.
The series belongs to Jessica Biel. She drove every almost scene. Her performance was a big reason the series worked so well. Stanley Tucci was in fewer scenes, but his was a key performance as well. The writing was outstanding and the direction pitch perfect. An excellent series in every way.