Somebody Somewhere is about real people. The characters are living lives of flawed normality in Kansas. There is some drama, some laughter, some tears, some self-discovery, and a whole lotta love.
In season 1 of Somebody Somewhere we met Sam (Bridget Everett). She'd gone back to her home town of Manhattan, Kansas because her sister was dying. After her sister passed away, Sam just stayed around. She didn't know what to do with her life and felt unmoored.
The situation in season 2 is that her father is gone from the family farm staying with his brother on a boat. Her mother is in a nursing home after a stroke. Her sister Tricia (Mary Catherine Garrison) is having a breakdown of her own because of a divorce on top of the other things these two sisters are facing.
In actuality, the actor playing Sam's dad, Mike Hagerty, died shortly before season 2 started shooting. They paid homage to him in several ways throughout the season, with episode 7 being dedicated to him.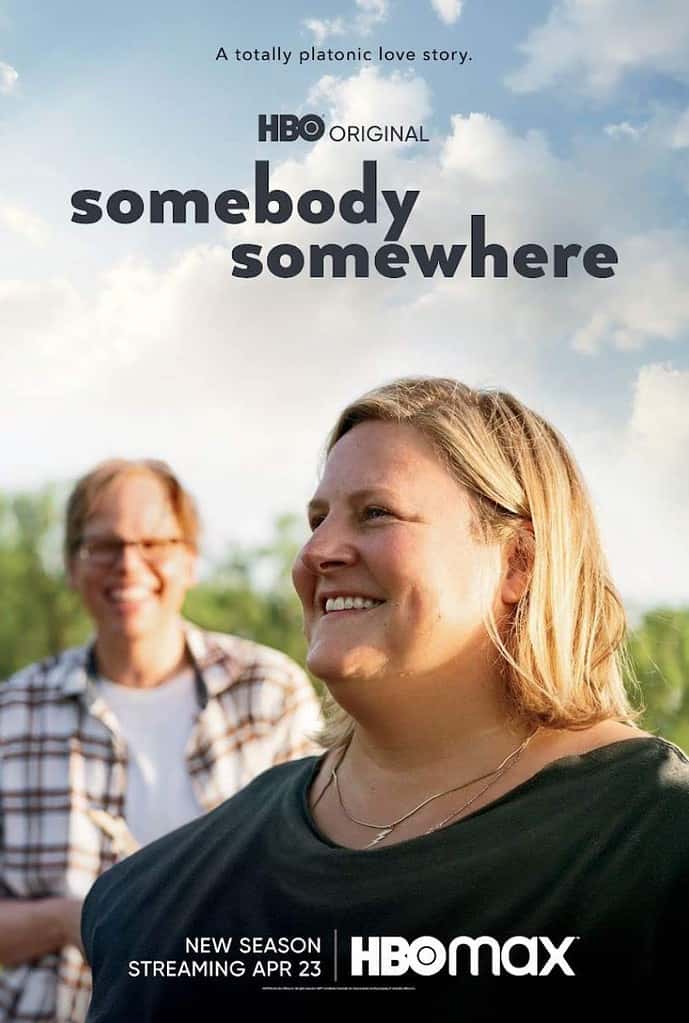 In season 1, Sam met a group of people she clicked with. Mostly misfits like herself, but kind and good people. Sam and Joel (Jeff Hiller) became best buddies and did many things together. It wasn't a romance – Joel was gay – but they shared a love story just the same.
When Sam and Joel met Brad (Tim Bagley) and almost died from food poisoning eating his trademark family recipe things changed. Different but not worse. The difference was Joel and Brad hit it off and might form a relationship.
Fred (Murray Hill) arrived with Susan (Jennifer Mudge) on his arm and announced they were engaged. Fred wanted Joel to perform the wedding ceremony and Sam to sing "Ave Maria" at the wedding.
Sam freaked out about singing a difficult classical piece at the wedding and went back to her old high school music teacher Darlene Edwards (Barbara E. Robertson) for some vocal coaching. That turned out to be an emotional experience in several ways.
I'm leaving out a lot of the emotional drama that Sam went through because of the changes happening around her. There were upsets and tears but Sam grew from them. There was joy, too.
The wedding episode finished off the 7 episode season. And, of course, Sam did a terrific job on "Ave Maria." Bridget Everett does have the pipes! The last scene ended with a minor cliffhanger. And, good news, the series has been renewed for a 3rd season.
This series is really about love and being willing to love the people you love and the people who love you. Tricia said it best when she commented that people had been around for thousands of years, yet after all this time the thing that still mattered most was love.
The series has a raunchy, earthy charm. The characters are universal in that they are completely recognizable and ordinary. But there are no ordinary people, are there? The uniqueness of the ordinary is what gives this series its appeal.
Somebody Somewhere was created by Hannah Bos and Paul Thureen. Lennon Parham directed 2 of the 7 episodes. It's streaming on Max.