The Fall ends season 2 with a 90 minute episode. Whether this is really the end is up for debate in the last few seconds of the episode. Until then we have a very satisfactory accumulation of evidence for putting Paul Spector (Jamie Dornan) in prison forever.
Major spoilers ahead.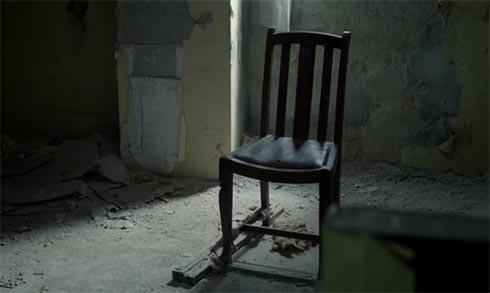 Rose Stagg (Valene Kane) was not in the burned out car they found at the end of the last episode, but the car was close enough to the abandoned house on Sally Ann Spector's (Bronagh Waugh) parents' property that the police finally went to look at it. There Stella Gibson (Gillian Anderson) finds the location where Spector filmed Rose Stagg begging for her life.
James Tyler (Brian Milligan) gets a call about where his wife Liz (Séainín Brennan) is in a women's shelter.
There's a reporter nosing around the Spector house as the police search it. The neighbors are talking about how Sally Ann was arrested.
James Tyler shows up at the Spector's house because he still wants to beat the crap out of Paul Spector. He knows the reporter. Tyler takes the reporter's car and heads off to the women's shelter where his wife is.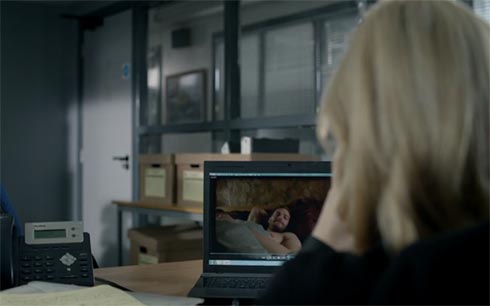 In the police station, Stella Gibson watches the video from the babysitter Katie's (Aisling Franciosi) phone of the night Katie and Paul were having Skype sex. It makes Stella wonder if the story Katie has been telling and the things she wrote in her diary are actually pure fabrication.
In a very calculated decision, Stella sends Tom Anderson (Colin Morgan) to interrogate Katie. Stella says she's doing it because he looks a bit like Spector and Katie is obsessed with Spector. Katie sticks to her lies and does not tell the truth. Even when Tom Anderson explains to her that she will go to jail for protecting a murderer, she continues to lie. She's in love. She's an idiot.
The police find thousands of recordings of hotel guests on the desk clerk's computer. One of them is Katie being tied up on the bed and left like that. That was the same night when Paul called Stella from Rose Stagg's phone.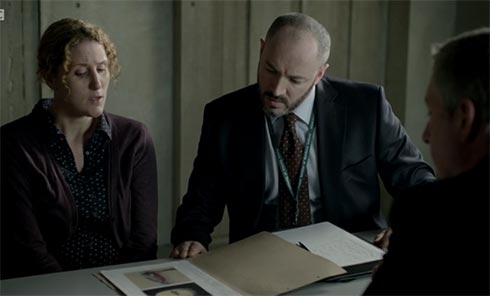 Next it's Sally Ann Spector's turn to answer questions. She tells the truth. She recognizes the necklace that Paul gave their daughter Olivia (Sarah Beattie). When the police finally explain the charges against Paul to her. Sally Ann calmly looks down and says, "I'm bleeding." They take her to the hospital where she miscarries.
Stella tries the look-alike trick on Paul Spector. She did this the last episode and she's trying it again. She sends a nervous Officer McNally (Bronagh Taggart) to question him.
Spector just laughs at McNally, looks right into the camera and says cheap tricks with a cop who looks like Annie Brawley won't work. He says nothing more.
Back on the James and Liz front, James bursts into the women's shelter. He shoves everyone who gets in his way, tries to strangle his wife, and pulls her around by the hair. In a fit of anger, Liz tells him she did have great sex with Paul Spector. Rule number one for abused women: don't tell your abuser the lie he already believes. He won't get the sarcasm.
James waves a gun around but leaves when he hears sirens approaching.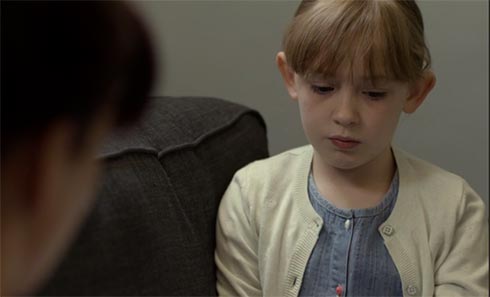 The little Spector girl is questioned. She lies. She tells the officer that she can't tell things because they are secret. When the officer asks her what would happen if she told the secrets, she says her daddy would go to prison.
The case against Spector gets stronger when bits of unburned material from the car they found are analyzed by forensics. Paul's now tied by evidence to other murders. Hurrah!
With the new evidence, they are finally able to bring charges against Spector for all the murders. When he hears what they have against him, he asks for Stella. He says he will only talk to her.
Burns (John Lynch), whose only purpose in life seems to be to tell Stella she can't do things, tries to tell her she can't question Spector. Spector's a monster. Stella says he's just a man like any other. Men like Spector are all too human. Then she reminds him that he attacked her in her hotel room the other night and clearly crossed the line himself.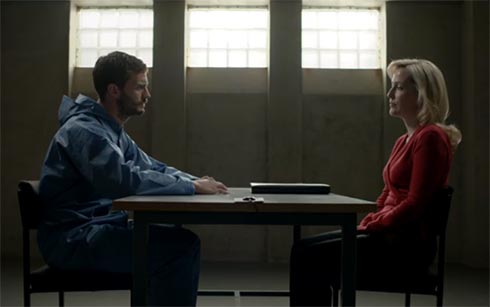 Stella Gibson begins her interrogation of Paul Spector. It's a very long scene with just the two of them. The pacing in this show is so deliberate, so careful. There's space around every line, every glance. You can almost see brains whirring inside people's heads. This long scene is the ultimate example of what the whole series does with pacing. It drives up the tension unbearably.
She asks him questions going back to his youth, to when he first began stalking women. She acts interested in everything about his evolution into a serial killer.
He confesses everything. Every one of the murders he's charged with. He gloats over them. He talks about how godlike he feels. The camera circles them, closes in on faces, eyes, mouths, then moves back out. They talk quietly. Stella shows no emotion. Stella remains calm during the interrogation. She calls Spector a rapist and a murderer to his face without showing any emotion. He tells her everything.
When she asks where Rose Stagg is, he stops talking.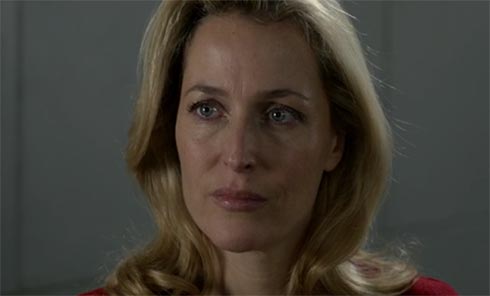 Stella steps out of the interrogation room. Burns tells her, "Well done." She looks as if she might toss her cookies at the remark and walks off without a word. Then she goes into the room where all the murder boards are and stares at photos of Rose Stagg.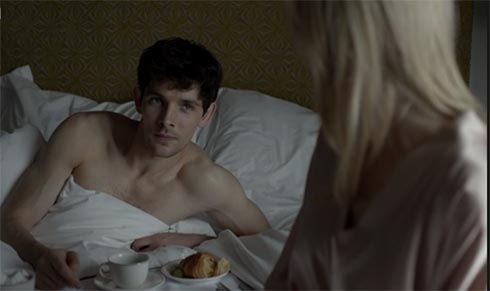 That night, we see Stella writing out her remarks for the press conference she's expecting to lead the next day. They have Spector for sure now. She stands up and we see Detective Anderson sleeping in her bed. Next morning over breakfast in bed, he asks her if she wanted him there because of his resemblance to Paul Spector.
Stella tells him the story about how the thing men fear most about women is that they will laugh at them. The thing women fear most about men is that they will kill them. She concludes by saying she hates Paul Spector with every fiber of her being.
The phone rings. Spector has given up a location for Rose Stagg. Stella and Anderson go to the police station in her car – raising a couple of eyebrows in the process. The police make all sorts of logistical plans to take Spector to the location in the forest he mentioned.
After a night in Stella's bed, Det. Anderson thinks he can express his opinions about Stella's decisions. She cuts him off at the knees and tells him to follow orders. He says, "Yes, ma'am," like a petulant child.
Stella has horrible taste in men. There are so many of them waiting to fall into her bed. You'd think she could find at least one who wouldn't be an ass afterwards.
While the police prepare to go to the forest, the reporter gets a call from his police informant that Spector is on the move. He calls Tyler and asks for his car back. When Tyler arrives, he insists on following Spector to the forest too.
Stella walks into the woods alone. Behind her Spector and Anderson are cuffed together. Other police officers stand guard. An ambulance and a cruiser trail after Stella. A helicopter is overhead.
Eventually, Stella finds Rose Stagg's car. An officer brings a crowbar so they can look in the trunk.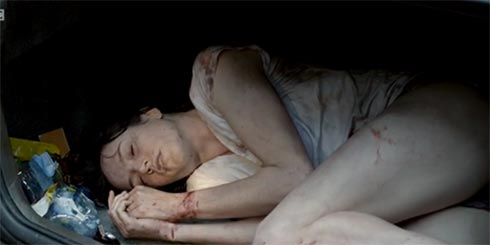 Rose is alive, but barely. When Stella radios that Rose is alive, Paul is surprised. They load Rose into the ambulance and take her away.
Stella starts back to where Spector is just as they get a call from the helicopter above them. Unidentified people are on the road. As Stella approaches, James Tyler rushes up and shoots Paul and Tom Anderson. The police shoot Tyler.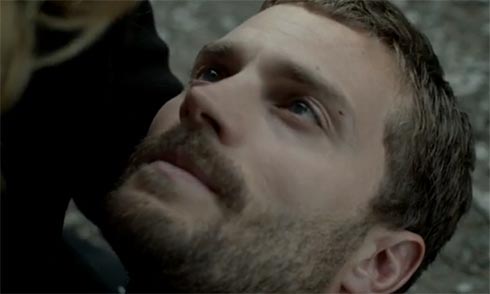 Stella runs to Paul. She tries to stop his bleeding. She's shouting for help. She yells, "We're losing him. We're losing him." Paul lays in her arms looking up at her blissfully like it's just the place he's always wanted to be.
Aaaaannnnnd . . . cliffhanger.
It's over. The end. We don't know if Paul dies. We don't know if Paul makes it to the hospital and then escapes, thus creating a reason for a 3rd season of The Fall. We don't know if Tom Anderson and James Tyler are dead or alive. Season 2 ends at that moment with Paul bleeding in Stella's arms.
Some Thoughts
The cliffhanger ending was intentional. Allan Cubitt recently said that there will probably be a 3rd season. More Stella Gibson can only be a good thing.
I know The Fall been criticized as an extended rape fantasy – especially season 1 when we were watching Paul Spector plan and commit his crimes. I don't see it that way. I see a man who thinks it is his right to harm women in a world where men harm women every day. I see a woman who has the power and means to fight back and to bring him to justice. To stop him. That's the message I see and support in The Fall.
I've said it again and again: Gillian Anderson is fabulous as Stella Gibson. In Gillian Anderson's hands, Stella is calm and cool and brilliant. She's in command, she's effective and self-confident.
Jamie Dornan is also superb, but I don't necessarily want to see his character still able to operate in the free world. Although – who knows what might happen next with this open-ended finale for season 2.
There were enough shots of Jamie Dornan bare-chested in The Fall for me to predict that he's going to be a huge hit in 50 Shades of Grey. Maybe some of the fans of 50 Shades of Grey will go looking for more Jamie Dornan and find their way to this excellent series.
This series is full of excruciating suspense. It uses dialog-free scenes, music, careful pacing of action and reflection, and superb acting. So different from the big explosion filled action blockbusters, and so much better!
The Fall belongs on every "Year's Best" list there is. Writing, directing, acting, music, sets, costumes: awards are in order for all of it.
Keefus Ciancia and David Holmes are responsible for the nerve-wracking music.
In particular, and at the very least, there should be an award for the way Gillian Anderson looks in those silk blouses! Maggie Donnelly deserves the credit for costumes. Go, Maggie!