The Fall episode 5 is called "The Perilous Edge of Battle." Paul Spector (Jamie Dornan) has fallen. If the police can produce the evidence, he'll be out of circulation forever. It's one of the tensest and most nail-biting episodes in this suspense-filled series.
Here are the basics of the episode. Spoilers everywhere.
Paul goes through his sopping wet house. He dries out his murder books, then burns them. He takes his computer apart and smashes the hard drive with a hammer.
Jim Burns (John Lynch) goes to see the pedophile priest in hopes of learning something about Paul. Burns can hardly stand to talk to this disgusting man, and I can hardly stand to watch the self-righteous ass tell how much the boys he abused loved it.
The actor playing the priest is Sean McGinley. He did a masterful job of being heinous. In a series about one of the creepiest, most heinous villains ever, this guy provides creepy beyond the creepy. The only useful thing Burns learns is that Paul started writing about the women he followed while still a young teen. So they know he keeps journals.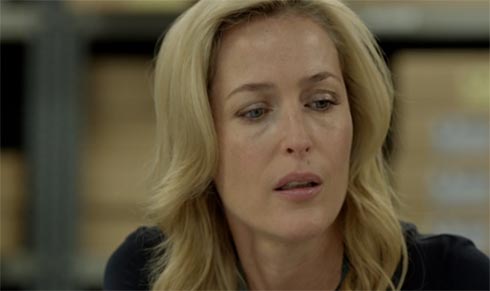 The police are watching every move that everyone makes. They have officers and cameras on all the principals. Stella Gibson (Gillian Anderson) is still holding off on arresting Spector until they know where Rose Stagg (Valene Kane) is.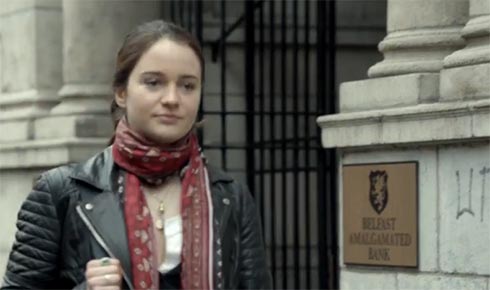 Katie (Aisling Franciosi) does errands for Paul. She goes to a bank and withdraws a lot of money. She goes to Paul's hotel room and is in the process of destroying evidence for him when the police break in and arrest her. The voyeuristic hotel desk clerk saw what she was doing. He gets arrested, too, but the police may not ask him the right questions.
Paul leaves his house wearing a back pack. He runs fast, evading a number of police who are watching him. He runs into the Botanical Gardens and goes into one of the buildings. He drops his computer into a pond. When he leaves he's changed his clothing.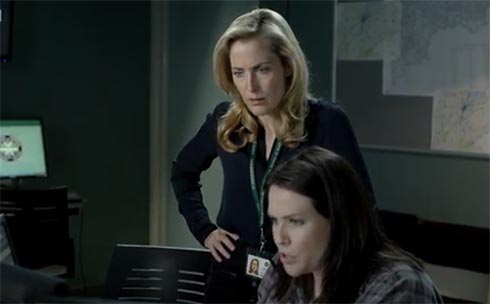 Stella is watching Paul, Katie, and everything else that happens from the police station. She's kept in the loop with the help of a police officer known only as Control (Orla Mullan) who tracks everyone's whereabouts on multiple computer screens.
We experience a lot of this episode with Stella as she watches various monitors showing suspects, interrogations, and cells. Stella's anxiety and concern while following the action this way transfers to the audience, because we are feeling it with her. It's an interesting technique to use in this episode in particular, because it increases tension. It shifts some of the focus away from Paul Spector, who's had more than enough attention from the camera, and back to the police pursuit as they close in on him.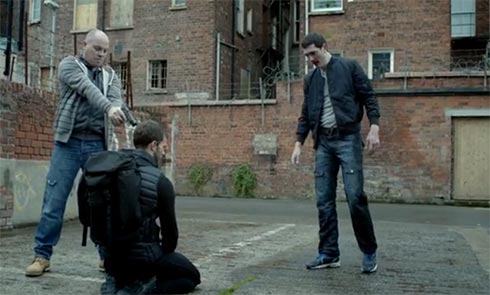 When Paul leaves the Botanical Gardens he sneaks out in a way that doesn't use any of the exits the police are watching. James Tyler (Brian Milligan) – the guy who was beating his wife in season 1 – just happens to see him. Tyler attacks him and forces him at gunpoint to make phone calls to figure out where the women's shelter is that his wife is hiding in. Someone sees the gun and calls the police.
Dani Ferrington (Niamh McGrady) responds to the call and realizes that it's Spector. She's on the phone with Stella. Shots are fired and the thug with Tyler is killed. Officer Ferrington is hit, too, but is wearing a vest. Stella tells her to just hold Spector there. The police talk to him as if he were the victim of an attack by the gunman – taking his statement. He starts to think he's going to get away.
When Spector thinks he's free to leave, Stella sends Officer Anderson (Colin Morgan) to arrest him for abducting Rose Stagg. No mention is made of the other women, the other crimes. He's finally in custody.
The police then arrest Sally Ann Spector (Bronagh Waugh) because they know she lied about Paul's alibis. When she gets interrogated by the police at the station she tells the truth. Or what she thinks is the truth.
Katie doesn't get questioned yet because they can't yet find an appropriate adult to be with her.
When Paul is questioned he is insolent but totally silent. He doesn't even ask for a lawyer. Maybe he still thinks he smarter than our girl Stella. Pffft!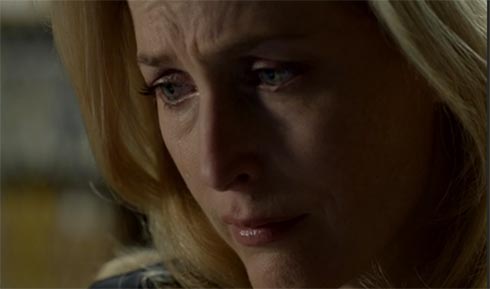 Paul's phone has video of Rose Stagg begging to be released. Stella watches it with tears in her eyes. The begging goes on and on and on. The camera slowly closes in on Stella's face as she watches – the terror and horror of it reflects in her eyes, her face. Suddenly Paul Spector's face is on the video, saying, "Why the fuck are you watching this? You sick shit."
There's DNA on the scissors (the ones with Paul's fingerprint) that belongs to the guy he stabbed. They've got him for that murder, now.
Paul is put in a cell for the night and Stella has a brainstorm.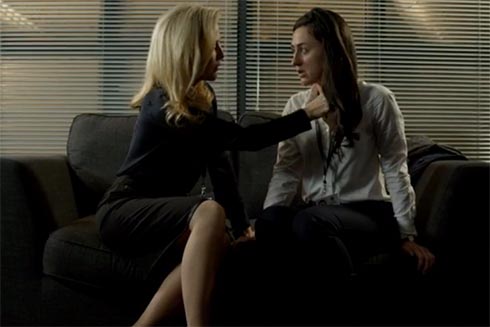 She finds Officer McNally (Bronagh Taggart). She undoes McNally's hair without asking her permission. The moment is sensuous and charged, and not something a superior should be doing to a junior officer without explanation.
McNally holds her breath. Stella looks her over carefully, and says, "There's something I'd like you to do."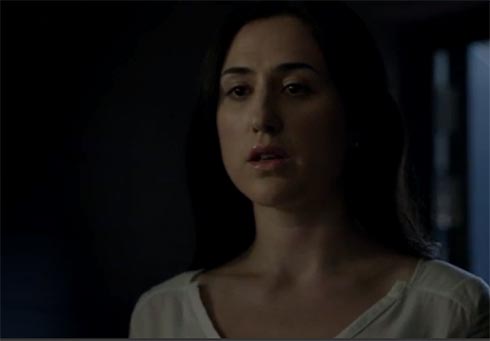 Stella gets McNally dressed up in a short skirt, brushes her hair and adds some lipstick. Paul's exact type. She sends McNally into his cell to announce he's being further arrested for the murder of Joseph Brawley and the attempted murder of Ann Brawley. McNally leaves and Stella watches Paul react to having the young, dark-haired, beautiful officer in his cell.
The last scene is the police finding the burned out car that Paul drove with Rose in the trunk. When they look in the truck, it's full of all kinds of stuff. It's hard to tell if there's a body in there or not. One of the bits of stuff in the trunk might be an arm.
I've said several times how much I love Gillian Anderson as Stella Gibson. I hope she continues as a character with new cases. But maybe her future cases could involve crimes not about sexual predators. My nerves can't take it.