To Catch a Killer puts the police and FBI on the hunt for a mass murderer. This suspense filled procedural says as much about the politics of finding a killer as it does about the investigative work of finding the clues.
Eleanor (Shailene Woodley) is a patrol cop who responds to a call for all available officers on New Year's Eve in Baltimore. Someone killed 17 people in a high rise building that night by shooting an ancient sniper rifle from a building across the street.
FBI Agent Lammark (Ben Mendelsohn) is put in charge of the case. He happened to be in the same room as Eleanor right after the killer left it. Her behavior and remarks impressed him and he pulled her off the street to be his liaison with the Baltimore PD.
Eleanor was a troubled woman with plenty of issues. Lammark recognized something in her that made him believe she would understand this killer. He turned out to be right. They made a good team, but she was the one who really figured things out. Give me a story where the woman is smarter than all the men and I'll watch it.
This wasn't a perfect film, by any means. There were parts of the story that were unrealistic and didn't ring true. But overall, it was a decent movie in this genre.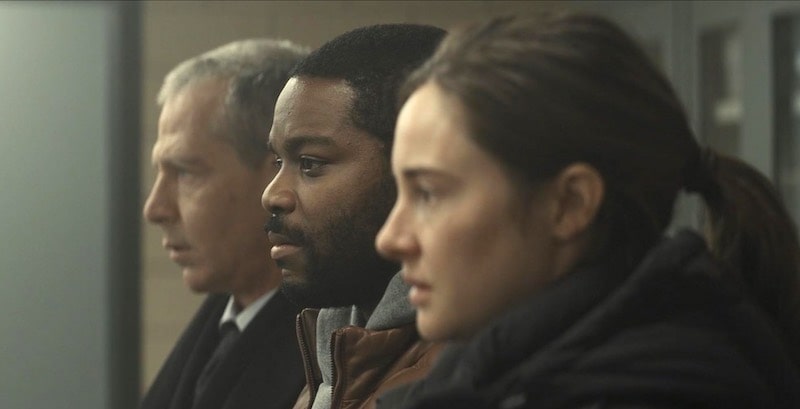 The director, Damián Szifron, was fond of lining up his main characters as they are shown in this shot. Mac (Jovan Adepo) was the third key member of Lammark's team. There were many other officers and city and local officials involved in the story with them.
After the initial killings on New Year's Eve, there were more mass murders by the same person. The closer the clues took them to the shooter, the more dangerous things became. Eleanor's way of saving herself from the danger was a unique one in movie history as far as I know.
The killer wouldn't eat meat because of years spent working in a beef processing plant. The film showed us around a cattle slaughterhouse to convince us what a gruesome place it is. (Remember, Okja or On Body and Soul? It was that stomach turning.) Yet killing people didn't bother them at all. Which makes the original title of "Misanthrope" sound more fitting than To Catch a Killer.
You can watch the film on Hulu or rent it on Prime. It runs for 2 hours, but manages to hold the suspense through it all. If you take a look, please share what you thought of it.