Transparent gave Amazon Prime members an early preview with the release of season 2, episode 1 yesterday. The remainer of the season will be available on December 11.
I don't plan to review or recap each episode individually, but I couldn't resist commenting on the early release episode 1. I'll write about the season as a whole after it releases.
Transparent season 2 begins with Sarah (Amy Landecker) and Tammy's (Melora Hardin) wedding. It's just as crazy and noisy as the preview you've probably seen led you to believe.
Maura (Jeffrey Tambor) is there looking her absolute best. Shelly (Judith Light) is there being supportive. Ali (Gaby Hoffmann) is there wearing her new butch look. Josh (Jay Duplass) is there with his pregnant Rabbi (Kathryn Hahn). It all adds up to chaos.
Sarah has an out of body experience during the wedding. She walks down the aisle toward Tammy and everything goes looney tunes in her head.
Tammy fades in and out, her voice makes no sense. Within seconds, it seems Sarah and Tammy are married. The party begins with drinks, lots of talking, cutting the cake, dancing the hora – all the pageant any good wedding requires.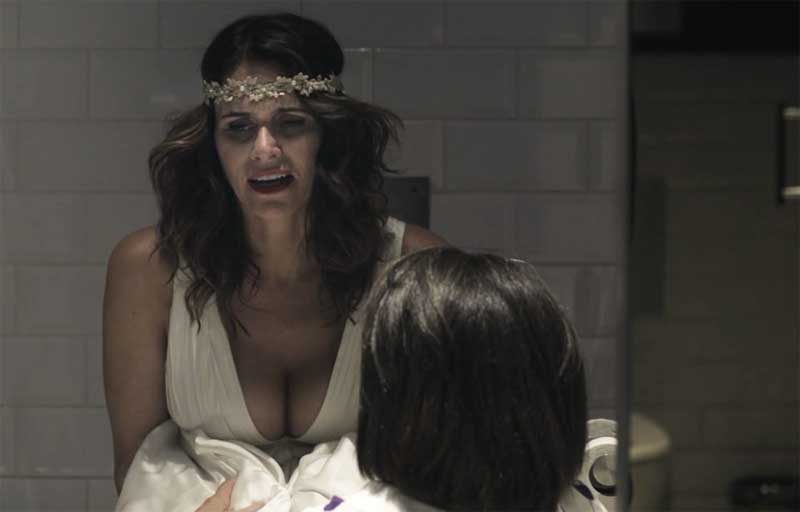 Sarah disappears into the bathroom because she suddenly realizes she doesn't want to be married. The Rabbi has some wise words for her on the topic of weddings. I don't want to spoil it for you, but they are quotable and will definitely end up on Pinterest.
So what have we here? We have the baby in Josh's future. We have a Sarah who doesn't want to be married. Two plot lines that will carry us forward.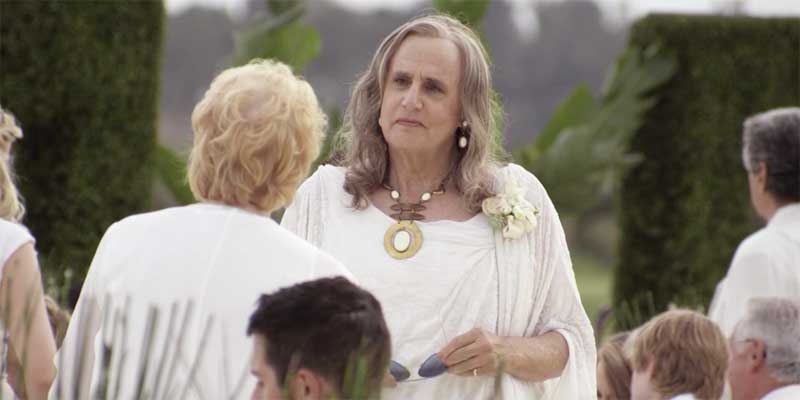 Maura asks her sister (Jenny O'Hara) if a visit to their mother would be allowed. The answer is a definite no. Maura almost burst into tears. Another plot line to bring along in the rest of season 2.
Ali was at the wedding by herself, but it looks like there will be a relationship in her story for season 2. Everything from season 1 is still there in the story as well, so there's going to be a lot going on with the Pfefferman clan.
The episode promises that Transparent is queerer than ever. The wedding party included guests such as Alexandra Billings, Our Lady J, Lily Rubenstein, and recognizable lesbians such as Tig Notaro.
During the hora, there was a fabulous flashback to Berlin 1933 in a club with all sorts of queer and transgender characters dancing. It looks like there will be some transgender history included in the season.
I didn't need any convincing in order to watch Transparent season 2, but this opening episode is a definite winner. Season 2 should be wider and deeper than there was time for in season 1. I'll be there on December 11 to take it in.
Do you plan to watch?
A Personal Note
I want to acknowledge a debt of gratitude to Jill Soloway, the creator of Transparent. I feel the same gratitude to Laverne Cox and Janet Mock. They've all taught me and helped me understand transgender issues in the last couple of years in a way I never had. Last night, after I finished writing this post, my grandchild posted on Facebook that they were now a male with a new male name and a request for male pronouns. I was surprised – there had been no advanced warning conversation about it. But it was okay. It will be a change, but we'll get used to it. As Jill Soloway said, "the bubble wrap is off" – in my family, too.