Umma stars Sandra Oh in a story haunted by intergenerational family issues. A film with Sandra Oh should have been better than this one is. I thought perhaps she was interested in acting (and producing) this story because it featured Korean culture and language.
In Umma, Amanda (Oh) and her daughter Chris (Fivel Stewart) live isolated on a farm where they tend beehives and package honey for sale. Amanda claims to be allergic to electricity and won't allow anything electric on her land. No lights, no phones – their lives are totally retro.
Amanda's nightmares clue us in to her abusive Umma (mother) who punished her by making her hold bare electric wires with current flowing through them. Amanda vowed she'd never be like her own mother. She's doing pretty well in terms of her relationship with Chris, despite the fact that the girl has no friends and is disconnected from modern society.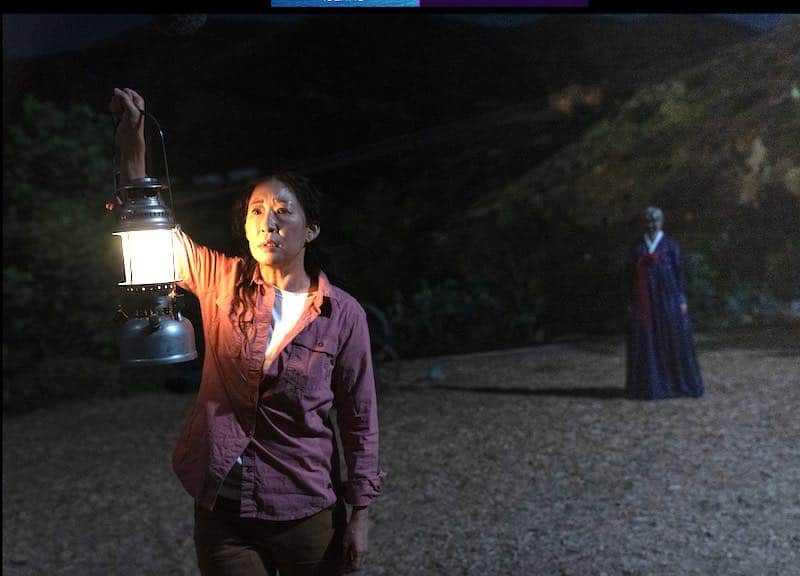 Then she receives word that her mother (MeeWha Alana Lee) died. Her uncle delivers a suitcase with the remains and items needed for a proper Korean send off. This news sends Amanda in a psychic break with reality. She sees her mother everywhere. There are scary hallucinations and events haunting her.
The one local person Amanda is involved with is Danny (Dermot Mulroney), who sells her honey. His niece River (Odeya Rush) came to visit and gave Chris some contact with the outside world. River encouraged Chris to pursue her dream of going to college. Chris challenges her mother about leaving, which further triggers her madness.
The film, written and directed by Iris K. Shim, dealt with themes like intergenerational trauma, parenting, and mental illness. It was less than effective as a horror film and rather disappointing overall. But it does have Sandra Oh in a spooky role like none you've seen her play before.
You can see it on Netflix.