Rain Dogs from the BBC is a series about toxic love. It's about people facing hard times and the struggle to survive. It's about hating the person you love. It's billed as both a comedy and a drama, but I didn't find much to laugh about in this intense series.
The excellent cast of Rain Dogs features Daisy May Cooper as Costello Jones, a single mom to 10 year old Iris (Fleur Tashjian). She's a terrible mom, has drinking issues, no steady job, but she loves Iris and takes the best care of her she can. Costello is a writer – or wants to be a writer. She keeps trying to sell her writing. They shift from place to place depending on their luck at the moment. Sometimes it's a good place, sometimes it's a crappy place.
The toxic relationship I referred to is with Selby (Jack Farthing), a rich, dissolute, homosexual who loves both Costello and Iris. Much as Costello and Selby care about each other, they are both so damaged that their attempts at helping each other or being together are toxic.
There are 8 half hour episodes in the series (maybe the half hour format is why it's labeled a comedy). No word yet on a second season, but I'd like to keep going with Costello and Iris to see how life turns out for them.
Other key characters include Costello's friend Gloria (Ronke Adekoluejo), who works for her father, an undertaker. Costello is also friends with an older man named Lenny (Adrian Edmondson) who spends his time painting vaginas. All these people love Costello and Iris and do what they can to help them, but nobody can give them what they really need.
For a while Selby and Costello try living together in one of his rich parents homes. The situation is so dysfunctional it became difficult to watch. This is a very old reference a lot of young readers won't understand, but it reminded me of Who's Afraid of Virginia Woolf with its love/hate relationship. A more current reference would be the creepy vibe in Dead Ringers.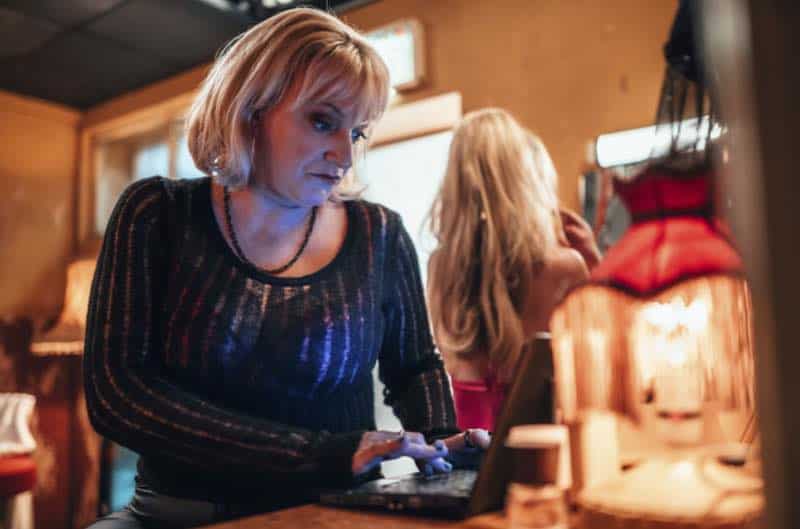 After trying to live a posh life with Selby, Costello and Iris were back on the streets. They stayed in a shelter (the Brits call it a refuge) and were then offered government housing far from London.
Rain Dogs is a searing comment on life in England for the underprivileged as well as the privileged. It was written by Cash Carraway. She's a writer to watch. I thought the music was excellent, and the performances from Daisy May Cooper and Jack Farthing were outstanding. Jennifer Perrott directed half of the episodes.
Moments of hope were few and brief for Costello Jones, but I really like this character and hope another season with her will come from the BBC. The series is streaming on Max.