It's the morning after everyone was up all night looking for Alan (Derek Jacobi) and Celia (Anne Reid) and after Caroline (Sarah Lancashire) announced to her husband John (Tony Gardner) that she's been seeing someone.
Caroline parks at her school. She's on the phone to Kate (Nina Sosanya), all chirpy voiced, asking her to come to her office.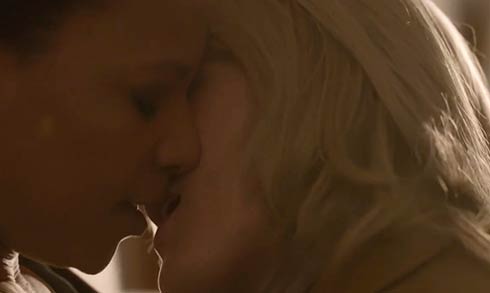 In her office, she grabs Kate, pushes her up against a door, kisses her passionately and pulls up her shirt to reach under and have a feel. She steps back, smiling, and says, "I told John. It felt good."
Kate asks Caroline if she wants to come round tonight. Caroline says, "Yep." She studies Kate's face and announces, "You're very pretty." Kate answers, "You're magnificent." I have to agree with both of them about it. Caroline whispers something we cannot hear in Kate's ear, but we can assume it was naughty indeed. They almost kiss again but an assistant comes in with a cup of tea. The assistant talks about the day's calendar, offers lunch, and heads off.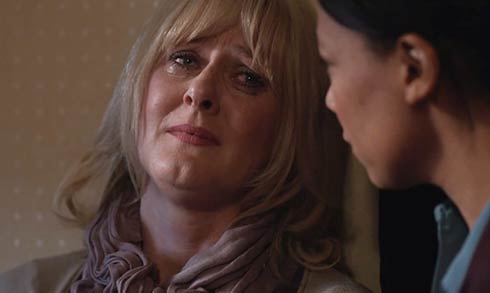 Caroline collapses in tears with the same passionate energy she had just devoted to kissing, and moans, "I thought she was dead last night. There was this one moment when I thought that's it. And I thought how unfair that was, to find that one person again after all these years and then die."
She realizes she sitting on the floor. Kate suggests maybe she should be home resting. Caroline asks if Kate will be home by 4 o'clock and Kate says, "I can be."
At the farm, Alan is watching Celia sleep. She's on the couch. He perched on the other end, enjoying the sight of her. He brings in tea and the rattling of the china wakes her. She says, "We keep having adventures!" He reminds her that their adventures have been her idea. They talk about the "distinct presence" in the old Hall last night. Celia says, "We're back in the land of the living now."
He starts to tell her something about when Gillian's husband died, but Paul (Sacha Dhawan) comes crashing down the stairs and through the door. He writhes on the floor in pain muttering about keeping his fluids up as Alan explains who he is.
A knock on the door and it's Alan's two sidekicks (Paul Copley and Roy Barraclough) which leads Alan to ask, "Is it Tuesday?" The fellas apparently have a regular Tuesday thing.
Celia is on the phone to Caroline while outside a pub with Alan and the fellas. She asks Caroline to bring her fresh knickers, her toothbrush, and a nightie so she can stay in Halifax a few days. Caroline doesn't want to do that but asks to call her later. Celia tries to make her feel guilty, apparently an old and well worn game with them, then asks her what she wants for her birthday tomorrow. Caroline manages to get off the phone by promising to call her later.  In the pub, Paul is there, trying to drink a pint. Guess they didn't want to leave him alone at the farm. Alan and his sidekicks discuss Gillian's birthday tomorrow. Well, well, well, isn't that interesting. Caroline and Gillian have the same birthday. Alan wants to buy Gillian a used Land Rover and knows where he can find one. He wants to go have a look at it.
Sidekick number one lists his qualifications to be Alan's best man. Alan won't commit.
Celia comes in to join them. She says to Paul, "I hope you're not taking pain killers and drinking alcohol." He asks her to get him a straw. Cheeky.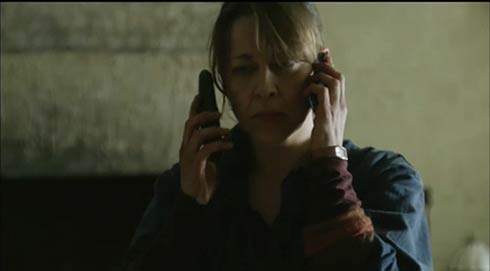 Gillian (Nicola Walker) arrives at the house to find it empty. She calls her dad but his phone is on the table. She picks it up and talks to herself on two phones for a funny moment. Then she calls Caroline who explains they're at a pub. Caroline asks Gillian if she can get her mom a few things – she doesn't explain why, but we know it will leave her free to go to Kate's. Gillian can do.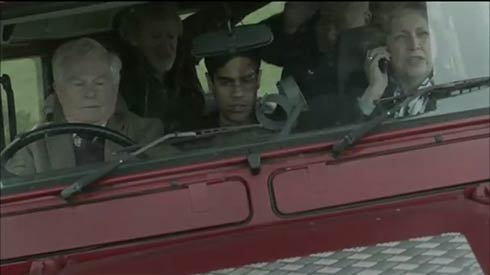 Out in a muddy field, Alan is trying out the used Land Rover. Paul and the two sidekicks are stuffed in the back. Gillian calls and says they are to take Paul to his mother's house and she asks what size knickers to buy. Celia pretends she can't hear – no way she'll discuss knickers in front of these blokes – and hangs up. Sidekick number two announces that the clutch needs to be replaced. And – they are stuck in the mud.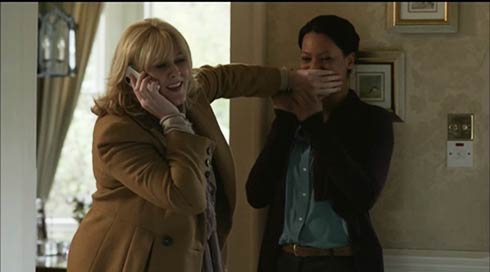 Caroline rings Kate's doorbell, looking incredibly eager. Just as they are about to start kissing again, Gillian calls asking about knicker sizes for Caroline's mum. This gives Kate the giggles and we get to see Sarah Lancashire show off her physical comedy skills.
Alan buys a new clutch, and sidekick number two makes his pitch to be best man. Alan doesn't commit.
Alan and Celia hide the Land Rover in the barn and go inside. He makes tea and tells Celia his story. When Gillian's husband Eddie put his head in the log splitter, he didn't die immediately. Gillian stood and watched him die without calling an ambulance. After about an hour, Alan arrived. Gillian told him what had happened and that she had called the police. Alan feels guilty and responsible for being a party to something that wasn't right. He doesn't blame Gillian, he just feels guilty about his part. Celia does not blame him or Gillian and reminds Alan about wanting to kill her own husband. Alan says sometimes he feels as if Eddie's ghost is in the barn and that's why the Hall bothered him.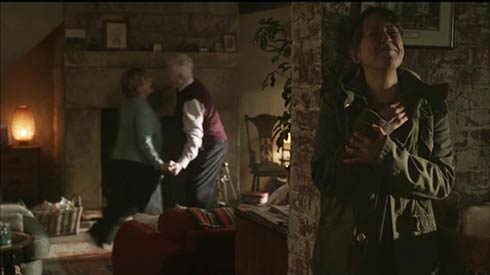 They talk about jiving in the old days, and move on to happier thoughts. When Gillian gets back, she hears music and finds them dancing in the living room, much to her delight. (Derek Jocobi is a damn good dancer, by the way.) Gillian snaps their picture and texts it to Caroline. They stop dancing when they see Gillian. Alan is winded, but not having any chest pains.
Gillian says Robbie is bringing Raff back home tonight. She's invited Robbie (Dean Andrews) to dinner and seems excited about it. She's bought food and wine and wants to celebrate. She tells her dad Robbie apologized last night.
Caroline breezes in at home – her afternoon with Kate must have gone well, she's very happy. John wants to know where she's been. He wants to know who it is. Caroline wants to know if Judith is pretty – he says no. He says he thought they were going to try to make it work for the boys. He says he can't stay there if she's going to sleep around. She says, well maybe we should get divorced. She says if she's going to be with someone she wants to have them at the house where she can have them any time she'd like. Caroline says it's like a fog has lifted from her, that she's happy for the first time in years. John says, "You're not moving him in here." Caroline says, "It's not a he."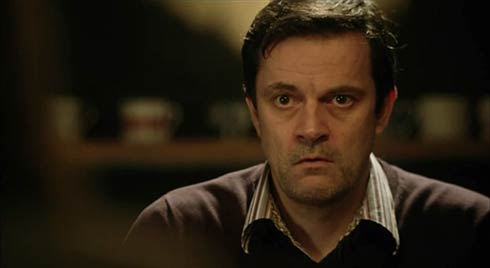 Tony Gardner's rendition of processing this announcement is absolutely perfect! Caroline is going on and on about something related to the boys but I can't hear it for laughing so hard at the expressions rolling across Tony Gardners' face. He's gobsmacked.
Gillian phones and the two women discover that they share the same birthday. They both turn 46 tomorrow. They're twins!
John, in the garden, calls Judith (Ronni Ancona).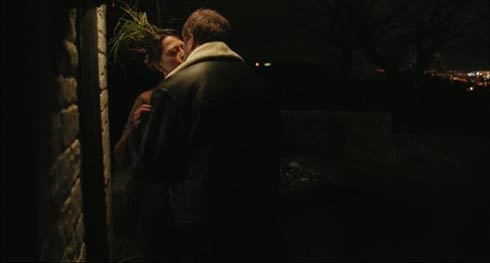 Robbie and Gillian are saying goodnight. He asks her out for a meal and she says yes. He kisses her, a move she rather likes. She asks him to stay. He refuses.
William (Edward Ashley) wakes Caroline on the couch and says she should go to bed. He asks her if she's seeing someone and if it's Kate McKenzie. She bumbles around a bit and he says, "She's nice, she's interesting, she's kind. I want you to be happy."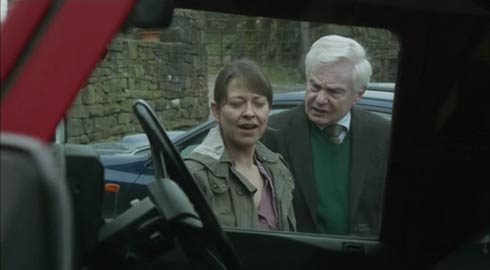 Next morning Alan presents the Land Rover – and the clutch – to Gillian. She'll have to install the clutch herself.
A car roars up and dumps Paul on the ground. His mother won't have him. Maybe because he keeps calling her a bitch. Gillian walks away and leaves him in sprawled in the dirt.
At Judith's, John is talking to Judith about how Caroline couldn't be a lesbian. "Aren't you quaint?" says Judith. She wants to know what it's like to get hot and steamy with a woman. Then she points out that the woman he's been living with for 18 years has probably been faking it every single time. Caroline calls and tells him she's cooking for her "friend" and the boys that night for her birthday. She wants him to join them if he can behave like an adult. He finally clicks on the fact that he knows who the woman must be – the woman Caroline had in the garden.
Celia and Alan, still searching for a wedding venue, are looking at an impersonal public space. They talk about a chapel at Caroline's school. That might be the answer.
Gillian is installing the clutch when John calls. He says she gives such good advice he wants to come talk to her. She tells him okay.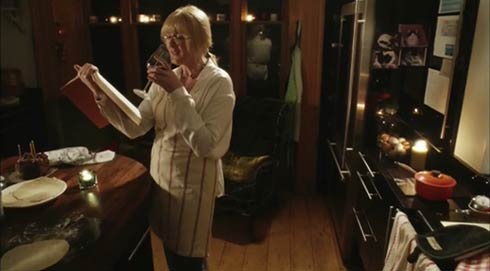 Caroline is cooking, drinking wine, and so happy she's almost dancing. She answers the door to find Kate. William wants Kate to come play Scrabble with him and Lawrence (Louis Greatorex) before dinner.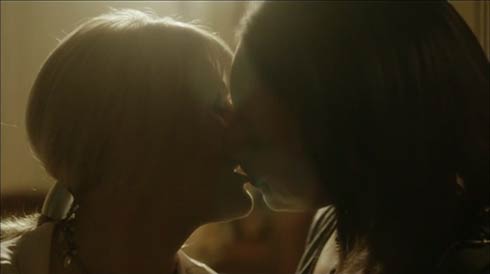 Kate agrees to Scrabble, but steals a few kisses before she goes. Caroline says William knows about them and is being brilliant about it.
On the farm, John, Robbie, Paul and Raff are lined up like ducks in the living room. Gillian is pacing the floor in her bedroom. Alan and Celia arrive from their venue search. Alan again brings up the "manslaughter" he confessed earlier. She again reassures him. They go in laden with boxes and sacks from shopping.
Gillian tries to warn Celia about John and what's going on. She can't quite get it out about Caroline and Kate. John, who naturally is drunk, manages to announce that Caroline is a lesbian in the most offensive way. And Celia is indeed offended – both by the thought that her daughter is a lesbian and by John's behavior. She gets very upset. Alan and Robbie try to shut John's ranting down. Celia says it's wicked to say things like that. She wants to go home.
Caroline's dinner with Kate and the boys is going well when Judith appears at the door. She's drunk and looking for John. She's dropped a wine bottle on the sidewalk. She talks about how she always wanted to be with a woman. She keels over backwards and when Caroline goes to help her Judith is covered with blood from the broken glass. Caroline takes her to the hospital.
Caroline's at the hospital and Kate is back at Caroline's with the boys. She's talking with Lawrence. He knows his mother is seeing someone but doesn't know who it is for sure. Gillian calls and wants him to tell his mother that Celia is on her way home and very upset about Caroline's relationship with . . . with . . . with . . . Gillian can't say it, but Lawrence says, "Kate." Gillian says, yes, Kate. Everyone important to Caroline now knows about Kate.
Robbie is leaving for the evening. He says good night and kisses Gillian again. She goes into the living room and sits down to have a drink with John.  John says he only came over because he wanted to see her again. He keeps thinking about her.
It's late, Alan is tired. He's driving Celia back home. He pulls the car over to rest his eyes for a few minutes. Celia is upset, won't look at him. We got a glimpse at Celia's conservative politics when she and Alan were taking politics a couple of days ago in the church. Her conservatism may cause trouble between her and her daughter when she gets home. Gillian got a new car for her birthday. Caroline's about to get an earful for hers.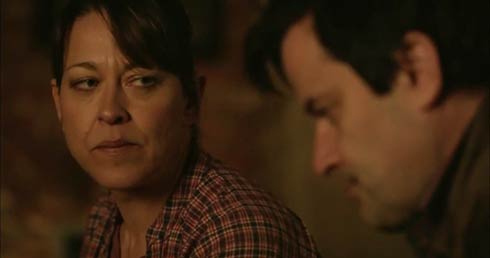 Gillian and John have a few drinks. Gillian tells John she can't decide if he's an evil git. He says he's not horrible, just disappointingly human.  She says, "Do you want to go upstairs," and rubs his thigh. Paul is out of commission, Robbie's being honorable. John it is. Will he be honorable, too? We don't find out in this episode.