Killing Eve is a spy thriller unlike anything you've seen before. The eight episode first season had not even aired when Killing Eve was renewed for a second season. If my feeling about season 1 is any indication of how I'm going to react to future seasons, I hope it goes on for many years!
Beware, there are slight spoilers ahead.
This cat and mouse chase has two female stars and a female writer. The combination creates a story that fascinates and surprises. And delights!
Take a look at the characters.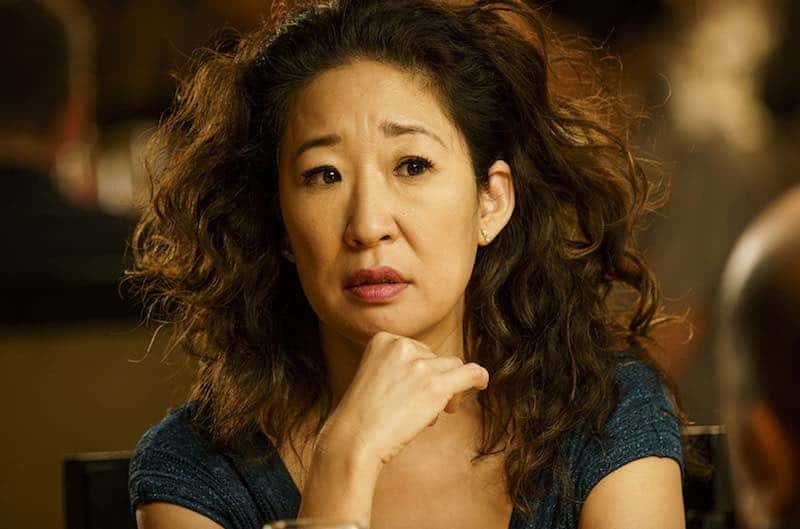 Sandra Oh stars as Eve Polastri. Eve is a forty-something, mid-level government agent in MI5. She has a desk job and a secret obsession with female assassins. She has a husband named Niko (Owen McDonnell) at home and they are very happy with each other.
When Carolyn Martens (Fiona Shaw) from the Russia desk happens into her office to discuss a murder, Eve blurts out that she thinks the killer was a woman. This brings her to the attention of Carolyn Martens at the exact moment when she's fired from her desk job. Carolyn calls her in and assigns her to a secret spy group tracking female assassins. Eve found her happy place!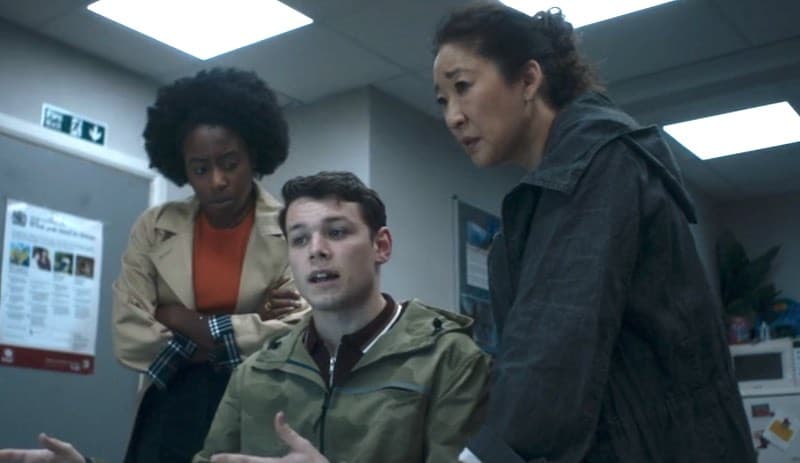 Eve brings on her own staff: Elena (Kirby Howell-Baptiste) and Bill (David Haig). Carolyn's tech genius Kenny (Sean Delaney) comes with the office. Carolyn provides resources, and the four of them are on the hunt for female assassins.
The Nemesis
We meet a particular female assassin early on. Villanelle, played by Jodie Comer, is the killer.  Eve and Villanelle develop an obsession with each other.
Konstantin (Kim Bodnia), Villanelle's handler, informs her that a special task force in England has been set up to hunt for women like her. This tickles Villanelle's ego so much that she investigates the investigators.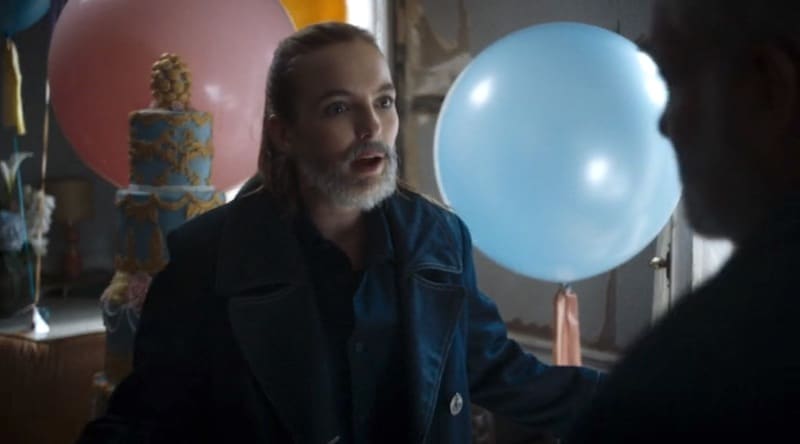 Konstantin sends Villanelle off on missions to kill people all around the world.  Villanelle is a strange one. She feels no remorse for her many killings. She likes to watch her victims take their last breath as the light leaves their eyes. She takes pride in her original and creative methods of killing her victims. She kills one woman with perfume!
Villanelle shows no empathy, no understanding of normal social interactions. She pretends to be normal, but likes putting on oddball costumes for her meetings with Konstantin.
She has sex with both men and women, sometimes both at once. Attracting sex partners is easy for her – she's supremely sexy.
The Third Rail
The third rail in this series, lurking between the lines, is the sexual component between Eve and Villanelle. It's there, set to sizzle, the moment the two of them touch it.
From the beginning, when Eve describes Villanelle to a police artist in terms a lover would use it's clear Eve harbors some sexual undercurrent regarding Villanelle. Eve even admits to being a fan of the assassin.
And for Villanelle, who is curious about this woman searching for her, we see her send beautiful clothing and perfume to Eve. What cat and mouse game between hunter and prey has the prey teasing the hunter with designer clothes? It's usually a chopped off body part in a bloody box.
Villanelle steals Eve's suitcase in Berlin. She returns it to her in London, with designer outfits that fit perfectly. The evening Eve takes it home and looks at what's inside she can't resist putting on the perfume, trying on a dress and the high heels that match it.
That's the evening Villanelle walks into Eve's apartment, scares her witless, and demands at knife point to "have dinner with her." The scene reaches a climax when Villanelle smells her perfume on Eve's neck.
"(…) the sexual attraction/discovery that Waller-Bridge built in from the very beginning. 'I love that it hits people at different moments,' she says of the idea that some viewers might not have grasped the queer aspect of the show until Villanelle leaned into Eve's neck." pic.twitter.com/TM25bSw1x9

— villanelle apologist rita (@ritathedyke) May 7, 2018
The quote from Phoebe Waller-Bridge in the tweet came from this Vanity Fair article. The whole article is worth a read.
These two have big feelings for each other, but the question is always there as to when Villanelle will tire of the game and actually kill Eve. There are things these two need to learn about each other that will teach them something about themselves. Surely Eve can't be killed before that happens! (And there's the knowledge of at least a season 2.)
Russia!
Eve, Carolyn and Kenny go to Russia. They chase down Anna. Anna (Susan Lynch) is Villanelle's former high school language instructor. Back when Villanelle used her real name, Oksana, Anna taught her languages and brought her to her apartment for sex. Oksana loved Anna – perhaps her first and only true love relationship. There was a small problem of Anna's husband, which Oksana solved by killing and castrating him.
The habit of castrating her male victims stuck with Villanelle. We saw the sad results of her penchant for removing penises when Eve was still chasing Villanelle about in England.
We learn that young Oksana threw a balloon and cake filled party for Anna when she killed the pesky husband. She threw a similar birthday party for Konstantin. Perhaps we'll learn in season 2 what a party with balloons and cake signifies for the complicated Villanelle.
Villanelle goes into and out of a Russian prison while they are among the Soviets. She performs another assassination in prison, and, her work done, is sprung from the joint by none other than Carolyn. WHAT?

Actually, Carolyn's behavior in Russia is suspect in many ways.
Villanelle is given the job of killing Konstantin. She botches it, for a change. She kidnaps his daughter Irina (Yuli Lagodinsky) to use as bait. Irina is highly annoying and brings out the immaturity in Villanelle we knew was there.
The Big Finale
Elena back in London tracks down Villanelle's Paris address. Instead of going from Russia back to London, Eve goes to Villanelle's apartment.
Eve finds a huge apartment, much bigger than her crowded flat in London. The bathroom has row of expensive perfumes, a huge tub, pink tile. One wardrobe is filled with Villanelle's murder tools, the other with  designer clothes. There's nothing in the refrigerator but champagne. Villanelle has the perfect life. What does Eve have? A stuffy flat and a husband who won't return her calls.
Eve tosses the place in a fit of pique. Throws clothes on the floor, smashes bottles of champagne. In walks Villanelle.
Eve points a gun at Villanelle for a while, then flops back on the bed and drops the gun. She admits to Villanelle that she thinks about her all the time – her eyes, her mouth, what she eats, what shampoo she uses, what she's wearing and more and more. Villanelle says she thinks about Eve all the time too – while masturbating.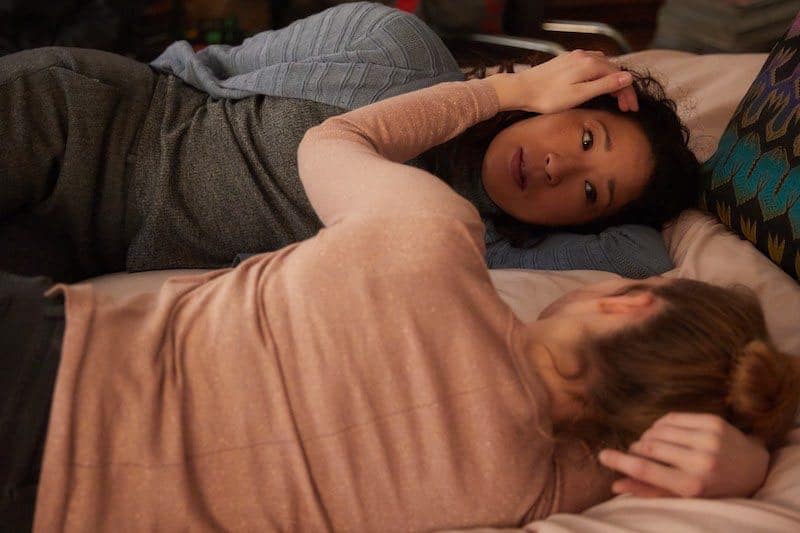 The two of them are on the bed. Eve says, "I've never done anything like this before." Unguarded, Villanelle responds, "Don't worry, I know what I'm doing," and turns to Eve.
Within seconds everything changes and Villanelle is nowhere to be seen. Villanelle's nosy neighbor (Sonia Elliman) gets off the season punchline when she announces, "She left."
Great Performances
Thanks to genius casting, Killing Eve benefits from brilliant performances.
I'd never heard of Jodie Comer before this series, although she already has 23 credits on IMDB. She is spellbinding as Villanelle. She kills people. We should hate her. Yet somehow she makes us love her. Comer plays a woman who doesn't feel normal emotions, yet she imbues Villanelle with an amazing range of expressions and body language.
Sandra Oh is simply a master, and this role is a perfect fit for her. By contrast, Sandra Oh as 80 credits on IMDB, only one of which is 220 episodes of Grey's Anatomy.
Fiona Shaw gives a mysterious and fiesty performance as the surprising keeper of Russia-related secrets. Kim Bodnia as Konstantin is fantastic. The running joke is women who mention how good looking he is. He's a bit in love with Villanelle himself. It's always a treat seeing Susan Lynch in anything, even though her arc in the series was a brief one.
Also check out my review of Phoebe Waller-Bridge in Fleabag
Killing Eve was adapted from the Luke Jennings' Villanelle novellas by Phoebe Waller-Bridge. Phoebe Waller-Bridge deserves enormous heaps of credit for writing this brilliant series. She constantly surprises, constantly pivots the story onto new ground, constantly gives the actors clever things to say and do. She brings the quirky to new heights while keeping it exciting and tense as any spy thriller deserving of the genre should be.
If you're like me and don't see BBC America in your channel selection, you can still watch this wonderful series. You can purchase the entire season on Amazon Video or iTunes. It's worth it!