If I had to describe Lady Bird with one word it would be real. This coming of age story for Christine "Lady Bird" McPherson feels absolutely, perfectly, nailed it, real for a certain type of kid growing up in America.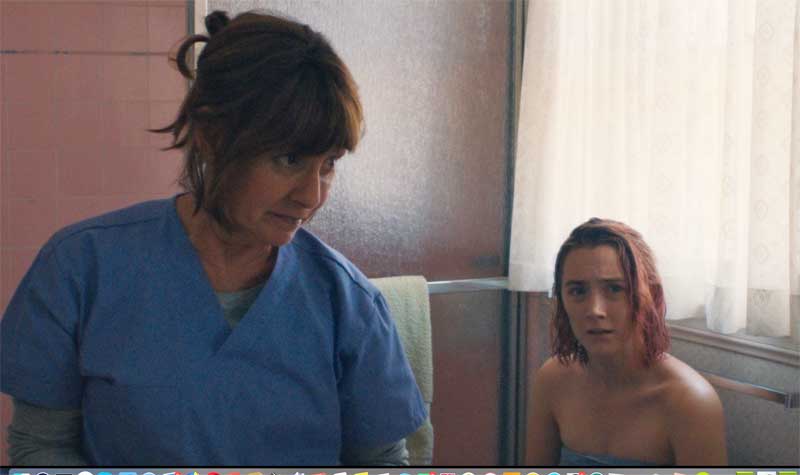 Lady Bird has other attributes. Wonderful performances, especially from Saoirse Ronan as Lady Bird and Laurie Metcalf as her mother Marion. It has brilliant, quotable dialog.
It's a portrait of a family stretched to the limit by striving for the best for their kid. It's a portrait of a kid who wants to grow into something different, who wants to take her adventure elsewhere, who wants to lose her virginity, who wants to be popular – which brings me back to it's real.
Several things happen with Lady Bird in her senior year at an expensive Catholic high school in Sacramento, California. She's in a play with her best friend Julie (Beanie Feldstein). Also in the play is Danny (Lucas Hedges). She and Danny become an item. She hopes to lose her virginity with Danny, but he has a secret that makes him a bad candidate for that job.
Lady Bird takes up with a bad boy type named Kyle (Timothée Chalamet) who does the deflowering in about 3 1/2 seconds, leaving Lady Bird both astonished at how bad it was and delighted that it finally happened.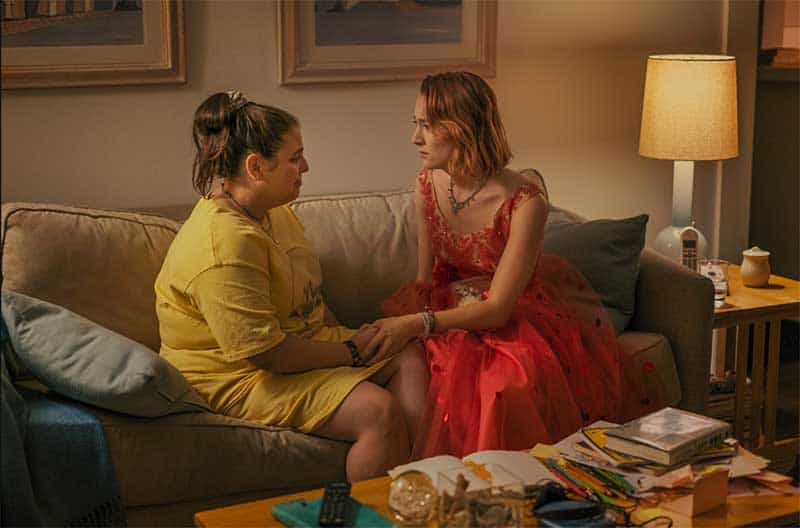 She cruelly deserts her best pal Julie for a more popular girl named Jenna (Odeya Rush). That misadventure ends quickly.
Lady Bird manages to get into an expensive university in New York, even though her dad (Tracy Letts) loses his job. When Dad interviews for a new job, Lady Bird's adopted brother Miguel (Jordan Rodrigues) gets it instead. (Ageism alive and well in 2002.)
Marion works double shifts but doesn't make enough for an out of state college. Naively, Lady Bird thinks loans are a smart answer to this problem. Go after what you dream of right now without considering the consequences. Sounds like a real teenager, doesn't it?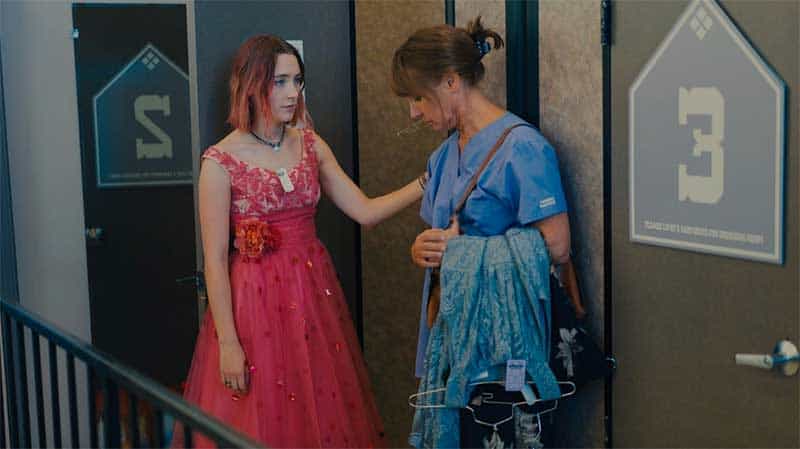 I saw my daughter and granddaughter in Marion and Lady Bird. Arguing about everything and then suddenly being a single mind when they find the right dress at Thrift Town. Endlessly disagreeing about everything while loving each other with inexpressible depth.
Greta Gerwig wrote and directed Lady Bird. As I mentioned, the writing was concise and quotable. One of my favorite scenes was Lady Bird at school with Sister Sarah Joan (Lois Smith). They talked about an essay Lady Bird wrote about Sacramento, which Lady Bird claims to hate. Sister Sarah Joan complemented Lady Bird on how specific and beautiful her writing was. She answered, "I pay attention." Sister Sarah Joan said, "Isn't that what love is?"
I liked that scene because Lady Bird has no idea what she's good at or what she wants to do with her life. But Sister Sarah Joan sees it. We in the audience watching this loosely autobiographical tale of a girl like Greta Gerwig growing up in the same time and place as Greta Gerwig see it. Lady Bird pays attention to the details and can write about them elegantly.
Look where Greta Gerwig is now. Getting the details perfect in this elegantly written and directed film. Go see it.