In the 1980s, an English social worker named Margaret Humphreys uncovered a decades long government and church scheme to deport children. Oranges and Sunshine tells that story. The children, some as young as 3 or 4 years old, were sent to many countries, mostly Australia, where they were used as slave labor, abused, their stories hidden.
When the truth that Margaret Humphreys began to unravel came out, both government officials and the church denied everything. Finally, in 2010, England acknowledged and apologized for its part in the terrible practice.
Margaret is played in the film by Emily Watson, who is perfect in the role. She's approached one evening by a woman from Australia who tells her she was taken away from her mother and put on a ship with hundreds of other children. They were taken from England to Australia where they lived under dreadful conditions. The woman was searching for her mother.
At first Margaret doesn't believe the story. Then one of the women she counsels, Nicky (Lorraine Ashbourne) mentions finding her brother Jack (Hugo Weaving). He'd been lost for years after being taken by ship with hundreds of other children to Australia.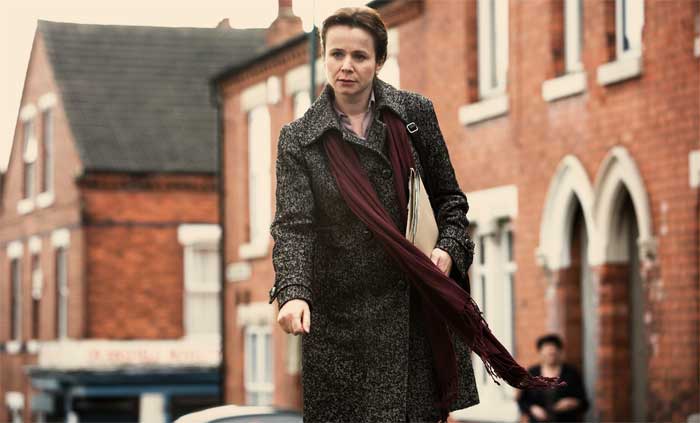 Margaret began investigating. This was in the pre-Google days, so she searched out birth certificates, interviewed people, and scrounged through old information. Her husband Merv (Richard Dillane) supported her. He helped her with her research.
The agency where Margaret worked got behind her and funded her work. Merv took over things at home with their two kids when Margaret began traveling back and forth to Australia looking for answers.
She met many people there who were desperate for her to help them find out where they'd come from, who they were, and if they had any living family in England. Len (David Wenham) was one of many whose stories Margaret heard in Australia. The government was taking children from mothers it deemed unfit – because they were single, or prostitutes, or drug users. For whatever reason, they decided these mothers didn't deserve their children and took them away.
The stories Margaret learned became public knowledge. People came forward. She was interviewed on the radio and television and written about in newspapers. All the abuse she learned about took a toll on her. A doctor told her she had PTSD from absorbing all the trauma that the people she was helping suffered.
The film, released in 2011, is beautifully told. Written by Rona Munro and based on Margaret's book, the story is presented with mystery and suspense. I'm sure there are many people who knew about this scandalous story before the film was made, but I knew nothing about it. I appreciate the brilliant writing and storytelling that made the film fresh and full of discovery. Margaret Humphreys is portrayed as admirable in so many ways, while being vulnerable and entirely human.
Jim Loach directed. The cast, both English and Australian, are all wonderful. I found Oranges and Sunshine on Amazon Video. I certainly recommend this film about a terrible injustice put right through the unflagging efforts of one woman.