I almost didn't watch Gypsy. There were so many bad reviews. I sometimes forget my cardinal rule: I generally disagree with critics. I saw one good review, and a gay girlfriend told me she liked it a lot. To get to the point, I decided to watch it.
This is a review of Season 1. There are some spoilers ahead.
Gypsy is a character study. Naomi Watts in the lead role is Jean, a therapist. She would actually be a very good therapist if she could leave her job in one-hour segments in the office. But she doesn't – can't. Because she can't control her own demons, we watch her slowly dismantle her life with lies, fantasies, and manipulations.
From the outside, Jean looks perfectly fine.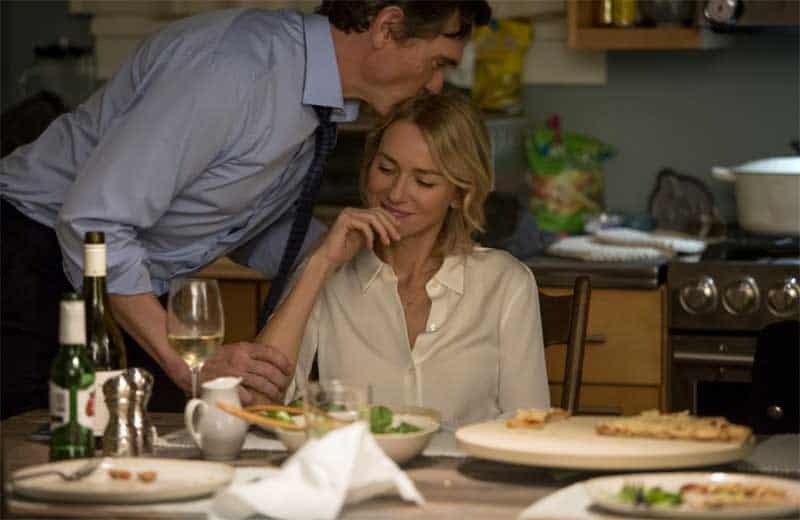 Jean is married to Michael (Billy Crudup). They love each other and have an active sex life. They love their kid Dolly (Maren Heary). But there is tension. As season 1 moves along, Michael senses that things are not right with Jean, adding to the tension.
Then there's Dolly.
Dolly shows them in so many ways that she is not a she but a he. At age 9, it's clear Dolly is a transgender child; they are slowly facing it as parents. Jean, a therapist who should be helping her child with gender dysphoria, is just starting to deal with it. Dolly is loved and safe, but that isn't all that is needed. I liked Dolly's arc in the story very much but it didn't go far enough.
Michael's super gorgeous assistant Alexis (Melanie Liburd) makes it pretty clear she'd like to have an affair with the boss. He's oblivious for a long time, but Jean's spidey senses are tingling where Alexis is concerned.
The Real Problem
Jean has a history of going too far with patients. She was in trouble in the past for obsessing over a patient to the point of disaster. Her life is back to working well when certain patients begin pushing her buttons. Slowly she begins crossing the line again, interfering in unprofessional ways.
Claire Rogers (Brenda Vaccaro) is in therapy because of her relationship with her daughter. Jean has a bad relationship with her own mother (Blythe Danner). Jean seeks out Claire's daughter Rebecca (Brooke Bloom). Jean thinks if she can understand the relationship issues from the daughter's point of view, she can fix things for her client.
Allison (Lucy Boynton) is an addict. Jean also takes pills she shouldn't be taking. She interferes in Allison's life by going to her home, meeting her boyfriend/supplier. She gets Allison to a 12 Step program, but doesn't take her own advice regarding drugs.
In episode 4, "309," we learn that Jean still has an apartment her mother set her up with just out of college. It's part of her double life. The apartment represents her failure to fully commit to the life she's living with Michael.
Later Jean takes Allison to the apartment to get her away from her druggie boyfriend. Allison spends her time curiously digging through some very private stuff. Allison, we learn later, is as big a liar as Jean.
Jean's client Sam (Karl Glusman) is obsessing over his former girlfriend Sidney (Sophie Cookson). Jean manufacturers a meeting with Sidney in hopes of fixing Sam.
She tells the people she contrives to meet that her name is Diane. As she gets deeper and deeper into her lies, she's living a double life as both Jean and Diane.
Jean lies to her colleagues about what she's doing. She lies to her husband and child about where she's spending her time. Her lies are not good ones. People begin to notice, call her out. She realizes she's losing control again and tries to stop herself, but she cannot. Her friend and co-worker Larin (Poorna Jagannathan) almost knows what's happening. Michael almost gets it. Jean walks on that edge all the time.
And OMG, Sidney
The biggest problem for Jean is Sidney. Sidney works in a coffee shop called The Rabbit Hole. Jean falls into a serious rabbit hole over Sidney – down, down, down to a burning ring of fire.
Sidney is very attractive and Jean is very attracted. Jean has sexual fantasies about Sidney. Jean has vivid daydreams and hallucinations about Sidney. She chases after Sidney far more than makes any sense in terms of Sam's therapy – especially since meeting Sidney as a therapeutic tool didn't make sense in the first place. She meets Sidney in cafes and museums, teasing and kissing.
By episode 7, "Euphoria," we see Jean and Michael having parallel experiences. Michael is in Texas on business. Alexia is there too and makes a play for him. While they are drinking heavily and jumping in the hotel pool, Jean (as Diane) is spending the night with Sidney. Jean and Sidney drink, eat, dance, get high, and have sex.
Michael sends Alexia away and remains faithful. Michael clings to the life he has, while Jean tries to shed hers and find another.
Jean sees Sidney everywhere, both in reality and in steamy, sometimes jealous, hallucinations. They have sex in backrooms and public bathrooms. As her therapy sessions with Sam take a turn she doesn't like, Jean's interactions with both Sam and Sidney become more and more manipulative. She tries to sabotage Sam's progress.
Jean thinks Sidney is a player – that she's playing Sam and her. But it's Jean who's doing the playing, the manipulating and controlling. Maybe Sidney is just a girl looking for love.
The deeper Jean goes into her secret life, the more she lies, the more things go wrong. There's the potential to ruin it all, expose her, end her career and her marriage.
Actions, motivations, behavior that could cause harm for all the characters are never clear, never transparent. Who holds the truth?
The season ending is open. Jean gives a talk on bullying to the PTA at Dolly's school. Everything she says about bullying, control, and power describes herself exactly. At this point some of her lies have been uncovered and exposed. She stands on a stage, in a spotlight, with her whole house of cards ready to tumble around her. Fade to black.
Final Thoughts
Gypsy is not an action thriller. It's a slow-paced psychological portrait of a seriously messed up woman. It illustrates how your demons can bite you in the ass when you are unable to fight them off.
I can see why Gypsy has mixed reviews. Personally I thought it was fascinating, well-directed and beautifully photographed. But perhaps not as fascinating for everyone. I've seen it compared to Walter White's descent into darkness in Breaking Bad. I prefer to compare it to A Beautiful Mind. I see it more as a mental health story.
Will there be a second season? Netflix has renewed series I thought were terrible and canceled some I loved. I'm not good at predicting what will get renewed. However, I'd like to see more of Gypsy.
I liked the transgender child. I liked that bisexual characters were just characters – unremarkable.
I love the Stevie Nicks song "Gypsy" that played over the credits. The words were something like this:
She was just a wish, she was just a wish
Lightning strikes, maybe once, maybe twice
And a memory is all that is left for you now
You see your gypsy, you see your gypsy
Naomi Watts is brilliant in this part, even though her character is not the easiest you will ever find. Sophie Cookson is also brilliant. Her sexy and provocative Sidney is magnetic.
I'm always cheered to see women taking control of storytelling about women. Naomi Watts chose this role for herself and was executive producer. It was a beautiful production and a beautiful portrait of a troubled woman.
Gypsy was created and written by Lisa Rubin. Three of the directors were women: Coky Giedroyc, Victoria Mahoney, and Sam Taylor-Johnson.