I've been waiting months for How to Plan an Orgy in a Small Town to reach the US. It's finally here. It's in some theaters, available on video on demand, from Amazon Video and iTunes. Written and directed by Jeremy LaLonde, the buzz on How to Plan an Orgy in a Small Town has been nothing but good from day one.
Here's the plot description.
How to Plan an Orgy in a Small Town is about a group of friends who live in the picturesque town of Beaver's Ridge-the epitome of wholesomeness and strong family values. Their orderly life is interrupted by the homecoming of Cassie Cranston, whom they slut-shamed into leaving town when she was a teenager. Now a big-city sex writer, Cassie returns home to face an unwelcome reception by her former friends, and finds an opportunity to seek revenge by writing a book about them when they ask her if she'll help them plan an orgy.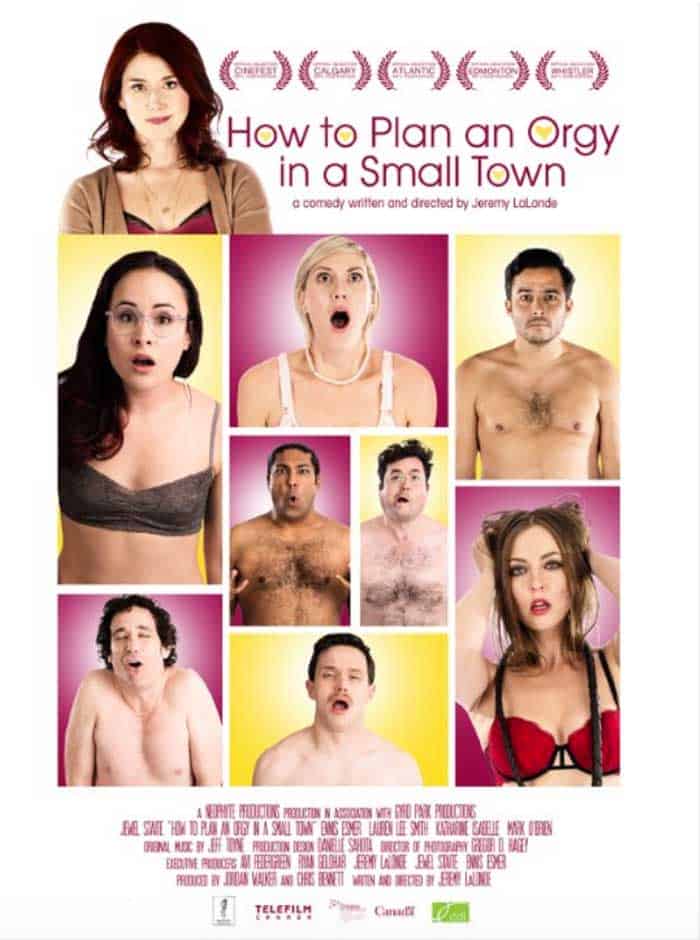 The cast for this bare bones Canadian indie production is just delicious. They actually worked free because they wanted to be part of it so badly.
Jewel Staite is Cassie Cranston. Others in the cast include Ennis Esmer, Lauren Lee Smith, Katharine Isabelle, Jonas Chernick, Christine Horne, Kristian Bruun, James McGowan, Rosemary Dunsmore, Lauren Holly, and many more.
In an interview with The Mary Sue, Jewel Staite said, "The movie sounds a lot sexier than it is. And the theatrical poster is a heck of a lot sexier than the movie really is. The movie is about a bunch of dorks. No one really knows what they're doing, and that's the hilarity of it. Even my character claims to be this 'sexpert,' and she has not one clue what she's doing, which is why these orgies go so terribly. "