Wyonna Earp is off to a demon hunting start on SyFy. First let's talk about some of the familiar, known and loved characteristics of this series. You get a kickass but reluctant heroine Wynonna (Melanie Scrofano) who resembles all your favorite such heroines. Think Buffy, Bo Dennis and Jessica Jones. You gotta love Wynonna already.
You get a sidekick in the form of younger sister Waverly Earp (Dominique Provost-Chalkley).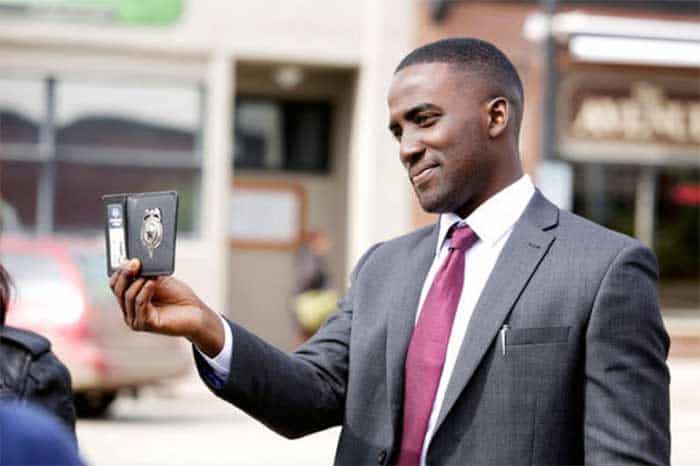 You get a handsome law enforcement type named Agent Dolls (Shamier Anderson) who wants nothing more out of life than to kill demons with Wynonna Earp's help – and her great big gun. Isn't he just the sweetest with his white shirt and pink tie with a ballpoint in his jacket pocket? Can he keep up with our Harley riding heroine?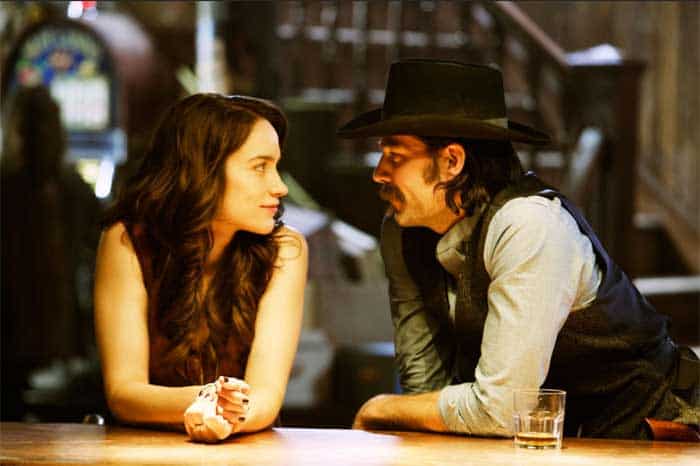 You get a handsome villain with an almost twirly moustache who looks like he came straight from 1881 in the form of Doc Holliday (Tim Rozon). We know already that Tim Rozon can do villain, but this time he's doing it in a Stetson, ma'am.
I haven't figured out if there's going to be the elder sage yet. There's an aunt named Gus and a bartender who are both possibles. We'll have to wait and see on that.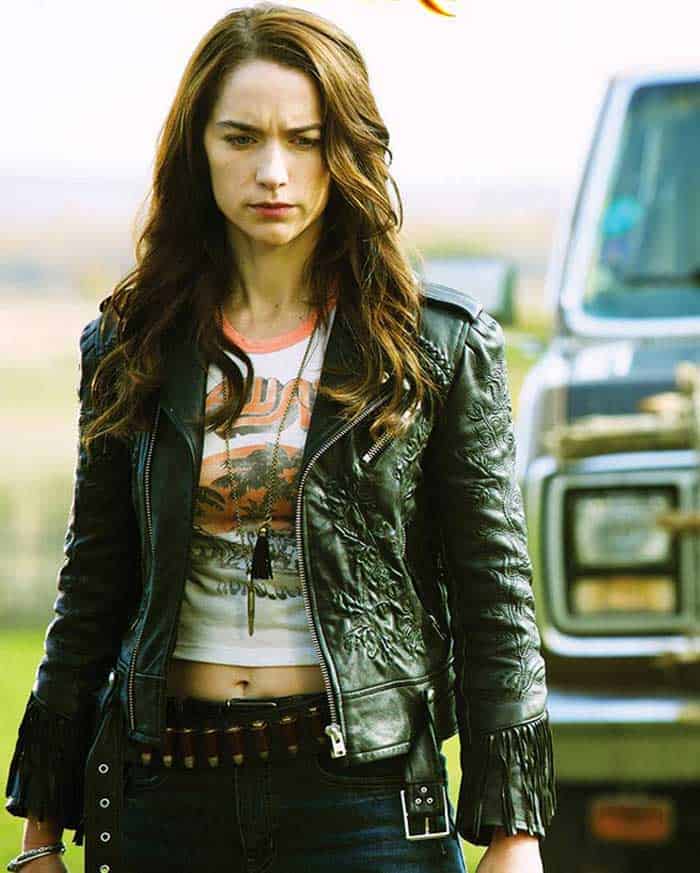 Look at the way Wynonna is costumed. Can you say Jessica Jones & Bo Dennis real fast three times?
After a couple of episodes of Wynonna Earp it will simply be Wynonna's story and Wynonna's mythology.
Bring it.When I first watched Lost Girl, I couldn't help noticing all the similarities between it and Buffy the Vampire Slayer. But after a while I forgot about it and just went with the world of the Fae and their particular mythology. I predict the same thing is going to happen here. Let's face it, we know we love this kind of character – independent minded but imperfect women who lead the way for everyone around them. After a couple of episodes of Wynonna Earp it will simply be Wynonna's story and Wynonna's mythology. Bring it.
So What's New?
Okay, so we know what were getting from Wyonna Earp in lots of ways. But what's new?
The Earp family suffers from a curse. The Earps live in Purgatory. Not the Biblical purgatory. This is a stand-in location for Tombstone, Arizona. (The series is filmed in Canada.)
Each time the eldest Earp hits 27 years of age, all the revenants in Purgatory reanimate and kill off innocent citizens all over the place. The revenants have to be killed all over again with Wyatt Earp's great big pistol.
When shot by the wonderous Earp pistol, AKA The Peacemaker, the revenants burn up from the inside out and look like a pile of smoldering embers within seconds. The wonders of CGI.
This pistol has a barrel about 2 feet long. The first time Wynonna shot it, in an attempt to kill the demons hauling off her daddy and her big sister Willa, she shot and killed her daddy instead. The thing doesn't shoot straight. But nowadays Wynonna is a pool shark and can calculate the angles perfectly for when the pistol ricochets – which it does regularly.
Wynonna's dark past (she shot her daddy, remember) have led her to a life of hard drinking and various mishaps with a rap sheet. She took off to travel the world, while the rest of the Earp clan stayed home. Wynonna returned for her uncle's funeral on her momentous 27th birthday.
Little Sis did a lot of research into the Earp history and is ready to tell Wynonna everything she's learned if she can get her to hold still long enough to listen. Wynonna's a busy woman. She has to save Waverly from hanging by revenant in the very first episode, not to mention climbing in and out of wells to dig up long-buried pistolas.
The series executive producer is Emily Andras, who also wrote several of the episodes.
Wynonna Has Special Skills
Not only can Wynonna shoot the misbehaving giant pistol now, she can perform aerial acrobatics that make the folks in Crouching Tiger Hidden Dragon look like amateurs. This woman can kick ass – and jaws, and crotches, and any other part that needs kicking. The wonders of CGI.
Wynonna is going to do some demon fighting, folks. And she's going to have to kick hard and shoot straight to do it. Why don't you join me in cheering the latest kickass heroine on?
What did you think of the first episode?
The Last Word and More
I'll give Emily Andras the last word.
Thank you #Earpers for watching #WynonnaEarp. I swear on my Harley that episode 2 is ten times better than the pilot. Spread the word!

— Emily Andras (@emtothea) April 2, 2016
And then her other last word.
Ok, but fair warning: it starts to get hella gay in the second episode… If you're into that. #WynonnaEarp #haught https://t.co/uVFFGOAmXu

— Emily Andras (@emtothea) April 3, 2016