Pretty Hard Cases is a blend of cop drama and laughs in this Canadian series running as an original on Freevee. This review is about season 1. Season 2 is already available and season 3 is in the making.
Pretty Hard Cases stars Meredith MacNeill as Det. Samantha "Sam" Wazowski and Adrienne C. Moore as Det. Kelly Duff. The two woman are very good cops, but their personalities make for some funny situations. The chemistry between the two actors is absolute perfection.
Sam works in Guns and Gangs for the Toronto police. Kelly is on the Drug Squad. They get thrown together on specific operations and discover they make a great team.
Sam is quirky and has an annoying personality. She doesn't sit well with any of her coworkers. Kelly doesn't want to work with her but the big boss, Commander Shanks (Karen Robinson), is insistent.
Kelly, on the other hand, is such a likeable character – tough and smart and real. It is so nice to see Adrienne C. Moore killing it in this role as a likeable character after watching her for so many years playing a sketchy person on Orange is the New Black.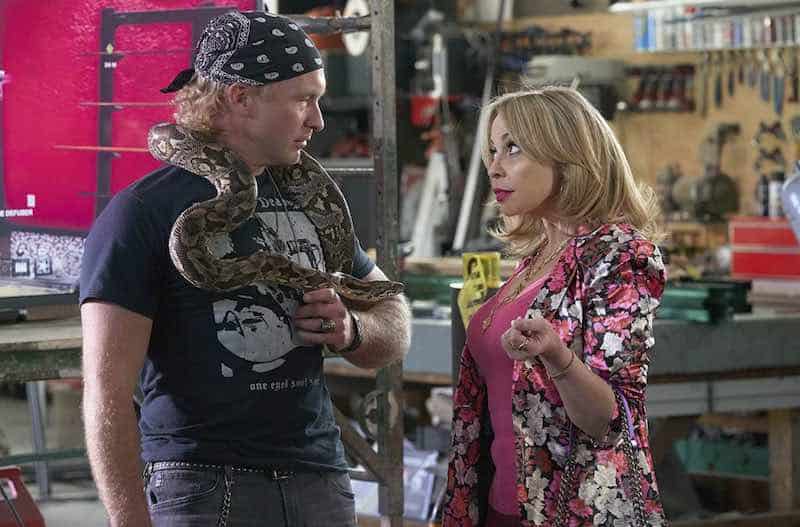 The long arc in season 1 involves chasing down gun dealers and drug dealers. There are many criminals in this hunt, but chief among them are Randy Bowen (Dan Petronijevic) and Tiggy Sullivan (Tara Strong). Randy Bowen leads a whole gang of smugglers who bring cocaine from Buffalo to Toronto. One of his employees, now is jail, was Tiggy Sullivan's husband.
Tiggy tries to take over her husband's drug delivery services and is embroiled in the crimes for the rest of the season.
Tiggy's daughter Jackie Sullivan (Katie Douglas) is an informant for Sam. When Tiggy jumps to the dark side, Tiggy sends Jackie to pry info out of Sam's son Elliot Wazowski (Percy Hynes White). Of course, they like each other which creates a whole set of disasters.
It takes quite a few characters to get through 10 episodes of cop drama. Two ridiculous homicide cops played by Miguel Rivas and Tricia Black add to the comedy. Lots of criminals come and go including those played by Kim Coates and a molly manufacturer played by Kenny Wong. Amanda Brugel shows up in a couple of episodes as Kelly's sister, a cop in Buffalo.
On the personal side of things, Sam has a sort of crush on Det. Nazeer (Al Mukadam). Kelly is in a strained relationship with DS Nathan Greene (Daren A. Herbert). She puts so many restrictions on their relationship, it almost isn't one.
Pretty Hard Cases was created by Tassie Cameron and Sherry White. Women directors in season 1 include Sherry White, Winnifred Jong, Penelope Buitenhuis, and Bosede Williams. There were also many, many women on the writing team. This all adds up to a cop show about, by, and for women.