Marcella is a British police officer. In season 2, she investigates a series of murders of children on the edge of puberty. She simultaneously investigates her own psyche and the blackout experiences she suffers.
Anna Friel stars as Marcella Backland. Her story is twofold. There's her work life and her job as a police investigator. They are after a serial killer who murders young teens. The other part of Marcella's story is personal.
The personal story involves Marcella's ex-husband Jason (Nicholas Pinnock), their two children Emma (Imogen Faires) and Edward (Asher Flowers). Marcella has blackouts – fugue states. During them she can be violent. She finally admits this to Jason in season 2. And she begins treatment with a hypnotist to recover the memories she loses during the blackouts. Significantly, the blackouts began with her infant daughter died.
Jason is dating Becky (Yolanda Kettle). He wants sole custody of the children and he plans to move to Singapore for two years with them and Becky.
The police work and personal drama are mixed up together. To add to the tension, Marcella's family is in danger.
I was very happy that there were fewer blackouts in season 2. It made following the story much easier. The events unfolded in a sensible way and there were no blanks in what the viewers knew because of Marcella's blackouts.
But never forget, Marcella is a mystery. There was nothing obvious about solving the murders. The 8 episodes of police work brought up many suspects, many clues, and much misdirection. As more and more facts accumulated, there was always something missing. A couple of the subplots supplied interesting hints about what was happening and ultimately led to the killer.
I'm sure you've heard of the Slow Movement. Well, apply that to slow spelling and you'll find one of the clues in the mystery.
Marcella's journey to unlock her memories had some false clues, but it was easier to figure out than the whodunit. Her work with the hypnotist also explained some of what happened in season 1. That was welcome information. She found out the lengths Jason was willing to go to for sole custody of the children as her memories unbound through hypnosis.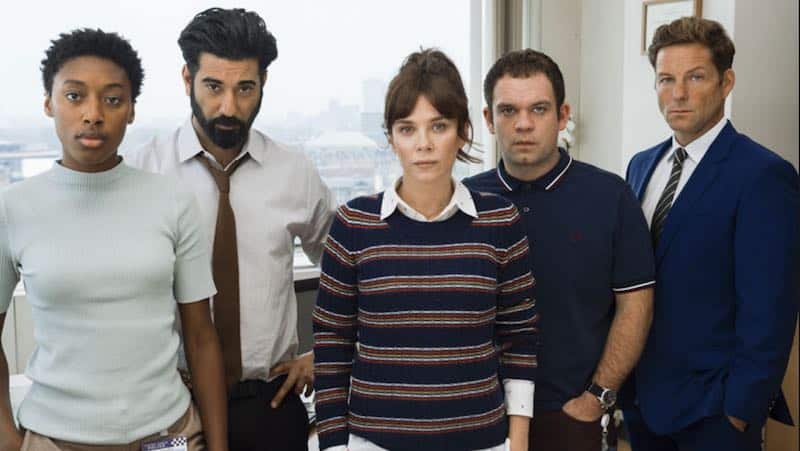 Rav (Ray Panthaki) was in charge of the case in season 2. I was sorry that Nina Sosanya as DCI Laura Porter wasn't in season 2, but there was mention of some police work with Laura in the last few seconds of the final episode. If that means Nina Sosanya will be there for season 3, I'll be very happy. DC Leanne Hunter (Sophia Brown) was new on the team and she was not impressed with Marcella's odd ways.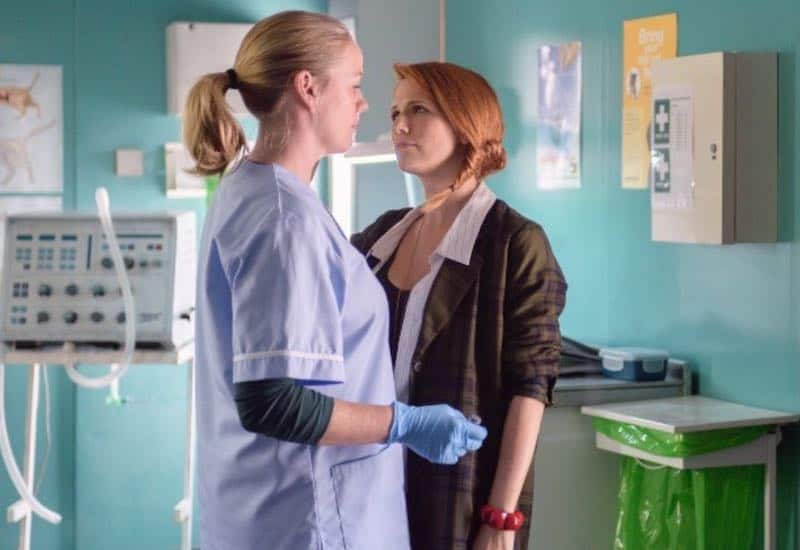 One of many subplots involved a same sex couple who wanted to have a baby and needed money for it. They were Tamzin Malleson as JoJo and Victoria Broom as Sascha. Both of them worked in a foundation for kids in trouble run by Maya Whitman (Victoria Smurfit). DI Tim Williamson (Jamie Bamber), who was Marcella and Rav's boss, was also involved in the foundation. Goings on around the foundation were one of the numerous subplots.
Suspects included pedophiles, rich guys, aging rock stars, social misfits, and even women.
Anna Friel carries the show masterfully. She was overworked, frazzled as a parent, unhappy about what Jason wanted to do, in a doomed relationship with her boss Tim, and unable to deal with her emotions about the death of her infant daughter. If there is a season 3, Marcella will be a very different woman. Season 2 changed her in powerful ways. In imagining what might become of her in a 3rd season, think even more noir than Marcella already is.
We know from the opening scene that Marcella is in a dark place; we immediately back up two weeks to see how she got there. When we finally get the full extent of the two week rewind in the way the story is told, Marcella is an even darker place than we imagined.
Nobody in Marcella is clean. Everyone has dirty secrets, everyone lies. That, of course, adds to the misdirection as we wend through the mystery, but it also gives the characters depth and humanity. Anna Friel as Marcella is the most complicated and troubled of all.
I found season 1 a hard slog. Season 2 is much more straight-forward and not so full of confusion and questions. Dark as Marcella is, I'm glad I stayed with it and hope there will be a season 3.
Seasons 1 and 2 are available on Netflix.