Ackley Bridge tells the story of a school in the mythical English Yorkshire town of Ackley Bridge. White and Asian (Pakistani mostly) folks have lived together in the small town for years, but their children have gone to segregated schools. Now they will be thrown together in a new school, called Ackley Bridge College, and learn to be together peacefully.
As I'm sure you could predict, the integration of the school doesn't go smoothly.
There's a big cast in this setting where we get stories about students, teachers, and parents. Series 1 only had 6 episodes, so just a few of the characters were explored in depth.
Poppy Lee Friar played Missy Booth, a brash 17 year old who lived with her younger sister Hayley (Cody Ryan) and her ailing grandmother (Rita May). Her mother Simone (Samantha Power) was a useless drug addict. That means Missy runs the family. She's combative and funny and best friends since babyhood with Nasreen (Amy-Leigh Hickman) from next door.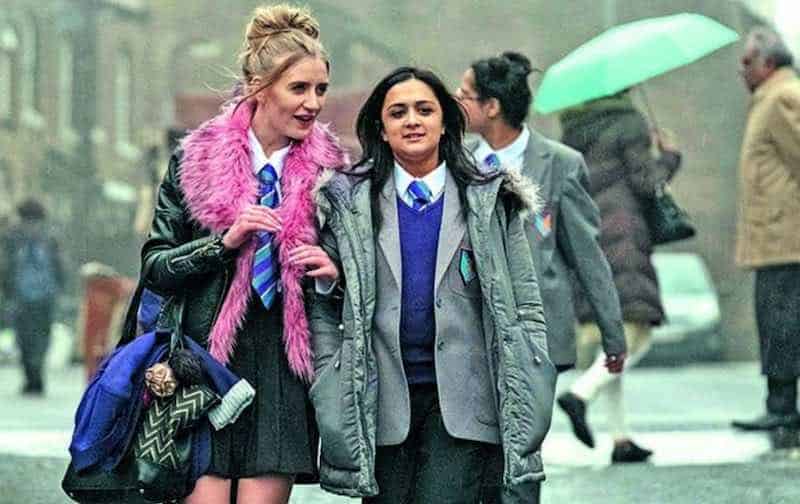 Missy and Nasreen never attended the same school before. The friendship between these two is tested by the changes in their school situation, but is one of the strongest and most important aspects of Ackley Bridge.
Nasreen has trouble figuring out who she is. Is she loyal to Missy in the new integrated school? Is she loyal to her Muslim background and friends from the old school? Can she be friends with both? And what about the feelings she has for her science teacher Lila Shariff (Anneika Rose) who moved over from the old school? Ms. Shariff is not 100% immune to Nasreen, but almost successfully discourages any relationship between them. Nasreen's feelings prompt her to come out as a lesbian, first to Missy and then to her mother.
As an aside, every time I see Anneika Rose I'm struck by her charisma. Why isn't she in leading roles? Why isn't she the star of her own series?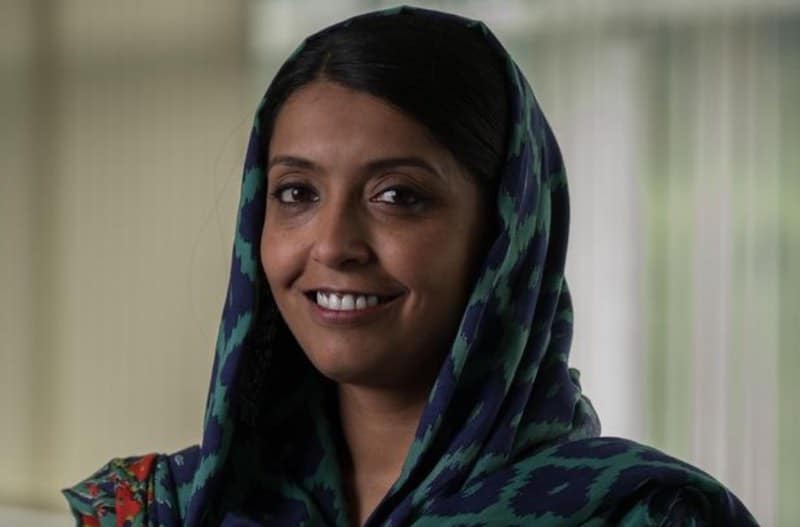 Nasreen's mother Kaneez (Sunetra Sarker) is my favorite character in the entire season 1 ensemble. She possesses a huge personality, gets all the best lines, and is charming and forceful. Her husband spends most of his time working back in Pakistan, and Kaneez has learned to be an independent woman. She's a fierce feminist. Kaneez basically raised her three children as a single parent. She works outside the home in the snack bar at the school. She's like a second mother to Missy. I loved what she did as she came to terms with Nasreen's coming out. Absolutely original.
Samuel Bottomley as student Jordan Wilson stirs up trouble in the school from day one. He has frequent run-ins with the teachers and helps us get to know Steve Bell (Paul Nicholls). Mr. Bell teaches P.E. His idea to start a rugby team does a lot to help bring the students together. Mr. Bell is married to the head teacher Mandy Carter (Jo Joyner). The two of them have plenty of personal drama between them, much of it caused by one of the schools governors Sadiq Nawaz (Adil Ray).
Emma Keane (Liz White) teaches English. She's returned to her old home town of Ackley Bridge for the job. Her high school sweetheart Samir Qureshi (Arsher Ali) is now the community liaison for the school. Emma wants to start up where they left off. He's been in prison and is now engaged, so there are obstacles. Emma has a teen daughter named Chloe (Fern Deacon) who has always lived with her dad. She shows up in Emma's classroom the first day in the new school. She's drunk and she pukes in the middle of Emma's class. And, dad doesn't want her anymore, so Emma's now trying to figure out how to be a full time mom.
In an ensemble cast of this size (I haven't even mentioned all the main characters) with both students and adults to weave stories around, there are many themes and dramatic opportunities. Ackley Bridge is obviously going to be about racism, but is also looks at fidelity, loyalty, family relationships, love, parenthood, arranged marriages, coming of age, mean girls, predatory boys, friendship, and community. It's a rich vein to mine, and series 1 of Ackley Bridge picks dynamic characters and hooks to bring the viewers into this kinetic story.
Penny Woolcock was head director for the series, which was filmed in the Halifax area.
Ackley Bridge can be seen on AcornTV in the US. Season 2 is currently airing in the UK. I don't have a date when AcornTV will offer season 2, but I'm looking forward to it.