Lucky for me I'm not a critic. It seems to me that the main job of a critic is to watch a fun and enjoyable movie or TV show and find things wrong with it so as to make it unenjoyable for anyone else to watch. Which leads to my point: Ricki and the Flash is fun and enjoyable. Lukewarm reviews be damned.
Spoilers ahead.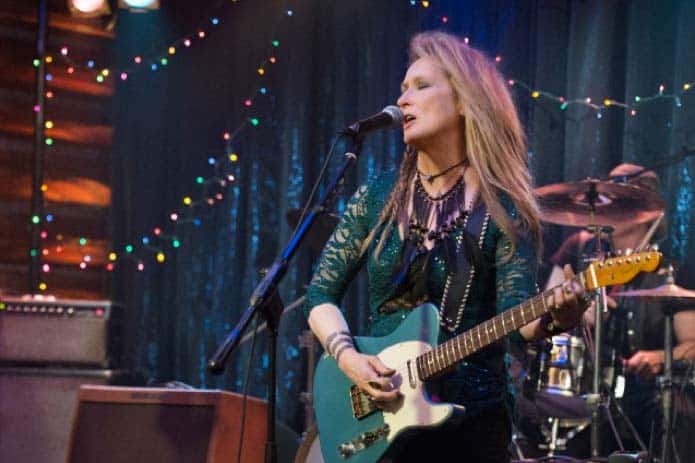 There was a lot of music in this movie. Some people (e.g., critics) complained about that, but I love a movie with a lot of music. Meryl Streep's voice makes Ricki, the failed rock star, feel real. The band, with Rick Springfield as Greg and some very good players behind Springfield and Streep, was excellent.
The final scene with a bunch of stuffed shirts from Ricki's son Josh's wedding dancing to Ricki and the Flash seemed a bit unlikely, but a Bollywood happy ending never hurt anyone as far as I know.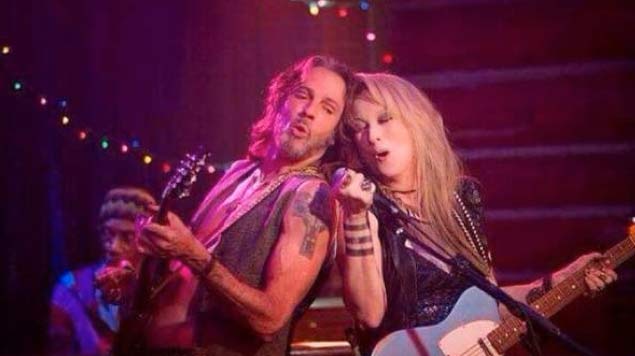 This is a family drama, but before I talk about the family, I want to talk about the romance between Ricki and Greg. Any time a woman over 40 has a chance to get it on in a movie, it's a reason to celebrate that movie.Here we have two characters in their 60s carrying out a romance with subtlety and finesse, looking believable in hot pursuit of sex, and taking loving care of one another. Greg sold his '68 Gibson guitar to get the money for Ricki to make it to Josh's wedding – now that's a sacrifice worthy of O. Henry. Any time a woman over 40 has a chance to get it on in a movie, it's a reason to celebrate that movie. I'm popping a cork in celebration of Ricki and her sex life right now.
The family part of the tale involves Ricki's 3 kids, played by Streep's real-life daughter Mamie Gummer as Julie, Sebastian Stan as Josh, and Nick Westrate as Adam. Kevin Kline plays Ricki's ex Pete and Audra McDonald is Pete's wife Maureen. Ricki's been absent for most of her kids' lives – off pursuing a dream of rock stardom and ending up playing in a dive in Santa Monica at night and working in a grocery store during the day.
Julie has a meltdown when her new husband dumps her and Pete calls Ricki to come help. She does help, in her own special absent-mother way. She manages to get Julie out of her depression. She says all the wrong things to Josh and his finance and to Adam about his declaration that he's gay. But somehow all her wrongness kind of works. She gets stoned with Pete, has it out with Maureen, and leaves thinking she won't be invited to Josh's wedding.
Ricki works through a lot of her issues while on a stage with a microphone in front of her. In one powerful scene, she mentions that a famous male rock star had 7 (or was it 8) kids by three different women and raised none of them. Yet the patriarchy judges her a failure as a parent. I think she has a valid point. In our culture, men can run off to fulfill their dreams – women cannot.
When Maureen sends Ricki an invitation to the wedding, she goes with Greg and the band in tow. At the wedding, there's some healing, some reconciliation. When the music and the dancing stops and the wedding is over, Ricki won't be mother of the year, but perhaps a she'll be a forgiven mother.
In 1982, Meryl Streep and Kevin Kline starred in Sophie's Choice. Streep won her second Oscar for that film and was pregnant with daughter Mamie Gummer at the time. Life goes in funny circles sometimes.
Meryl Streep learned enough about playing the guitar to look convincing in this part. Her first lesson was a 45 minute session with Neil Young. When you're Meryl Streep, you don't start small.
Diablo Cody wrote Ricki and the Flash, Jonathan Demme directed. Watch the trailer.
Musings On Wanting More
There should be more singing in the world. Shows like Glee, Smash, Nashville, Empire, Perfect Pitch or anything else with music built in are good for the soul. I appreciate that in a movie or a TV show.
I'm bemused when Audra McDonald takes non-singing parts like this one, and it's especially bewildering when someone else who isn't primarily a singer is doing solos throughout the movie. It's fine when no one in the cast is singing because they are all doctors – because no. one. is. singing. But this movie has singing. Let Audra sing, people, she doesn't have 6 Tony Awards and 23 albums for nothing.
Post movie, my friends and I discussed the film over sandwiches at Panera. One friend commented that Audra McDonald seemed underused in the film. Does Ricki and the Flash deserve points for giving Audra McDonald a chance to act a bit and say some lines? Or not?I thought immediately about this study, which shows that our of the top grossing 700 films of the last 7 years, only 12.5% of the characters were Black. And some of those characters had no or almost no lines. If you look at this film from that perspective, Audra McDonald did pretty well. But from any other perspective – like talent, for instance – Audra McDonald had a small part and was underused. So, does Ricki and the Flash deserve points for giving Audra McDonald a chance to act a bit and say some lines? Or not? They could have easily put a white woman in that part, but they didn't. Points?
I applaud the films and TV shows that try to break away from those grim statistics. I love it when Sofía Vergara and Reese Witherspoon are the leads in a movie . I love it when Glynn Turman, a Black man, gets the role of Jennifer Beals' father on Proof. (I think she has to insist on representing her reality truthfully.) I love it when an actual transgender actor plays a transgender character in Boy Meets Girl. I love it and I want more of it.
So here it is: give me more singing and give me more diversity. I'll love you for it.
[Note: This post was syndicated at BlogHer under the title Art, Sex and Absent Motherhood in 'Ricki and the Flash']