GLOW is the thing you need right now. It has a great cast, the stunts and wrestling scenes are fabulous, the stories are half-crazed and fun, and it still manages to be real and serious and down to earth. Season 2 is waiting for you on Netflix.
There are some minor spoilers ahead.
As in season 1, season 2 is about a bunch of women trying to create a women's wrestling show that stays on TV long enough to keep them employed and acting.
The women are Ruth Wilder (Alison Brie), Debbie Eagan (Betty Gilpin), Cherry Bang (Sydelle Noel), Carmen (Britney Young), Rhonda (Kate Nash), Sheila (Gayle Rankin), Tammé (Kia Stevens), Melanie (Jackie Tohn), Stacey (Kimmy Gatewood), Dawn (Rebekka Johnson), Arthie (Sunita Mani), Jenny (Ellen Wong), Reggie (Marianna Palka).
New this year is Yolanda (Shakira Barrera) who adds a much needed lesbian into the cast. (I had a laugh at Autostraddle's photo essay on the LGBTQ aspects of the story.)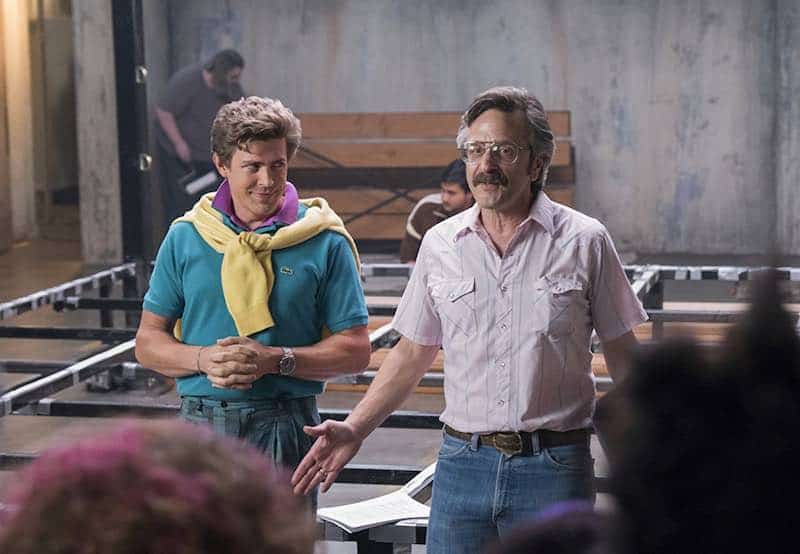 This year Ruth does much of the directing – even though she isn't the director and gets no credit. Debbie gets herself named a producer. Sam (Marc Maron), the real director, and Bash (Chris Lowell), the other producer, work with the women to create and promote the Gorgeous Ladies of Wrestling AKA GLOW.
Cherry Bang's  husband (Bashir Salahuddin) is the ref and cheering section. Mark Eagan (Rich Sommer) is Debbie's soon to be ex husband.
Debbie's divorce from Mark takes up a good deal of her emotional energy in season 2, but it also gives Betty Gilpin some very nice moments showing her acting chops.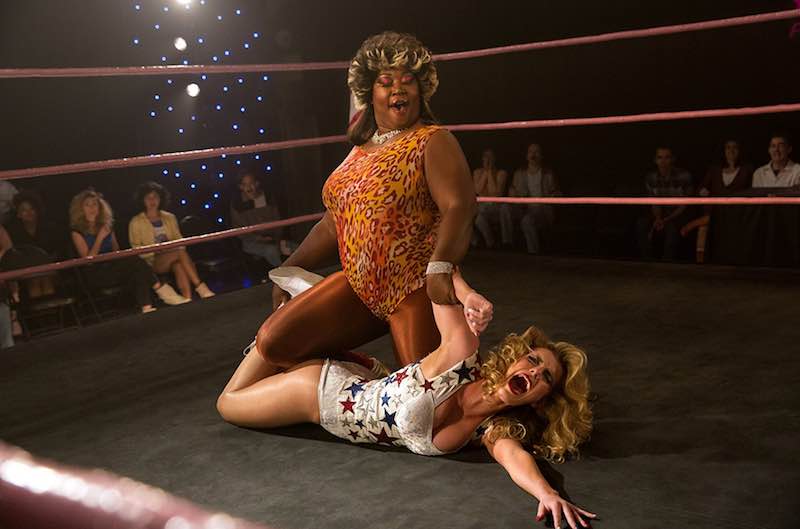 The sheer physical training and expertise the women put into their roles is impressive. The stunts are a big part of the fun. There were leaps, drops, flips, throws, punches, kicks, twists, tosses, and more. These women were putting their hands and faces and butts in all the places.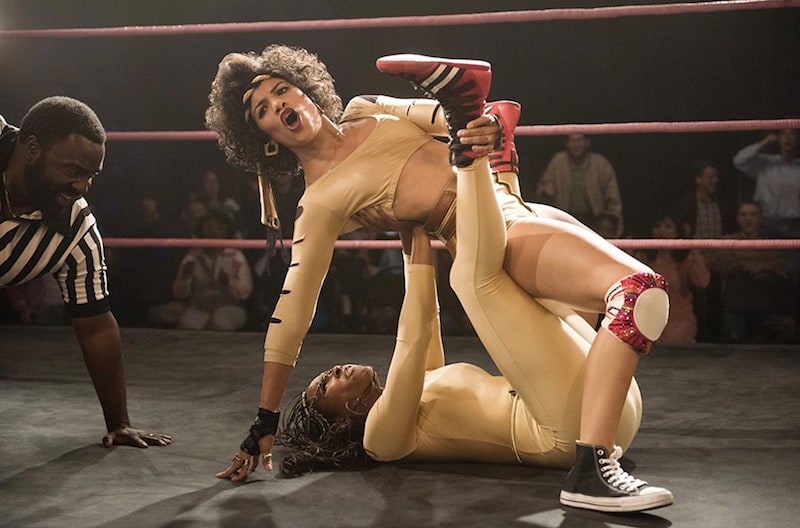 One fight, between Debbie and Ruth got out of hand. Debbie was high, angry, and on her last nerve.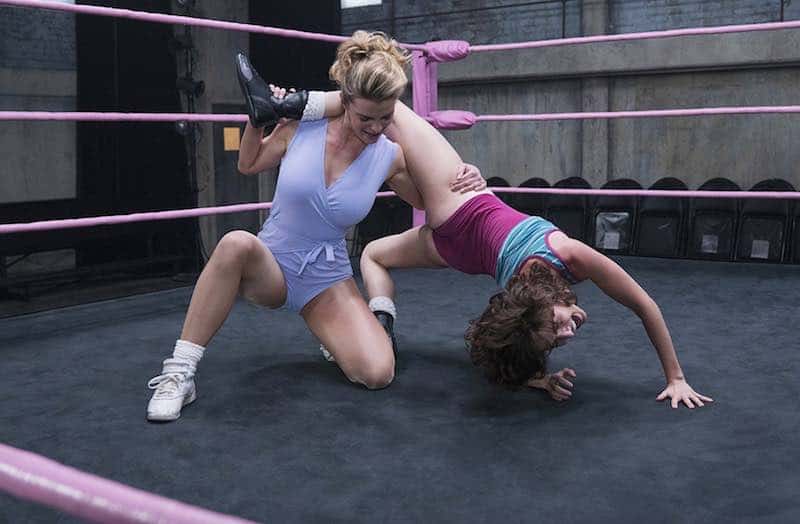 Debbie and Ruth had rehearsed the fight many times, but the night they really did it on live TV, Ruth ended up with a broken bone in her leg. This lead the two of them into a emotional argument that aired dirty laundry from years back. But it cleared the air a bit for them, too.
Sam turns almost human as he gets to know his newly discovered daughter Justine (Britt Baron). When her mother figures out where she is and comes after her, it turns out her mother is Annabella Sciorra. She was only in 3 episodes, but they were important episodes.
The main storylines went to Ruth, Debbie and Sam just as in season 1. I was hoping season 2 would open up the stories of more of the women than it did. A few of the subplots: Arthie fell for Yolanda. Rhonda got married in order to get a Green card. Ruth had a romance with a camera man named Russell (Victor Quinaz). Tammé goes to parents' day at Stanford with her son and is ashamed of what she's doing for a living.
GLOW is set in the 80s. Bash's butler, a man he loved very much, died of AIDS. They didn't call it by that name in the series, but that was where the times were headed. Plus, Bash is gay as gay can be but doesn't know it.
There was a episode where Ruth was called to a dinner with the owner of the network. It was in a private room. He had plans to rape her but she took off. Very topical, but also a reminder that this has been happening to women since forever. Ruth's rejection of her boss got their show moved to a 2 AM time slot, which is the kiss of death for a TV show.
When the show moved to 2 AM, they decided to do whatever the hell they wanted. One episode had singing, dancing, music videos, and dream sequences. One episode had a wedding. One episode had men wrestlers fighting the women. The GLOW gals' flair for entertainment earned them an offer to do a show that will become season 3, I hope.
For all the nutty antics that surround something like women training to be female wrestlers, GLOW could also be dead serious. As much as I was impressed by the physical achievements of the actresses in the ring, there were also many impressive moments of emotion and basic life truths that let the actors do more than stunts. I appreciated the fine performances all around.
Liz Flahive and Carly Mensch created GLOW. Season 2's women directors included Kate Dennis, Sian Heder, Lynn Shelton, and Meera Menon.
I hope you'll watch GLOW and encourage Netflix to give it a 3rd season. If you've already seen it, please share what you thought in the comments.